It's hot out there!
Well…I guess at this point I need to add the disclaimer that I live in San Diego, so when I say "it's hot out there," that means "ick, it's almost 80 degrees outside!" I give you permission to not like me at the moment.
This August I will have lived in San Diego for eight years. In that time, like many other folks that live here, I've become a certified weather wimp. I now complain when it gets hotter than 80 degrees or colder than 60 degrees. It completely amazes me because up until the age of 23, I lived in places that experienced a wide spectrum of weather and could totally put up with it.
I grew up in the valley outside San Francisco where it would get into the 100s during the summer and we had no air conditioning until I got into middle school. In the winter, it would dip below freezing overnight and there were many mornings I had to scrape the ice off my windshield before I could drive anywhere. During college in Texas it would certainly get toasty and somehow I was able to go running and work out outside in that weather. If I had to do that now, I'm sure I'd pass out. Also, I should add that I've never had to shovel snow to get out of my driveway, so I know I totally can't complain about the weather in the places I've lived.
Anyway, to my current weather wimp self, it's hot outside and these popsicles are the perfect way to cool down! It's a cocktail and a popsicle all in one! I used a mix of raspberries, blueberries and blackberries for this, but feel free to substitute or add others.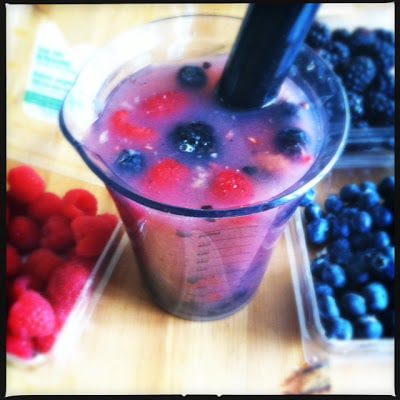 What a great, adult way to cool down after spending time in the hot summer sun! Stay cool!
THE PASTRY POSTS BERRY MOJITO POPSICLES
Yields 6 popsicles
Ingredients:
1 cup water
1/2 cup sugar
Zest of two limes
Two handfuls of mint leaves
2 cups lime juice, from about 20 limes
1/3 cup blackberries
1/3 cup blueberries
1/3 cup raspberries
1/2 cup gold rum
Directions:
Combine sugar and water in a small pot.
Gently stir the sugar to dissolve and bring the mix to a boil over medium-high heat.
Turn off heat.
Add lime zest and one handful of mint leaves to sugar/water mix and let it steep and cool to room temperature. Once cool, pull out the mint leaves (they can get a little icky).
In a different bowl combine lime juice, berries and another handful of mint and muddle to break down the berries a bit.
Add sugar mix to berries and stir to combine.
Add rum to the mix and combine.
Pour mixture into popsicle molds (or other containers) and freeze until set.