There are a few chocolate cakes that I have put on my must-bake list. This is one of them. I first saw it – a while ago – atChubby Hubby. I looked at it, admired it, and then proceeded to attempt something more juvenile, like Steamed Moist Chocolate Cake.
*sheepish grin*
I was, after all, a newbie at baking then … and I felt such a "grown-up" chocolate cake should only be attempted after I had earned my stripes.
Maybe it's a sign … because after a year of active baking, I came face-to-face with this cake again. This time atfood.recentrunes. I have never left a comment on Ivan's blog, but for some reason, that slice of cake drew me in, and I asked if he could share the recipe. Guess what? He (and Cheryl) pointed me back to Chubby Hubby! So what was I to do? Well, take it as a sign that the time has come. 😉
First thing though, was to get myself some Dutch processed cocoa powder. I found it at Sun Lik (Valrhona cocoa powder, S$6.50 for 200g). The instant I laid my eyes on it, I bade a hasty farewell to Mr Hershey and said "Bonjour!" to Monsieur Valrhona.
He was richer, darker and smoother … yes, I'm that shallow.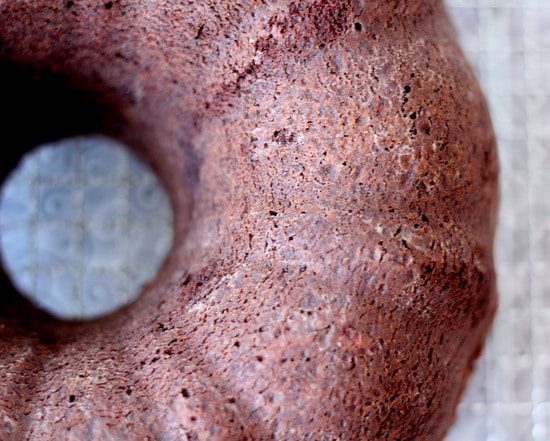 My very first Bundt cake!
Truth be told, when I unmoulded the cake, my heart sank a little. It looked so … unimpressive. Thankfully, I listened to my instincts and avoided committing sacrilege by dusting icing sugar over. The beauty of this cake is truly on the inside. When I sliced it, I was amazed by its velvety interior and the rich, deep, gorgeous colour of mahogany. In fact, the first thing that came to my mind was, "I actually made that?!" Sometimes, I surprise myself. Hur hur.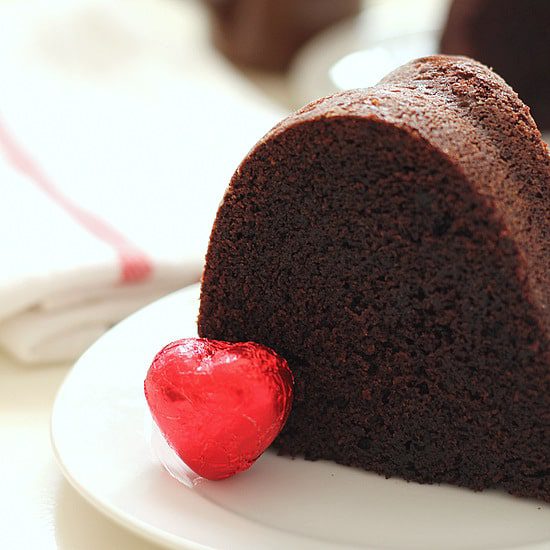 Certainly, its appearance is simple, but this is undoubtedly the most sophisticated chocolate cake I have ever baked. I realised too, that I had crossed the point of no return … no more kiddy chocolate cakes from now (unless it's really for the kids). Perhaps it is a natural progression, but I'd like to think that I have finally earned my stripes. 🙂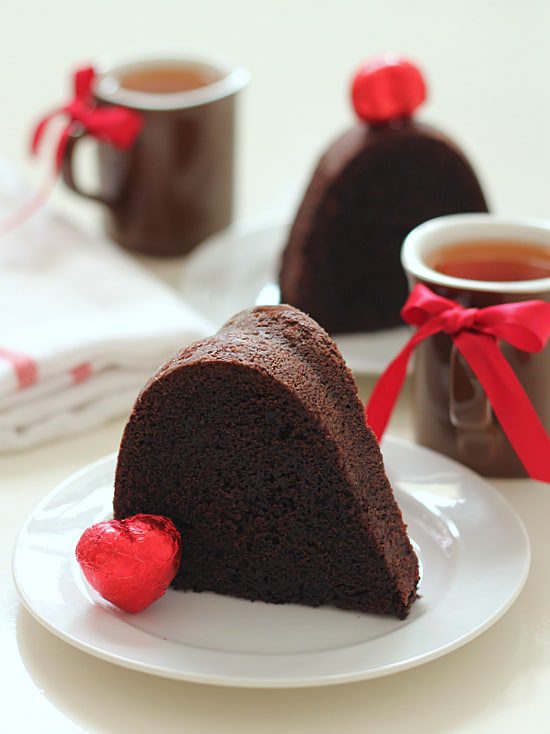 Deep Chocolate Sour Cream Pound Cake
(from The Cake Book by Tish Boyle and seen at Chubby Hubby)
Note 1: For a cake like this, you need ze best quality ingredients money can buy. It's compulsory, otherwise you're better off making one of those other cakes. Yawn.
Note 2: Ironically, I did not use sour cream. Instead I used crème fraîche – sorry, not a fan of sour cream!
– 1.5 cups (181g) all-purpose flour
– 1/2 cup (57g) cake flour
– 1 cup (92g) Dutch-processed cocoa powder
– 2.25 teaspoons baking powder
– 1/2 teaspoon salt
– 1.5 cups (340g) unsalted butter, softened
– 2.5 cups (500g) granulated sugar (sorry, I just couldn't! I reduced this to 380g)
– 4 large eggs
– 2 teaspoons vanilla extract
– 1 cup (242g) sour cream (or crème fraîche)
1. Position a rack in the center of the oven and preheat the oven to 325 degrees F. Grease the inside of a 10-inch Bundt pan. Dust with flour.
2. Sift the flours, cocoa powder, baking powder, and salt into a medium bowl. Set aside.
3. In a bowl of an electric mixer, using the paddle attachment, beat the butter at medium speed until very creamy, about 2 minutes. Gradually beat in the sugar. Increase the speed to medium-high and beat until the mixture is well-blended and light, about 4 minutes. At medium speed, beat in the eggs one at a time, mixing well after each addition and scraping down the sides of the bowl as necessary.
4. In a small bowl, stir the vanilla extract into the sour cream. If your mixer has a splatter shield attachment, attach it now. At the low speed, add the dry ingredients to the butter mixture in 3 additions, alternating with the sour cream mixture in 2 additions and mixing just until blended. Scrape the batter into the prepared pan and smooth the top.
5. Bake the cake for 65 to 75 minutes, until a cake tester inserted into the center comes out clean. Cool the cake in the pan on a wire rack for 15 minutes. Then invert the cake onto the rack and let it cool completely.