Beef Wellington is of the famed and feared showstoppers of British cuisine. I had invited friends around for dinner on Monday night, primarily to have a chance to try out this challenge. I decided to go for a luxurious combination of Beef Wellington recipes, using both spinach and parma ham to wrap the beef and mushroom in, then finishing it off with a wonderful layer of puff pastry. (I will admit that I didn't make the puff pastry, which my friend kindly pointed out… I did intend to, but ran out of time – next time I have to do it properly!) Here's the great Beef Wellington challenge – a new favourite!
Beef Wellington with Spinach and Parma Ham
Serves 8-10
Ingredients
1.2 kg good quality beef fillet
1 tbsp butter and 1 tbsp olive oil for frying
250g chestnut mushrooms
50g butter
1 large sprig fresh thyme
100ml white wine
12 slices parma ham
300 g fresh spinach
350g puff pastry
Flour for dusting
2 egg yolks beaten with 1 tsp water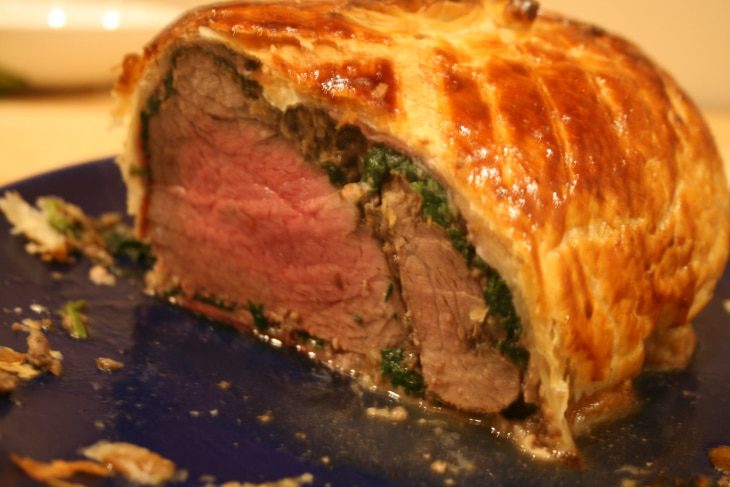 Method
Heat oven to 220C. Season the fillet of beef with black pepper and a little salt, rubbing it in. Melt the butter and heat the oil in a large frying pan and sear the beef fillet in the hot pan on all sides. 
Roast the fillet in the oven for 15-20 minutes. Remove from the oven to cool, then chill in the fridge for 20 minutes.
Chop mushrooms as finely as possible. Use the pulse function in a food processor and stop before they become mush.
Heat olive oil and butter in a large pan to fry the mushrooms. Cook them on medium heat with the thyme for about 10 minutes, stirring often. Season with salt and pepper, pour over 100 ml white wine and let it cook until all the wine has been absorbed – it takes about 10 minutes. Remove the thyme and let the mushroom duxelle cool.
Rinse the fresh spinach in running water and put in a colander. Boil a kettle of water and pour over the spinach until it is wilted. Squeeze multiple times to remove as much moisture as possible. Use kitchen paper to squeeze if necessary.
On your worktop, overlap two pieces of cling film over a large chopping board. Lay 12 slices of parma ham overlapping in a double row on the clingfilm. Arrange the wilted, dry spinach in a thin layer on top. Spread half the mushroom mixture carefully over, and put the cooled beef fillet on top.
Using the cling film, draw the parma ham tightly around the fillet, then roll into a sausage shape, twisting the cling film as you go. Chill the fillet while you roll out the pastry.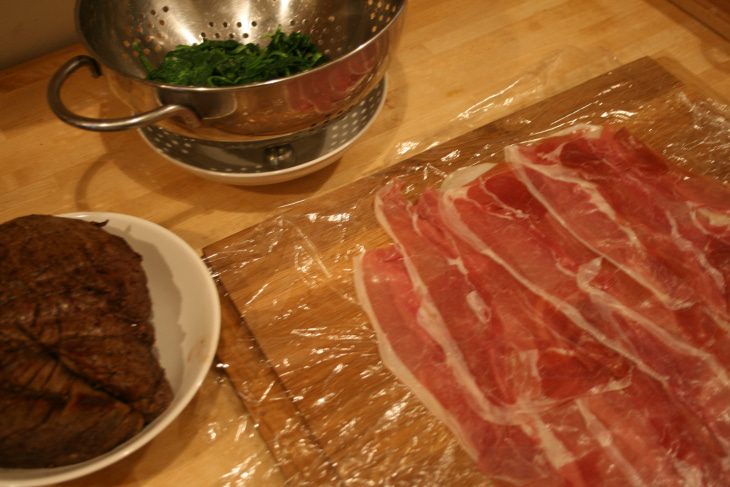 Dust the work surface with a little flour and roll out the puff pastry to a thin rectangle. Unpack the parma ham wrapped fillet of beef and place on top. Beat two egg yolks with a little water, brush the pastry edges and the top and sides of the fillet. Wrap the pastry on top, with the edges overlapping, sealing carefully. Turn the whole thing upside down.
Glaze all over with more egg and mark the beef Wellington with decorative lines using the back of a knife – take care not to cut into the pastry. Use a little extra pastry to create a decoration if you like. Chill in the fridge for at least 30 minutes, up to 24 hours.
When you are ready, heat the oven to 200C. Brush the Wellington with a little more egg yolk and cook until golden and crisp – 20-25 mins for medium-rare beef, 30 mins for medium. Allow to stand for 10 mins before serving in thick slices.
Serve with steamed broccoli, lightly fried green beans and red wine jus.