This has to be one of my favorite things to make.  Jewish Apple Cake was one of the first things I learned how to bake.  I remember sifting though my mom's recipe box, seeing this and knowing I wanted to try to make it.  The key was hiding the ingredients from my sister.  She thought orange juice had cooties and wouldn't come within 10 feet of it.  This cake does have a little bit of orange juice in it, but I somehow managed to get her to eat it.  And like it.

I have made this so many times that I practically know the recipe by heart.  It is perfect for a breakfast get together.  I have also made this for a friend's birthday, who isn't too big on sweets.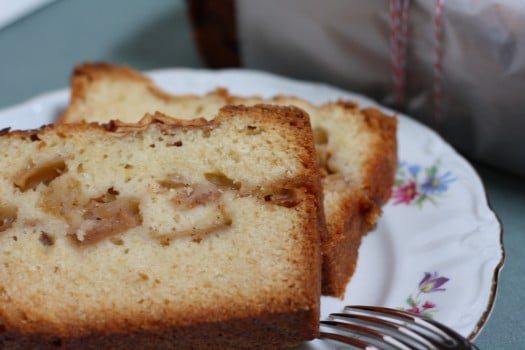 This is also a perfect way to get rid of the apples that have been piling up in your fridge from your CSA so your husband doesn't mad at you and think you are wasting money (you totally aren't and it is worth every penny to have fresh produce every week).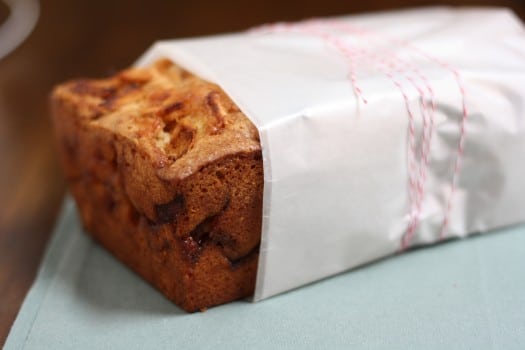 You can adjust the amount of apples to suit your needs.  The more apples you add, the more apple-y your cake will be.  Also, I used 2 loaf pans for this, but it also works great in a bundt pan. Enjoy!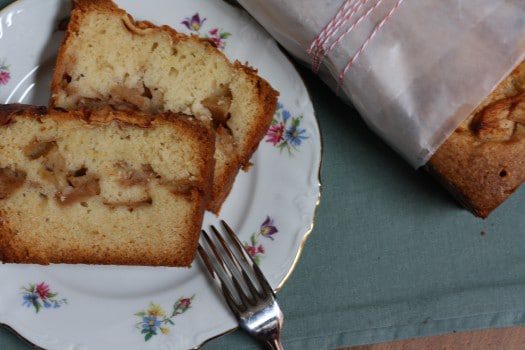 Bake: Jewish Apple Cake
Ingredients
3 cups all-purpose flour
1/2 teaspoon salt
2 1/2 teaspoons baking powder
2 cups sugar
1 cup vegetable oil
4 eggs
1/4 cup orange juice
2 teaspoons vanilla extract
5 apples – peeled, cored and sliced
2 teaspoons ground cinnamon
1/4 cup sugar
Preheat oven to 350 degrees F (175 degrees C). Grease pan (2 loaf pans or 1 bundt pan).
Combine the ground cinnamon, 1/4 cup sugar, and apples and set aside.
In a large mixing bowl, combine the flour, salt, baking powder.
In the bowl of an electric mixer combine oil and 2 cups of the sugar. Mix until combined.
Add eggs and mix until incorporated.
Add orange juice and vanilla and mix until incorporated.
Add flour mixture gradually and mix until incorporated.
Pour 1/2 of the batter into the prepared pan(s).
Top with 1/2 of the apple mixture.
Pour the remaining batter over the top and layer the remaining sliced apples.
Bake at 350 degrees F (175 degrees C) for 70 to 90 minutes.