I have been making quite a few macaron towers lately. It all started from a neighbour friend's daughter's birthday, then a wedding reception, birthday parties and so on. Given my penchance for  macarons, I was happy to share my steps on how to construct a macaron tower , as it is truly not that intimidating and doable in your own kitchen!
Find a good macaron recipe that you are comfortable with.
Before you go all out to choose colours, theme etc for the macaron tower, you must at least practice making macaron a couple of times. This is to avoid great disaster, as a tower will require at least around 150 pairs of equal sized macarons. I would strongly advise against macaron recipes that call for volume measurements. Macarons are not that difficult to master, if you get the recipe and the technique right. For this you must use weight measurement in grams, as it is more specific and avoids error.
French meringue versus Italian meringue?
The french method does not require cooking the egg whites. Egg whites are just whipped with stabiliser ( sugar and sometimes egg white powder) to form meringue before it is folded into the almond-icing sugar mix. Italian meringue requires cooking the sugar syrup put o 118C before pouring it into the egg whites. In theory Italian meringue yields a more stable meringue and is more forgiving when it comes to texture. You should determine which technique to use depending on the event of when the tower is needed. I generally prefer baking the shells before hand using Italian method if the event is 2 days ahead.
How to get equal size macarons?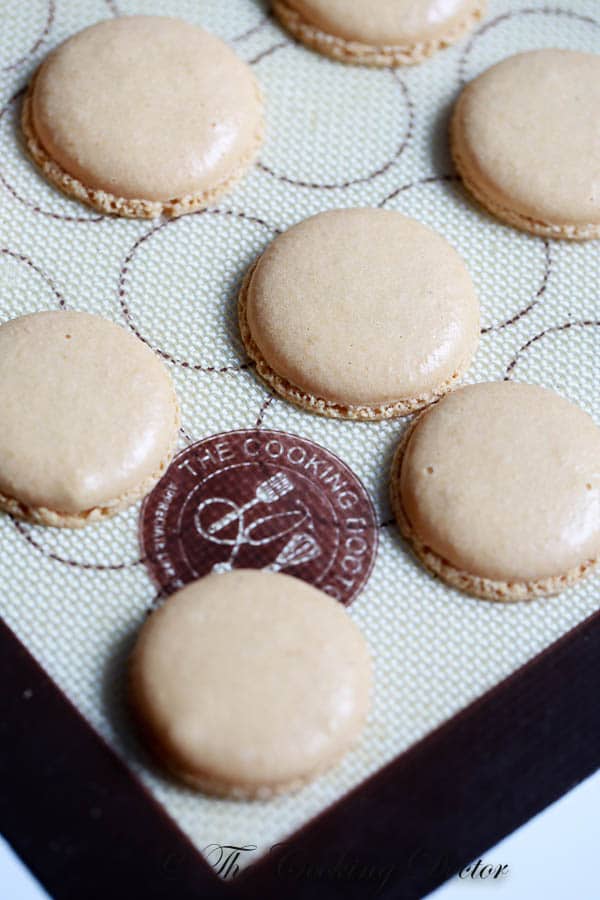 This is especially important when it comes to macaron tower, as unequal sized macarons will make the tower unsightly. I use The Cooking Doctor silicone mat, and I suppose any silicone mat will serve the purpose, as there is a pre-built circles with or without ridges. (The Cooking Doctor kit comes with a double sided ridges and a stand-alone mat is without ridge). Use a mat with a ridge if you are a novice baker, and more to a flat mat if you are comfortable piping the macarons. Do not use parchment paper even with drawn circles on, as paper tends to produce hollow macs shell.
In as much as I prefer natural colouring for my desserts, it is inevitable that presentation is crucial. Macarons won't gain so much popularity if its not for the beautiful rays of rainbow shells, and for this some food colouring is needed. I like to use gel colouring (Americolor brand) as the colour really pops and you only require a tiny amount to achieve a beautiful shade. I avoid Wilton colours as I find them a bit liquidy and it affects the consistency of the macaron batter. If you prefer to leave the shells plain then you should concentrate more on the filling.
Filling plays a huge part in creating bespoke macarons, as this is the aspect that  you can shine as a patissier. If the tower is for an outdoor event or during hot weather, try to use thick chocolate ganache or sturdy buttercream to avoid the shells from falling off the stands. The buttercream can be flavoured with fruit puree, lemon curd, coffee oil etc. Prepare the fillings in advance as this can help you in time management. Most fillings can be kept in the fridge for a week, or frozen for months.
Also, fill the macarons and keep them in the fridge for at least 24 hours for the flavour to mature, this is especially so if you are using plain shells.
Choosing the theme for the tower
Usually there will be an event theme in which the macaron tower will be a piece montee, a masterpiece either for dessert table or to replace wedding cakes. Ensure that the colours chosen for the macarons complement the theme. If the tower is to sit on top of a cake, ensure that the colours used for both cakes and towers match each other.
Prepare your baking in advance.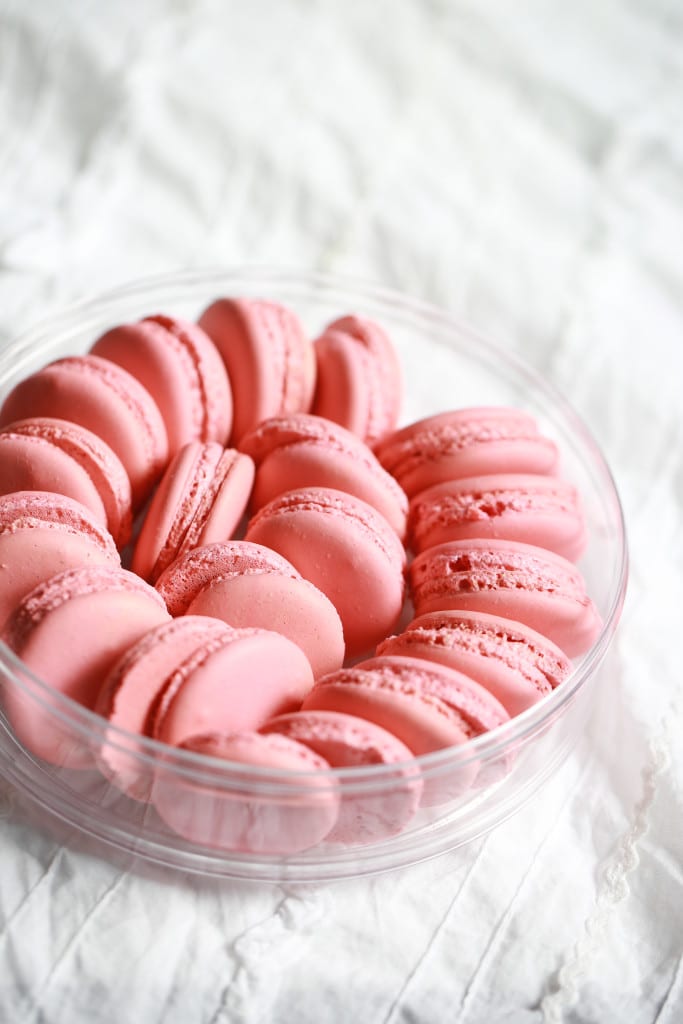 Do not under-estimate baking 250 macarons, ie 500 macaron shells for a tower. You need time to bake them, and it is always wise to bake an extra 20-30 shells in case if there are breakages, faulty shells etc. If you are not using commercial oven, ensure that your home oven can at least accommodate 2 or 3 trays per baking session. It is always best to use fan-assisted mode when baking the shells, so they are baked uniformly.
Do not split the recipe for more than 2 colourings
Macaron recipe is finicky. If you need to make 2 colours from a batch, it is always best to prepare a plain macaronage before dividing the batter into 2 bowls to colour. Do not just add spoonfuls of whisked egg whites into x amount of almond-icing mix, this will not give you a correct consistency for macarons.
Here is my timescale on constructing a macaron tower:
How to Construct a Macaron Tower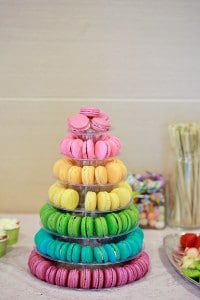 This is a guide on how to construct a macaron tower, and bake planning large batch of macarons.
Ingredients
For macaron recipe: try this
You will need:
One unit of 10-tier acrylic macaron stand
Filling of your choice
Instructions
days in advance of an event: Plan the theme, stock up on ingredients and tools if needed. Ensure the tower is good to be used.
days in advance: Separate egg whites, keep them in the fridge. Use the egg yolks to make filling ( perfect for lemon curd!). Make buttercream or ganache.
to 3 days in advance:Make the shells and bake in batches. I may need half a day to do this using a home oven. Once they are baked check for quality control and fill the macs. Keep them in airtight container, off they go to the fridge to 'mature'.
days in advance: Get all the props ready, such as ribbons, gift tags, doilies for the table etc.
Day of event: Assemble the macarons. There are two ways of doing it, either on styrofoam or acrylic/plastic tower.
Enjoy!