My little one gets attached to one type of food and bores everyone at home with the same food for weeks. He is so stubborn that he would refuse to eat anything else until the fever of one food spreads to another. This time it was bagel and cream cheese that was on for weeks and then transformed to pizza. I didn't know what to do with the leftover bagels that were sitting in my pantry completely outcasted from my kid's menu. With no other option, I sneaked them as cups and baked them on muffin pans with marinara sauce and cheese. Kiddo couldn't realize he was eating bagel as pizza and was happy to see cute little pizza cups. Did I bother to tell him what he was relishing, hell no!!! why do I want to invite trouble when kiddo and bagel both are happy?
On a second thought, these cups did taste awesome that I'm planning to make them often especially on days when I run out of pizza dough or don't have the time and patience to make the dough from scratch. I guess the fever is catching on….be aware!!!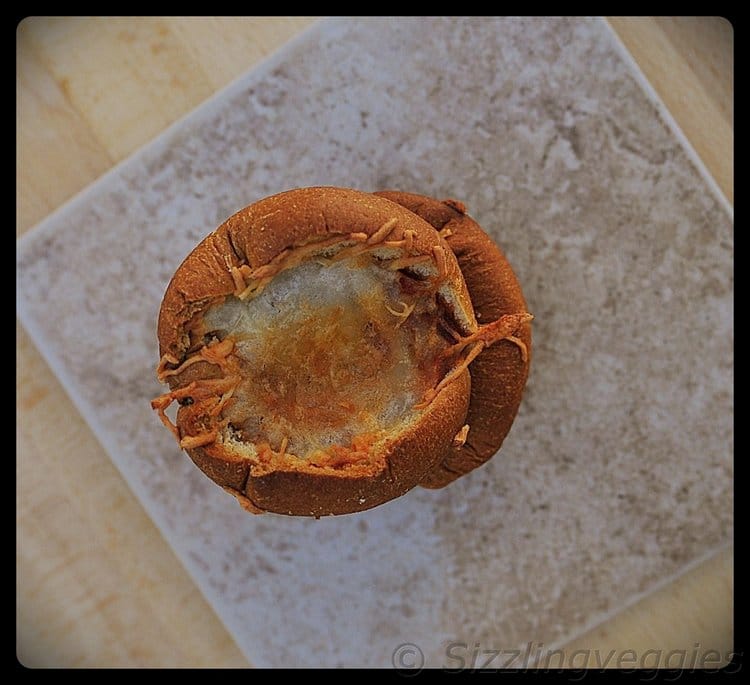 Ingredients:
Mini Bagel — 6
Marinara Sauce/Pizza Sauce –1/2 cup
Shredded Mozarella Cheese — 1/2 cup
Method:
Arrange bagel in the form of cup, squeeze them in and top them with marinara sauce and cheese. Any topping for pizza should go well with this one. Bake in 350F for 15-20 minutes until the cheese melts and the bagel cups are evenly browned. Cool on wire rack for 5 minutes and Enjoy!!!