Atayef With Blueberry Sauce and Cream Cheese.
Like I mentioned in myStrawberry Shortcake post, blueberries are in full force at the supermarkets right now, and of course I got some for myself. I have to confess, I am not particularly fond of blueberries … but when everyone around you is snapping up a few punnets at one go, you go grab some too. Talk about herd mentality, huh?
Anyway, I made a jammy blueberry sauce the next day, and was looking for a pancake recipe when I chanced upon some beautiful Atayef at Joumana's equally beautifulblog. According to her, "Atayef are the equivalent of American pancakes … [they] are considered a dessert, not a breakfast food; in Beirut, there are shops where people order these; you can get the clotted cream or ashta there and the syrup as well."
I don't know about you, but these are soooo good, I could eat them for dessert AND breakfast! Mmmmm …
Alright, so there are three recipes in today's post, but don't be daunted. They are all very easy, trust me. First, let's start with the blueberry sauce, which can be done the day before (and refrigerated).
Recipe for Blueberry Sauce
(from here)
– 2 tbsp sugar
– 2 tsp cornstarch
– 1/4 cup water
– 1 cup blueberries
– 1 tbsp lemon juice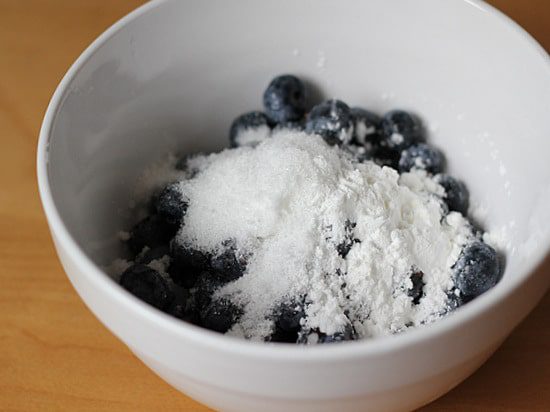 Cook all these ingredients in a saucepan over a low flame, stirring constantly. Cook for as long as you want your blueberries to be mushy. I allowed mine to soften and split, but still retain their shape.
And then you get this: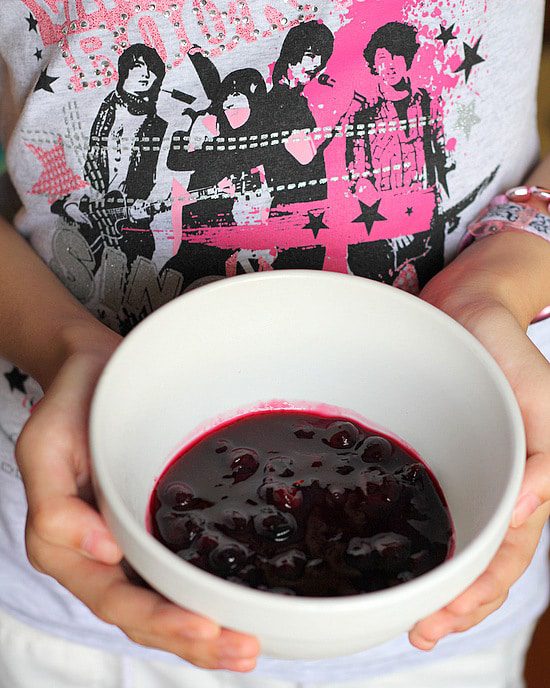 Tadah! Blueberry sauce served up by The Jonas Brothers and Demi Lovato!
Next, we have to make the sweetened Cream Cheese Mixture. I don't have any photos for this, but basically, you add these ingredients together and whip them into a creamy blend:
Recipe for Cream Cheese Mixture
(Guesswork by The Little Teochew)
– 200g Philadelphia Cream Cheese (softened)
– 40g unsalted butter (softened)
– 2 tbsps icing sugar
– Splash of milk (if too dry)
* You can adjust the proportions here and there … it's up to you. If you like, you can even add a few drops of vanilla extract.
Now that you have the Cream Cheese mixture, set aside while you make the Atayef.
Recipe Atayef (Pancakes)
(from Taste of Beirut)
See notes by The Little Teochew in italics.
– 1 cup plain flour (better if you use cake flour)*
– 1 1/4 cup milk
– 1 tbsp baking powder
– 1 tbsp sugar (I used my vanilla sugar!)
* If you don't have cake flour, simply take away 2 tbsps of the plain flour and replace with 2 tbsps of corn flour.
1. In a small bowl, sift the flour, sugar and baking powder; mix with a wire whisk.
2. Pour the milk in a bowl; gradually add the flour, sugar and baking powder mixture.
3. Mix with the wire whisk; the consistency should be a little thicker than a crêpe batter. If the batter is too thick, add a little milk. Do not let it rest.
4. Heat a crêpe or pancake nonstick skillet till very hot; grease it with a half teaspoon of oil or spray it; place the equivalent of 1/4 cup of batter in the skillet to form a circle. Let it cook for a few minutes on one side; when it has formed little bubbles and it looks dry, take it out onto a plate. Do not flip it.
* I did not grease my non-stick pan at all, and my Atayef still turned out perfect. 🙂 Also, I made mini ones – don't I always! – and found pouring the batter from a measuring jug (with spout) a breeze.
5. As soon as all the Atayef are cooked, fill them with some ashta (cream) a bit of cherry coulis, pinching on one end to form a spoon shape and place in a serving platter; serve right away or refrigerate for a few hours.
* I made one pancake at a time. Each time a pancake was cooked, I would place it on a cooling rack and pinch the sides, and then make the next pancake. Only after I had finished using up all the batter did I start filling up the pancakes with cream and blueberry sauce.
Here's how the Atayef looks like when it's fresh off the pan and briefly cooled: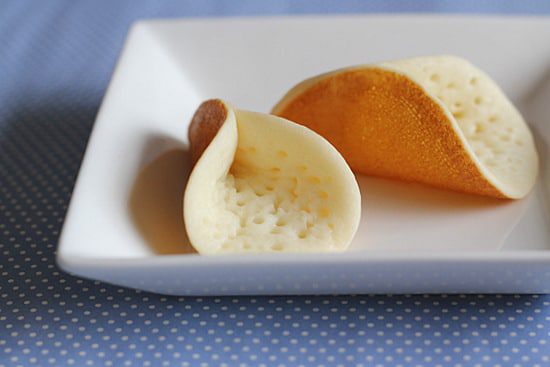 The holes indicate the pancakes are cooked. When the pancakes are still warm (but cool enough to handle), pinch the sides and hold for a short while. They will stick and form these lovely 'petals'.
Make A LOT … you will want to eat more.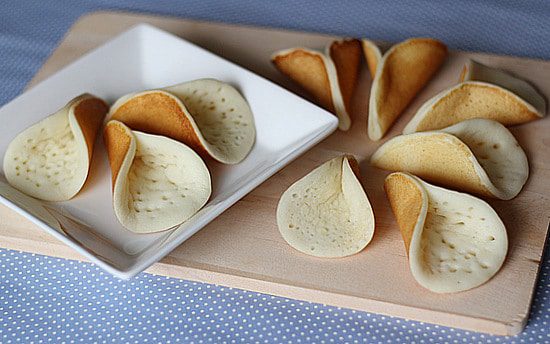 Cloning for a good reason.
And don't forget to bring out a dainty teacup and saucer to match.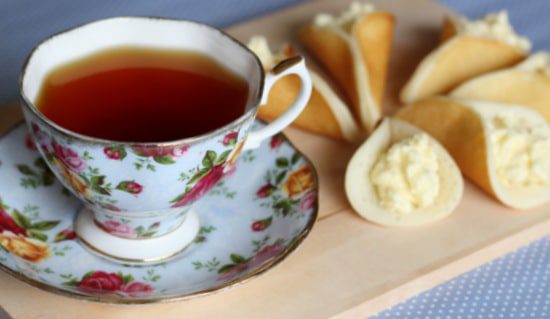 Like my teacup set? It's a gift. 🙂 I am really lucky.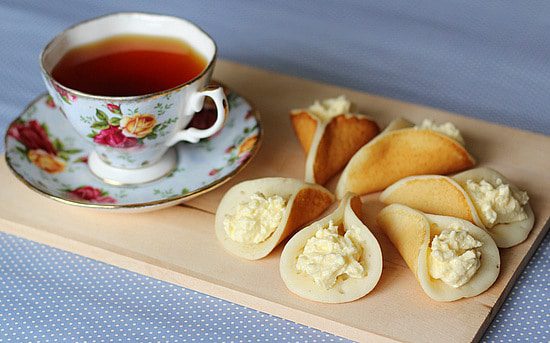 Fill them up with generous dollops of Cream Cheese.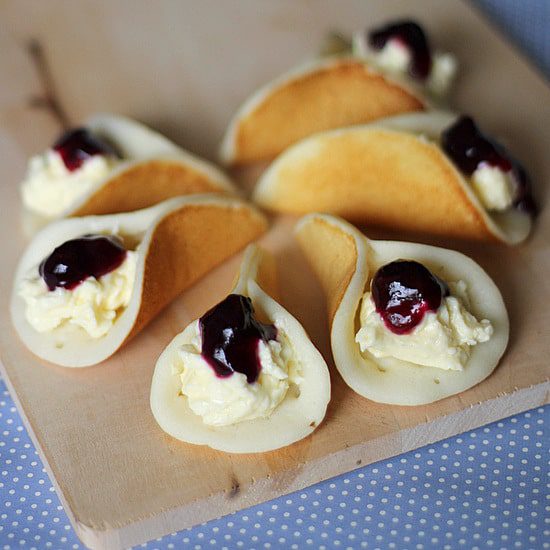 Then dot with jammy blueberry sauce.
You can use ricotta cheese or clotted cream or whipped cream with any fruit preserve you like. But imagine the marriage of Cream Cheese with Blueberry Sauce … like a deconstructed Blueberry Cheesecake that's stuffed in a Pancake! Oh. My. Glee.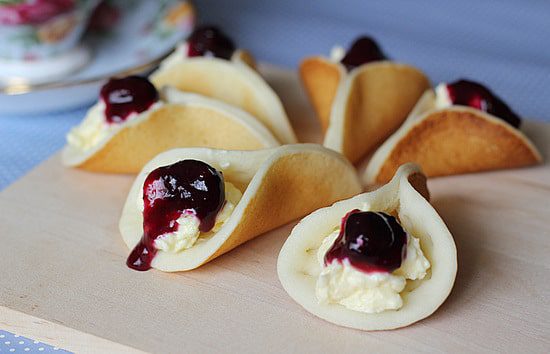 You should have seen the looks on my helper's and daughter's faces when they ate these! Eyes widened at first bite, and then shut tight in bliss thereafter. 🙂 'Nuff said.