These protein bars are care of my friend Jill. I went to a party she was having in May, and she served these bars made out of protein powder. They are delicious, and your kids will never know they are healthy!
INGREDIENTS
1 cup Almond Butter
1/4 cup Honey
1/4 cup Agave
9 oz. Protein Powder (we use Arbonne)
1 1/2 cups Quick cooking Oats
1 Tbsp. Cocoa Powder
METHOD
Mix Almond Butter, Honey and Agave in a microwaveable dish and heat for a minute or so.
Mix well and stir in protein powder.
Add Oats and Cocoa Powder and mix gently.
Spread into an 8×8 baking dish
Refrigerate for 1 hour.
That's all there is to it. No baking!!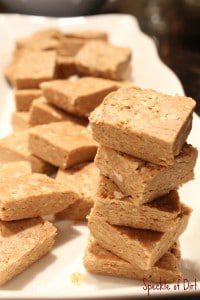 One of my other friends made this recently and used Nutella in place of the Almond Butter. I used straight Agave, just because I don't have the patience to wait for the Honey to drizzle out of its container, and I added Cinnamon. I omitted the Cocoa Powder this time around. I will probably be making these again tomorrow…and the next day!