I blogged a few weeks ago about making my Shavuos cheesecake after the fact and freezing it for us to eat when I returned from my two-week trip to North America.
Well, I'm back, we ate it, and let me tell you — that brownie mosaic cheesecake is ridiculously good.
It was admittedly something of a potchke. You make the crust, then the brownies, then the cheesecake, then the chocolate ganache topping. I think it was only because I did the first three steps three weeks ago and finished up with the topping on Friday that it didn't feel like such a project.
But even if I had done it all the same day, it would have been worth it. This cheesecake is REALLY good.
When we took our first bites after the seuda on Friday night, my husband and I looked at each other in disbelief. Genuine disbelief. And when he said it was the best cheesecake he'd ever tasted, I knew he wasn't just being nice.
I also know I'm in good company. The day I emailed the recipe to a friend, she told me I was the third person to tell her about the cake in one day. This either means that my friends and I all have the same taste in food, or it means this cheesecake is not one to pass up.
Or both.
As we savored our moments of cheesecake bliss, (I was savoring. Hubby was working on his second piece.) I thought about the special occasions I would use as an excuse to bake this again. Shavuos, of course. Maybe Rosh Hashanah…
"Yeah, special occasions," Hubby broke in. "Like Shabbos, and Tuesdays, and Thursdays…"
My last plug for this cake is to admit, not even shamefacedly, that as soon as my at-home photo shoot was over, I ate the evidence.
…Don't think you would have done any differently.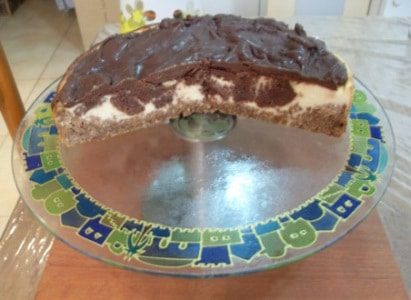 Brownie Mosaic Cheesecake
Very slightly adapted from Smitten Kitchen
Part One: Brownies
4 oz. unsweetened chocolate
¾ cup butter
1½ cups sugar
3 eggs
1 tsp vanilla extract
½ tsp salt
1 cup flour
Directions
1. Preheat oven to 350 F/180 C. Line a 9″×13″ baking pan with foil, with the ends of foil extending over the sides of pan. Grease foil well.
2. Microwave chocolate and butter in a large microwaveable bowl on high for 2 minutes, or until butter is melted. Stir until chocolate is completely melted. Stir in sugar. Blend in eggs and vanilla. Add flour and salt; mix well. Spread into prepared pan.
3. Bake 30-35 minutes or until a toothpick inserted in the center comes out with fudgey crumbs. (Do not overbake.) Let cool, then remove brownies from pan using foil handles.
4. Cut the brownies into 1-inch squares for use in the cheesecake. You'll have more than the two cups you need for this recipe, but I'm sure you'll find something to do with them.
Part Two: Crumb Crust
1½ cups crushed chocolate biscuit cookies
5 Tbsp butter, melted
1/3 cup sugar
1/8 tsp salt
Directions
1. Stir together crust ingredients and press onto the bottom and up 1 inch of the sides of a well-buttered springform pan. Fill right away with cheesecake or chill up to 2 hours.
Part Three: Cheesecake
3 (8-ounce) packages cream cheese, softened
4 eggs
1 tsp vanilla extract
1 cup sugar
2 cups brownie cubes (from part one)
Directions
1. Preheat oven to 350 F/180 C.
2. Beat cream cheese with an electric mixer until fluffy and add eggs, one at a time, followed by vanilla and sugar, beating on low speed until each ingredient is incorporated.
3. Fold brownie cubes in very gently and pour mixture into prepared crust. Put the springform pan with your crust and cheesecake in a baking pan (to catch drips) and bake 45 minutes, or until cake is set 3 inches from the edge but the center is still slightly wobbly when pan is gently shaken.
4. Let cool completely.
Part Four: Ganache Glaze
3 oz. bittersweet chocolate, finely chopped, or ½ cup chocolate chips
¼ cup butter
¼ cup heavy cream
½ tsp vanilla extract
1 Tbsp confectioner's sugar
Directions
1. Grind the chocolate into powder in a food processor. Heat butter and cream in a saucepan until scalding.
2. With the machine running, pour the hot cream/butter mixture slowly through the feed tube onto the chocolate. Blend until completely smooth, stopping the machine to scrape down its sides once or twice.
3. Add the vanilla and confectioner's sugar and process until smooth.
4. Spread over the (completely cooled) cheesecake while ganache is still warm. Chill until ready to serve.
«Previous Post
Next Post »