When it come to pasta, we love homemade one the best. It is fresh and has a wonderful texture. Making homemade pasta is really very simple and easy. My sister who really doesn't know cooking much was responsible for the pasta, today. And she finished the job perfectly… so there is no need to say more how easy it is.
To go with this delicious fresh pasta, I made a super quick and mouthwatering prawn sauce. This simple sauce couldn't be yummier. It is so perfect with our homemade pasta. It's definitely gonna make you happy.
Homemade Pasta with Prawn
Ingredients: (4 servings)
For homemade pasta please refer to out homemade pasta post.
500 gm prawn- peeled and deveined
1 large onion- chopped
4 large tomato- deseeded and pureed
4 cloves garlic- minced
1 tsp minced ginger
1/2 cup ketchup
1 tbsp Worcestershire sauce
1 tsp salt
1 tsp dried oregano
1 cup chicken stock
2 tbsp butter
Melt butter in the medium sauce pan over the medium heat.
Add onion and sauté until translucent.
Add garlic and ginger and stir for 1 minute.
Add fresh tomato puree and cook for few minutes or until the puree is cooked.
Add Worcestershire sauce, salt, ketchup and dried oregano, and sir for 1 minute.
Add chicken stock and bring to boil.
Add prawn and cook further for few minutes or until the prawn are cooked and turn pink.
Add pasta and toss well.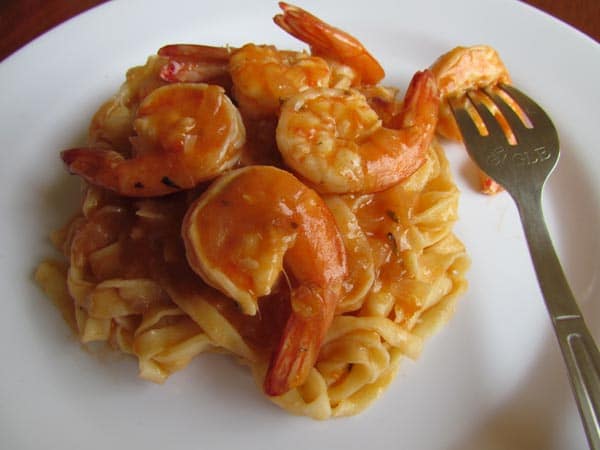 Have you ever tried making homemade pasta, which sauce you think suits it best? Or what do you do with your homemade pasta?
Take care