The other evening, an alluring aroma came wafting into my home. Someone had obviously begun cooking dinner and clearly, was using a copious amount of sesame oil. I can't quite remember what I was doing at the moment, but I do recall telling myself that it must have been the wet, gloomy weather that was making me crave for a warming dish with plenty of sesame oil.
The next day, I cooked 3 Cups Chicken 🙂
If you are familiar with Chinese cuisine, you would have heard of this dish. It uses 3 key ingredients – sesame oil, soy sauce and rice wine – and is traditionally served in claypot. According toWikipedia, "When it is served at the table, the chicken should be sizzling — even popping — on the cusp of burning."
On the cusp of burning! Serve me something that is sizzling hot and I am an instant convert.
For the uninitiated, "3 cups" in this dish does not equate with the actual "cup" in the baking sense of the word. It merely refers to the proportions. So, if you used, say, 200ml sesame oil, then you will be using the same amounts for the soy and wine respectively. For me, I used my rice bowl as a guide.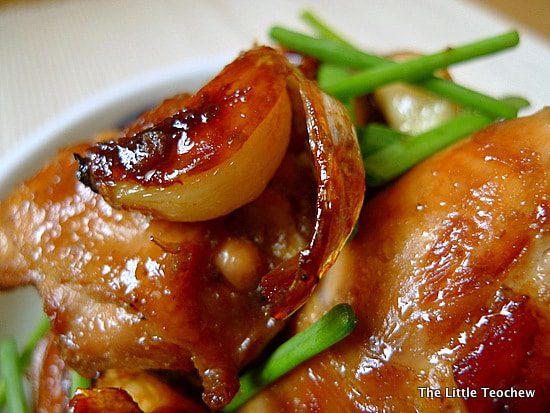 Now, if you know me, I adore cognac in my food. Hence, faced with the choice of using Hua Tiao rice wine or Camus cognac, my decision couldn't have been more sober 😉
I would highly recommend marinating the chicken for an extended period of time, to allow the flavours to mingle and infuse. I did the marinating in the morning, at about 8.30am, and cooked the dish at about 6.30pm. Another time I made it, I allowed the chicken to marinate overnight, and it was even more delicious.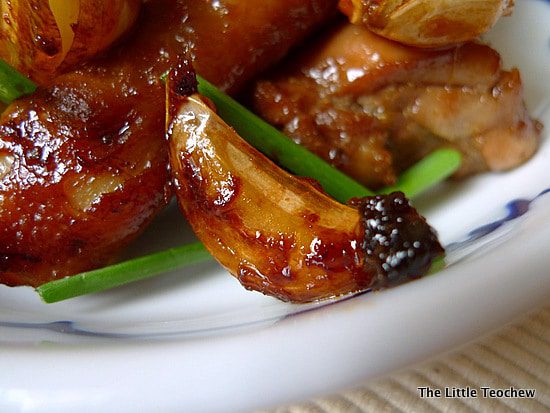 Of course, being a fan of garlic, I added an entire bulb! I saved those nuggets of gold for last. I know you're probably going to laugh at me, but I can honestly say that while I thoroughly enjoyed the chicken in all its caramelised glory, I relished every clove of garlic even more. Slow-cooked in their own skins, their astringent bite mellowed, they were a pleasure to eat – so creamy, almost like potatoes. Heaven.
Recipe
– 1 fresh chicken (chopped into identical-sized parts)
– 1 rice bowl black sesame oil
– 1 rice bowl soy sauce
– 1 rice bowl Hua Tiao Chinese rice wine (or COGNAC!)
– 1 bulb garlic, separated into individual cloves, skins on
– 3 slices old ginger
– 1 thumb size rock sugar (or 2 tbsp fine sugar – a little more or less won't hurt)
– 3 large bunches of spring onions, cut into 1 inch lengths (I did not have basil, as called for by most recipes, so I used spring onions in lieu … they worked fine)
* For the sake of photography, I saved some spring onions for garnishing. You don't have to.
1. Marinate chicken with soy, sesame oil and rice wine. At least for 6 hours, although overnight is best.
2. Take the chill off the meat. Heat up some sesame oil in a wok or claypot until it is sizzling hot.
3. Throw in garlic, ginger and spring onions. Fry briefly till fragrant. Add in chicken and sear.
4. Keep stir-frying. Pour in the marinade liquid and the sugar. Continue to cook on medium.
5. Once you have a rolling boil, cover the wok/claypot and let it simmer over a small flame, until all the liquid has disappeared and the chicken is on the cusp of burning.
6. There should hardly be any gravy left. The chicken should be caramelised (charred at parts, even) and sizzling when served.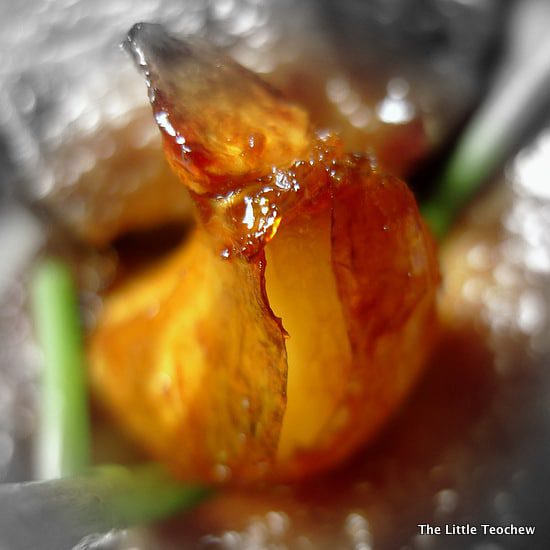 Maybe I should do a "3 Cups Garlic"?