Getting ill on weekends seems to be my
favourite thing to do in the world, and when you don't haveany sort of contact with human beings of
any sort for three and a half days,
and you stay all curled up in bed like an amoeba for three and a half days,
then it's quite understandable that you kind of wish you were home where caring
human beings feed you ice cream and you don't have to go out to buy carrots
with a fever and toilet paper and that sort of things. So now that I am
apparently succeeding in defeating disease, I gathered all the strength I had
left (just enough to grate an apple to be precise) and baked something kind of
home-related. Buckwheat flour is very common where I'm from in Northern Italy
so here's a buckwheat flour cake. It's very light and moist because of the
apple and apple puree and it's usually served with a redcurrant or blueberry or
raspberry jam filling. Now I am known for being a fan of sweet chocolateyness
so to the redcurrant jam I added some chocolate filling. Sorry Italian food police.
This is so good and sticky and chocolatey.
APPLE BUCKWHEAT CAKE
with chocolate & redcurrant jam filling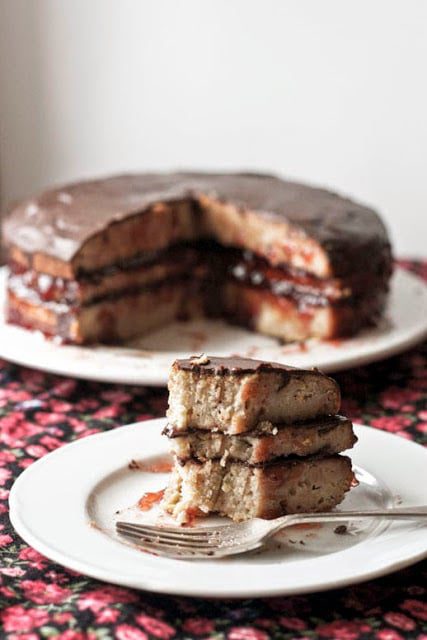 300g (2 ½ cups) buckwheat flour
100g (1 cup) ground almonds
100g (1/3 cup) unrefined golden caster
sugar
1 tablespoon cream of tartar
250g (1 cup) apple puree
240ml (1 cup) soya milk or other non-dairy
milk
120ml (1/2 cup) sunflower oil or other
flavourless oil
1 large yellow apple, grated
Filling:
150g (1 cup) dark chocolate chips
2 tablespoons coconut oil, melted
½ teaspoon salt
redcurrant jam
Preheat the oven to 170°C/340°F and lightly
grease a 22cm/9" cake tin.
In a large bowl, mix together buckwheat
flour, ground almonds, sugar and cream of tartar. In a separate bowl combine
apple puree, milk and oil. Pour the wet ingredients into the dry mixture, mix
well with a spoon until combined, then add the grated apple. Pour the batter
into the prepared tin and bake for 35 minutes or until a toothpick inserted
into the centre of the cake comes out clean.
Place onto a rack to cool for about 20 minutes,
then remove from the tin and leave until completely cool.
Once cool, cut the cake into three even
layers and move on to the chocolate filling. Melt the chocolate chips over a
low heat then add the melted coconut oil and salt and mix until well combined.
Pour about 1/3 of the chocolate filling onto each layer then spread a generous amount of red currant jam onto two of the layers over
the chocolate filling. To assemble, sandwich the three layers on top of each
other, leaving the layer without jam at the very top.
Slice and enjoy to fight all illnesses.