Thai eggplant and mushroom green curry is unexpectedly great with spaghetti. I started serving any kind of Thai curry over spaghetti ever since I tried Spaghetti with Thai Prawn Panang Sauce in a small restaurant near my school. I hesitated at the beginning but after first try I was hooked. My mom who preferred authentic dishes, even adopted this idea and served her Thai red curry with minced chicken over macaroni, and it was always amazingly delicious.
I don't usually do a vegetarian version of Thai curry, but since the demand from the readers for more vegetarian recipes grew high and we also need more vegetable in our diet, we enrich our creamy green curry sauce with eggplant and mushroom today. Eggplant is always great with Thai curry, though we usually do it with green eggplants or Thai mini eggplants. The purple eggplant is easy to find and it gives the wonderful contrast to the texture of white button mushroom. This curry sauce was simple and quick. It is light, fresh and wonderful with rice or pasta.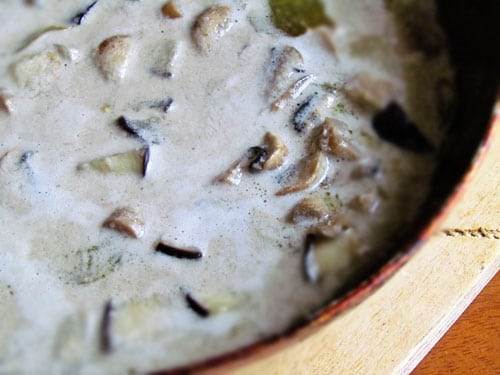 Spaghetti with Eggplant & Mushroom Green Curry Sauce

Ingredients: (4 servings)

250 gm uncooked dried spaghetti

200 gm fresh button mushroom- sliced

100 gm eggplant- cute into small cubes

1 tbsp Thai green curry paste

Few kaffir lime leaves- optional

1 vegetable stock cube (use which without MSG added)

Salt to taste

1/2 tbsp oil

1 1/2 cup coconut cream

1/2 cup water

Preparation:

1 Cook spaghetti as per package instruction, toss with butter or olive oil and keep aside.

2 Heat oil in the medium pan over the medium heat and fry green curry paste until fragrant.

3 Add half quantity of coconut cream with 1/2 cup of water and bring to boil.

4 Add vegetable stock cube, mushroom and eggplant. Throw in kaffir lime leaves if you have some. Cook further over the high heat for 3-5 minutes or until eggplant is cooked and soft.

5 Add the rest of coconut cream and cook further until the sauce is about to boil.

6 Check the seasoning and remove from the heat.

7 Serve hot over spaghetti and garnished with chili flakes for extra heat or fresh mint and basil for the freshness.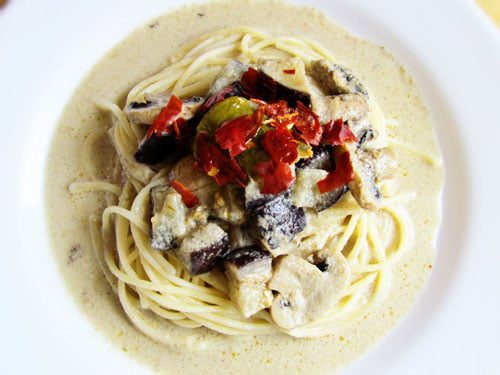 The curry sauce was mild and creamy. Coconut cream gave the modest sweet to this rich sauce. Eggplant and mushroom were soft and juicy. The sauce coated hot spaghetti so well. It was light, fresh, aromatic, and perfect for the bright summer lunch.
Take care,