Hello grown up chicken fingers!  Chicken fingers that are marinated in a Mountain High Yoghurt and mustard mix (plus I added a little horseradish for an extra kick) and crusted in toasted almonds and chia seeds.  Plus they are baked and not fried and served with a homemade ranch dressing that is also made with plain, low-fat Mountain High Yoghurt.
These are definitely not your kid's chicken fingers, but these are so delicious your kids will have no problem scarfing them down.
I have been substituting yogurt for mayonnaise/sour cream/buttermilk for some time now.  Mostly because I usually always have some on hand, but also because it's worlds better for you and the tangy bite of yogurt compliments foods and baked goods so well.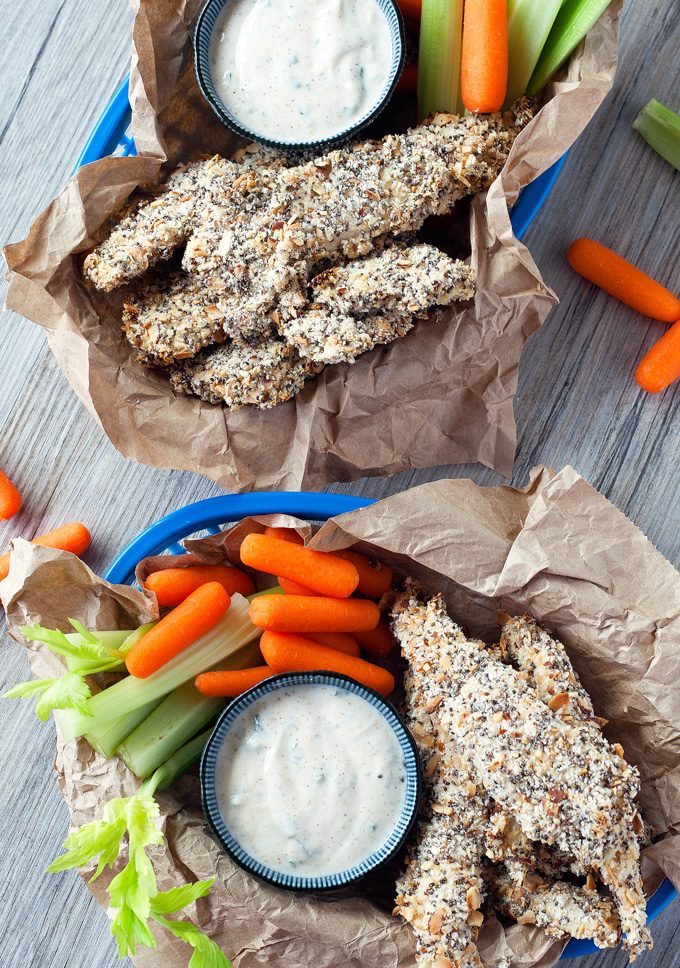 For these toasted almond and chia seed chicken fingers I started off with three medium boneless-skinless chicken breasts, cut them into finger-like strips and marinated them in a mix of low-fat Mountain High Yoghurt, dijon mustard and just a hint of creamy horseradish (which is totally optional).  I only let that marinate long enough for me to toast some almonds and chia seeds (hello crunch!).
I mixed the almonds and chia seeds with some gluten free panko bread crumbs and then coated the chicken with it.  These baked for about 15-20 minutes or until golden brown a cooked throughout.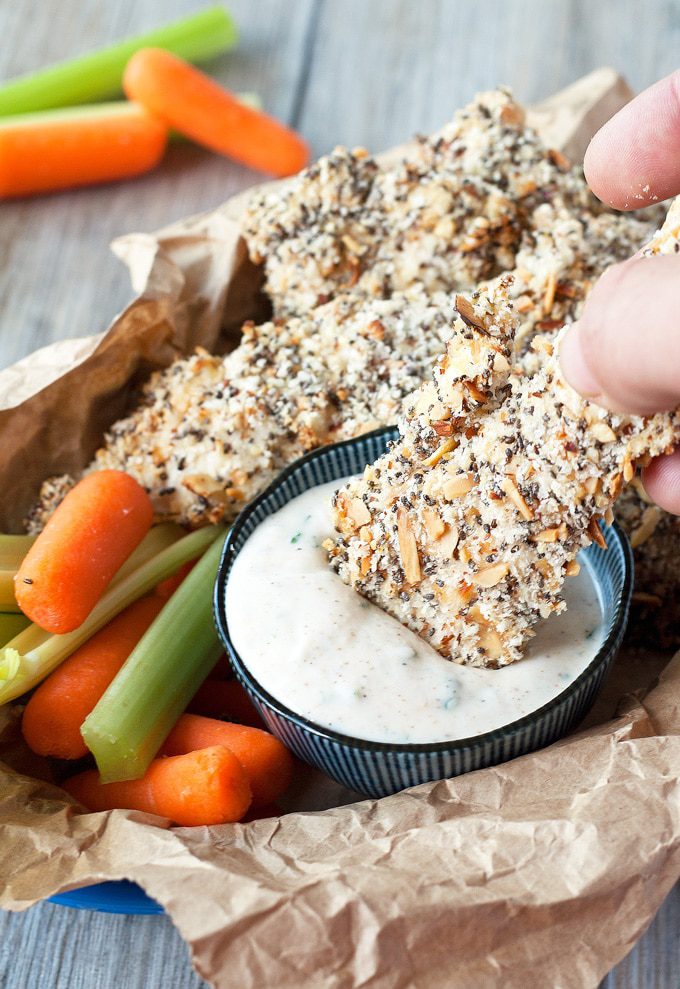 I served them hot out of the oven with a homemade Mountain High Yoghurt ranch dressing and some cut up celery and carrots.  This was the perfect grown up, healthy but still feel like a kid again meal.
For more delicious recipes and ideas on using Mountain High Yoghurt check out there Pinterest, Facebook and Instagram.  Plus Mountain High Yoghurt is giving all my readers a $1.00 off coupon on Mountain High Yoghurt so you can grab some for  yourself!
toasted almond and chia seed chicken fingers
ingredients
chicken strips
3 large boneless, skinless chicken breasts cut into strips
½ cup low fat plain Mountain High Yoghurt
½ cup Dijon mustard
2 tablespoons creamy horseradish, optional
1 cup almond slices
½ cup chia seeds
1½ cup gluten free panko bread crumbs
ranch dipping sauce
¾ cup low fat plain Mountain High Yoghurt
½ tablespoon garlic powder
½ teaspoon celery salt
1 shakes hot sauce
1 tablespoons chopped flat leaf parsley
1 tablespoon chopped chives
salt, to taste
Instructions
chicken strips
Preheat oven to 350 degrees and line a baking sheet with parchment paper.
In a large bowl, combine Mountain High Yoghurt, Dijon mustard, and horseradish if using. Add chicken and stir to cover, set aside.
On the prepared baking sheet, evenly spread out chia seeds and almond. Bake for 8-12 minutes, stirring at least once, until almonds are just starting to turn brown.
Remove almonds and chia seeds from baking sheet and place in a large food processor.
Turn up oven to 425 degrees F and top previous baking sheet with a wire rack. Using a wire rack helps air circulate around the chicken, causing it to cook more evenly.
Add the panko bread crumbs to the food processor with the almonds and chia seeds and pulse 6-10 times. You want this mixture smooth, but with some large pieces of almonds. Place in a large bowl.
To batter the chicken, remove each slice from the yoghurt-mustard mixture and knock any excessive sauce off. Coat with the chia seed almond mixture and then place on the baking sheet fitting with a wire rack. Make sure to give the chicken plenty of space so they can bake up nice and crispy. I used two baking sheets for the chicken.
Bake in the oven for 15-20 minutes or until cooked throughout and crispy on the outside.
Serve immediately with Mountain High Yoghurt ranch dipping sauce.
ranch dipping sauce
Combine all ingredients in a small bowl and mix together. This is best if made ahead and has a little time for flavors to marinate.