I'm not really sure I can call this a salad, but I can probably get away with it more than I can calling this or this a salad. At least this one has spinach in it. But every other name I came up for it was just way too long and cumbersome. Try on "Butternut squash and chicken with farro and wilted spinach in a chipotle-adobo dressing". Quite a mouthful, but it does sound pretty good, doesn't it?
This was actually my first time cooking with farro. I've been meaning to make it for a while, but my list of things to make seems to grow, not shrink. At this rate, it'll take the rest of my life to work through it all. Somehow, I'm OK with that. Still, I checked this one off of my list and I'll probably be going back to it. I wasn't quite sure what to expect but it's actually a lot like barley.
As I'm still on my chipotle kick, I worked some into this dish as well. Unlike the shrimp tacos the chipotle is content to take a minor role and just add a hint of heat and smokiness to the dish. I kept things simple and basically used it as a salad dressing mixed with a bit of oil.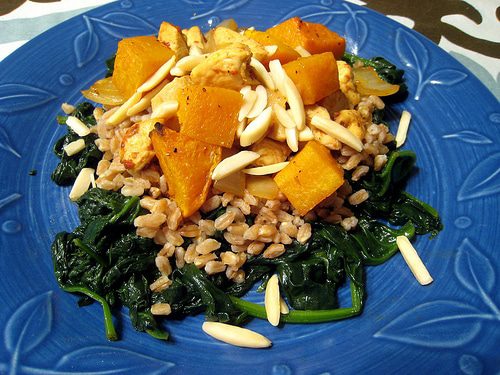 Click through the jump to see the recipe.
Butternut squash and chicken with farro and wilted spinach in a chipotle-adobo dressing
Makes 4 large portions.
Ingredients
1 medium butternut squash (about 2 lbs)
3 chicken breasts, cut into bite sized chunks
1 large bag spinach leaves
3 cloves garlic, minced
4 teaspoons chipotle in adobo (chipotle minced)
olive oil
salt, pepper
Directions
For the squash:
1. Preheat the oven to 400F.
2. Peel the butternut squash, scoop out and discard the seeds, then cut into chunks (bite sized, but not too small).
3. Toss the chunks along with a teaspoon of salt and half teaspoon of pepper in a tablespoon or two of olive oil. Transfer to a rimmed baking sheet.
4. Roast for 30-45 minutes, or until lightly browning and tender. Give the pan a shake or use a spatula to loosen any pieces that might be getting stuck after 10-15 minutes.
The rest
1. Chipotle dressing: Combine a tablespoon (3 of the 4 teaspoons) of crushed chipotle in adobo with about a half teaspoon of olive oil. Add more oil as needed, but use just enough olive oil to loosen the chipotle mixture.
2. Prepare the farro according to the directions in the packet. I used chicken broth as the cooking liquid.
3. While that is cooking, heat a large skillet over medium-high heat. Once hot, add a tablespoon of olive oil and then add the chicken pieces. Cook for 3-5 minutes, stirring occasionally, until the chicken is cooked through and has browned slightly (*protip* don't stir too often). About a minute or so into the cooking time, or once the chicken loses its raw color, add a teaspoon of the remaining chipotle in adobo and stir to combine.
4. Heat a large pot over medium high heat. Once hot, add a tablespoon of olive oil then add the minced garlic. Stir to distribute the garlic in the bottom of the pan, then add all the spinach. Cook through, until all the spinach has wilted and reduced in size.
5. Combine equal parts chicken and butternut squash in a large bowl and toss gently with half the chipotle dressing. You may have butternut squash left over. It's up to you to add it in or leave it out. (I left it out because I love roasted butternut squash on its own–I just ate it plain.)
To serve
Place a thin layer of spinach on the bottom of the plate, then add some farro on top. To that, add the chicken and butternut squash. Sprinkle some slivered almonds on top and, if desired, drizzle with any extra chipotle mixture for extra heat.