I'm still little rusty getting back to blogging after the break. I may even forget how to operate my oven as its under repair for few months now. Complaining and whining doesn't move the mountain (my husband), so I started making desserts that doesn't require oven. As long as I don't get bored of these desserts my sweet tooth is happy and so is my family's.

This is what a typical NY Cheese cake consists of whipping cream and cream cheese topped over a graham cracker crust , baked, and then cooled. Nowadays people just don't have enough time to wait for the oven to heat up. Some people don't have an oven. To be honest, some don't know how to use one.People are usually out of the house by 9 am and come back around 5 pm. So the two minutes they can spend trying to make dessert probably end up as a microwave burnt lump of what seems to resemble the sandman version of the Disney character Olaf.
In this case, I flaunt and say I was busy and I didn't have time but the reality is, 1. Our oven doesn't work, playing the part of a décor piece currently. 2. I have no idea how to work an oven. The most progress I get with monstrous heating-box-appliance, is knowing how to press its buttons. And when I do press its buttons, it squeals in annoyance by beeping as loud as it could.
So obviously, I walk up to queen that is my mother and ask her craft a dessert worthy of my abilities. A no-bake cheese cake. As catchy as that sounds it also catches you by its marvelous taste!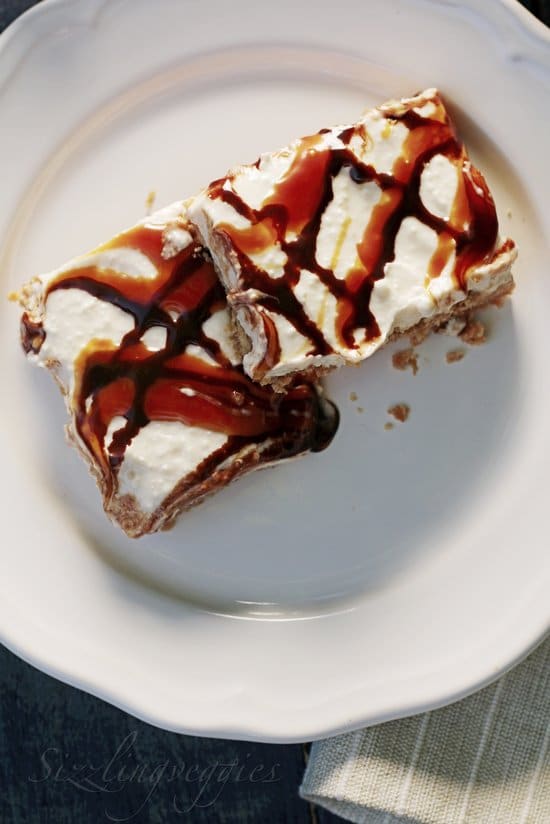 Cheese cake with Salted Caramel
Ingredients
Graham crackers or digestive biscuits — 7 oz (about 12 to 13 crackers)
Unsalted Butter, melted — 4 oz
Double cream or Heavy cream — 1/2 cup + 2 Tbsp
Cream Cheese — 1 + 1/3 cup
Confectioner's Sugar –1/2 cup
Vanilla Extract — 1 tsp
Caramel Sauce — 1 + 1/4 cups
Semi-sweet chocolate, melted — 2 oz
Coarse Rock Salt — 1 Tbsp (optional)
Instructions
Put graham crackers in a ziploc bag and crush them into crumbs using a rolling pin.
In a large bowl combine graham cracker crumbs and melted butter
In a baking dish (approx 8″x8″) lined with parchment paper, spread the butter crumbs to the bottom of the dish. Press lightly with the back of the spoon and make a even layer. Place it in the fridge while working on the cream cheese layer.
In a large bowl add heavy cream and whisk till stiff peak is formed. Add cream cheese, vanilla extract, sugar, and half of salted caramel sauce. Whisk till all the ingredients are well combined.
Take the dish out of the fridge. Add the cream cheese layer on top of the crumb layer. Return the dish to fridge for at least an hour.
When ready to serve remove the cheesecake from the fridge. Lift the entire cheese cake using the parchment paper. Carefully slice into pieces.
Place caramel sauce and melted chocolate into a piping bag or plastic bag. Drizzle caramel sauce and chocolate sauce on top of each of the cheese cake pieces. Decorate with rock salt(optional). Enjoy!!!