It would be terrible to break the silence here with a drink, when there are lots of desserts recipe sitting happily in my draft, or salivated many on the Instagram. I am in a mood to rant, and as I am sipping the Thai milk tea, cold no less, I thought I should share it quickly here. Last week this website and the extension for baking classes were down due to an unexpected nuisance hack, who would have thought. I managed to bring this back to life, but the Sg Bake Club site needed more resuscitation. That's the story of a one-woman-show, with very basic IT knowledge and almost non-existent admin skill, ha. Hence why I need lots of iced Thai milk tea to bring me back to the zen state. I must admit that the whole hack thing made me re-consider this whole blogging, whether it was a sign to keep going or not. I have met a lot of wonderful people over the last 5 years, and made true friendships despite only interacting virtually on the common bond of food. But of course, I also had my fingers burnt with few wrong people, that is just life. Admittedly I seldom blog hop these days and as the baking classes progress a new dilemma beckons, would it fair to share the recipes taught in the class here, knowing that a group of students pay for it, so would it still be fair to them if it is so accessible here?
Oh well, back to the tea! I first saw this drink at WhiteonRicecouple, a happy place where I salivate over their delicious offerings and awesome photography. Then years later I noticed we even have instant Thai Milk tea sold in the supermarkets here, in fancy sachets no less. Despite my sweet tooth I like my drinks without sugar, so 3-in-1 sachets just won't cut it. I decided to buy the tea powder and add some spices instead, making them more of a homemade creation.
This is a simple no-brainer 'recipe', one that you should do based on your taste and to an extent the allergy tolerance. Make it completely vegan with coconut milk, or go Asian with evaporated milk (somehow I feel it is more 'asianised' than fresh milk!). Either way, serve it with plenty of ice, really, it makes all the difference.
Thai Milk Tea and Life.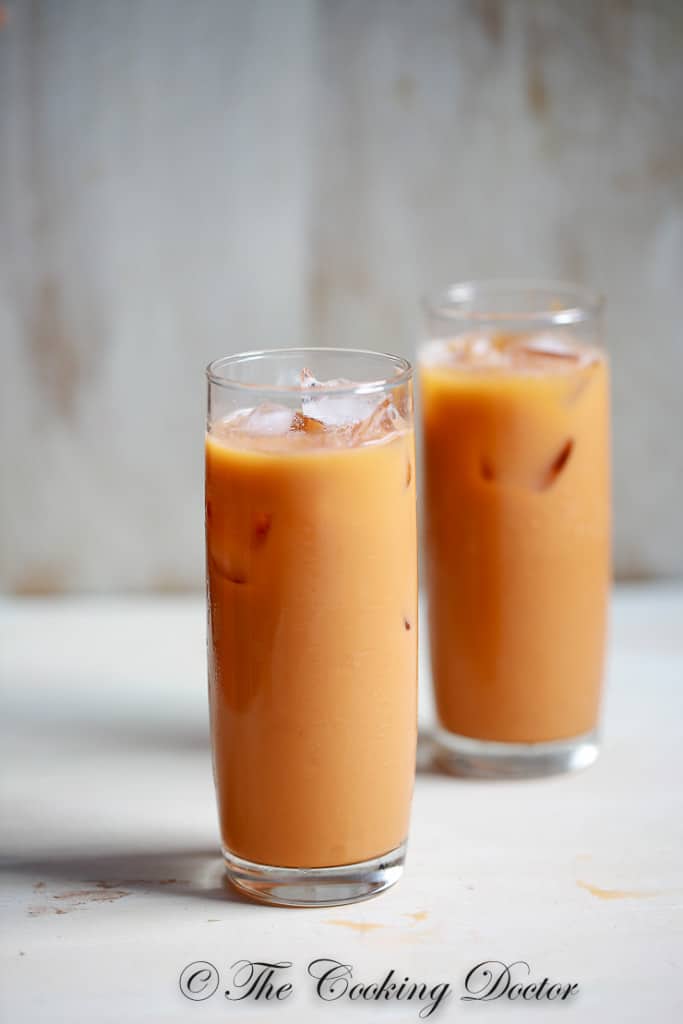 Print
Prep time
5 mins
Cook time
5 mins
Total time
10 mins
Thai Milk Tea by The Cooking Doctor
Serves: 2-4 glasses
Ingredients
3 tbsp Thai tea leaves
1 clove
1 cinnamon
2-3 cardamom pods
Sugar ( if needed)
3 cups water for brewing
½ cup evaporated milk or coconut milk
Plenty of crushed ice
Instructions
In a pot, boil the tea leaves with the spices, sugar and water until the liquid turns amber, on low heat.
Strain to a teapot.
Once the tea is slightly cold, pour them half full into glasses filled with ice.
Fill the remaining glass with milk of your choice.
Alternatively mix the milk into the strained tea and steep to cool prior to serving.