I don't think I've ever made homemade breadsticks before.  I don't even eat breadsticks unless I'm at the Olive Garden… and that was four years ago.  Or maybe I've had them when we've ordered Pizza Hut or Dominos or something (which is never).  Speaking of Pizza Hut, they have a new Crazy Cheesy Crust Pizza and it's shaped like a flower.  It looks reallly cheesy.  I can't decide if I want to eat it, or if it's really gross.  I do like that it's flower shaped.
I've thought about it, and I think I'd eat it.  You have to try everything once.  Which is why I'm considering eating at White Castle very soon since I've never been to one before.  They didn't have them in Springfield or Chicago.  But they do in St. Louis!  Is this a good or bad idea?
These breadsticks are healthier than Pizza Hut's.  The bread does have some butter and olive oil, but it's not greasy.  And you have healthy spinach and sun dried tomatoes on top!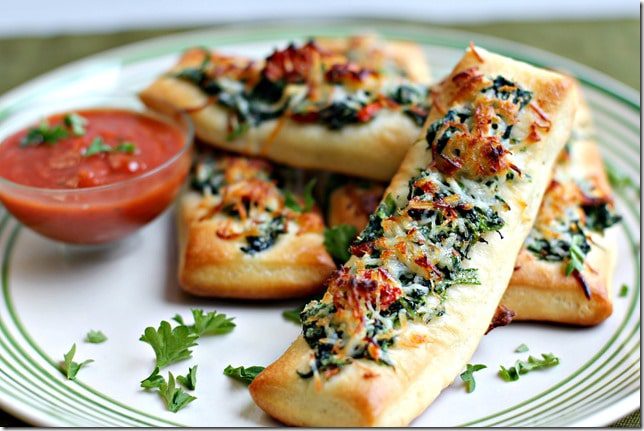 So I made a basic bread dough, and after it rose, I sliced it into sticks,  After proofing the dough again, I topped the breadsticks with spinach, ricotta cheese, herbs, garlic, sun dried tomatoes and cheese.  Then they're baked until golden brown.
I ate these as a meal with tomato sauce for dipping, and they were really good.  I think they'd be good served with tomato soup, too.  You could use the bread recipe and top the sticks with whatever you wanted.  I'm thinking pepperoni would be good, maybe some mushrooms, olives, peppers…. or maybe just some fancy cheese.
Spinach & Sun Dried Tomato Cheesy Breadsticks

Ingredients:
1 cup lukewarm milk
2 1/4 teaspoons active dry yeast
2 tablespoons granulated sugar
4 tablespoons unsalted butter, softened
1 1/2 teaspoons baking powder
1/2 teaspoon salt
3 cups all-purpose flour
2 tablespoons olive oil
1 box frozen cut spinach, thawed
2/3 cup ricotta cheese
1/3 cup chopped sun dried tomatoes
1 teaspoon dried Italian herbs
1/8 teaspoon garlic powder
1/4 teaspoon finely ground sea salt
1/4 teaspoon finely ground black pepper
1/2 cup finely shredded Italian cheese blend
Directions:
In a large bowl, stir together milk, yeast and sugar until dissolved; set aside 10 minutes.  Stir in butter, baking powder, salt, and flour until well combined.  Turn dough out onto a work surface and knead 4-5 minutes, until smooth and elastic.  Place dough in a greased bowl, cover with plastic wrap, and rise in a warm area for 1 1/2 hours, or until doubled in bulk.
Take half of the dough and roll out onto a lightly floured surface, into a 10×8-inch rectangle, about a 1/4-inch in thickness. Cut into 10 equal-sized strips.  Transfer the dough strips to a greased cookie sheet.  Repeat process with remaining dough.  Brush dough with olive oil; cover with plastic wrap or a towel, and rise 30-45 minutes or until doubled in bulk.
Heat oven to 400 degrees F.
Squeeze out the excess water in spinach.  In a medium bowl, stir together spinach, ricotta, tomato, herbs, garlic powder, salt and pepper until well combined.  Divide spinach onto bread sticks; sprinkle Italian cheese on top.  Bake 20 minutes or until golden brown.  Serve with tomato sauce for dipping.
Makes 4 servings