"You don't have to cook fancy or complicated masterpieces — just good food from fresh ingredients" — Julia Child

Today's recipe is very simple made with fresh ingredients. It's not fancy nor can be considered a culinary masterpiece but the burst of fresh flavors do make you want to relax and savor each and every bite. There's no milk or heavy cream in this recipe that's prominently present in creamy sauces rather avocado provides the needed smooth creamy texture which negates the need for milk or milk products.
This recipe does have a drawback that it has no shelf life as the avocado tend to oxidize once cut and turns brown. The good part is that this recipe can be whipped in less than 15 minutes that you don't need to make it before hand and can enjoy it immediately. I used multi-grain spaghetti as it has more protein and fiber content than the regular one. This sauce can be used on other pasta varieties too. For a grain free pasta use this sauce on julienne cut spaghetti squash or zucchini. Enjoy!!!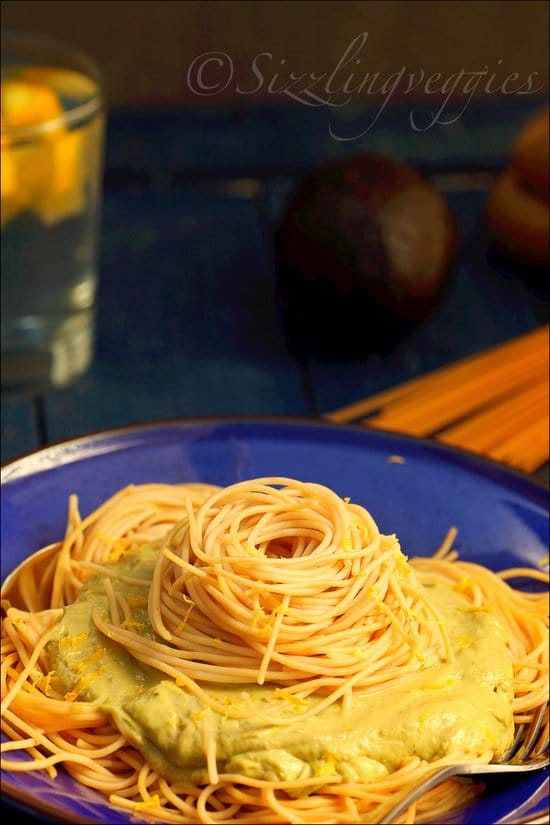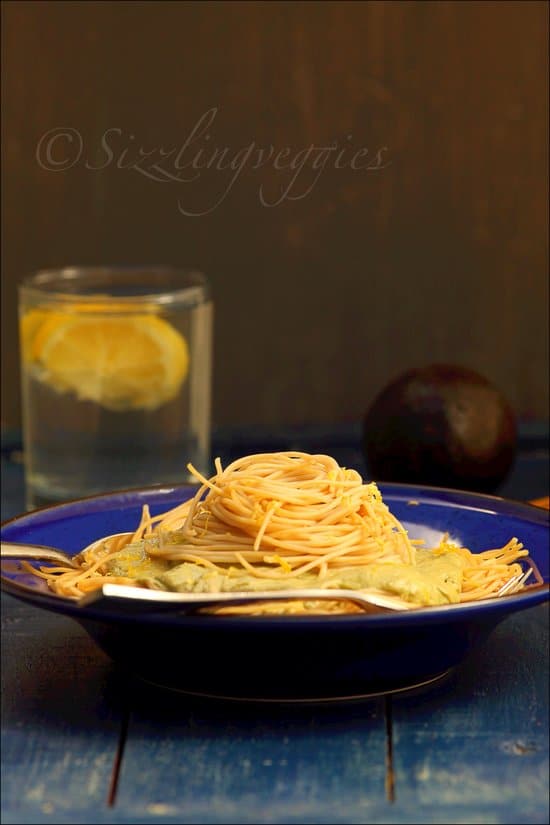 Spaghetti with Creamy Avocado Sauce
Ingredients
Multi-grain Spaghetti — 8 ounce uncooked about 3 1/2 cups cooked
Garlic — 2 small cloves
Fresh Basil Leaves — 1/4 cup + more for garnish
Fresh Lemon Juice — 2 Tbsp
Extra Virgin Olive Oil — 1 Tbsp
Avocado — 1 medium, ripe and pitted
Salt — to taste
Black Pepper — to taste
Lemon Zest — for garnish
Instructions
Cook spaghetti according to the package directions. Drain and pour cold water over it to stop the cooking process. Lightly drizzle about 1 tsp of olive oil and toss to coat well. Set it aside.
While the pasta is cooking make the avocado sauce. In a food processor or a blender combine garlic and basil and pulse. Add lemon juice, EVOO, avocado, about a tablespoon of water and process until the sauce is smooth and creamy. Add about 1-2 Tbsp of water more until the creamy consistency is achieved. Add salt and pepper to taste.
Toss the pasta and the sauce in a large bowl until well combined. Serve pasta on plate and garnish with chopped basil leaves and lemon zest. Serve immediately. Enjoy!!!