Clearly I have a thing for squash. And I'm not picky – I love green zucchini, butternut squash, chayote squash, acorn and festival and delicata and summer and spaghetti squash. I'll eat it baked, roasted, julienned, grilled…but my favorite way to eat quash as of late?
Stuffed.
I mean – how can you not loved stuffed squash? Being the quintessential lazy cook that I am, a stuffed squash is the perfect one dish meal. Plus, there's no timing involved. I'm pretty much hopeless at coordinating more than one dish so that everything is done at the same time. Rachael Ray's 30 minute meals? Yeah…not so much. Last time I tried one of her recipes I ended up with a steak so overdone it could pass for shoe leather and potatoes so underdone that they crunched when I ate them. At least the salad turned out OK! 😉 Not to mention I dirtied every single pot, pan, and utensil in my kitchen. Apparently I'm also not great at cleaning as I go.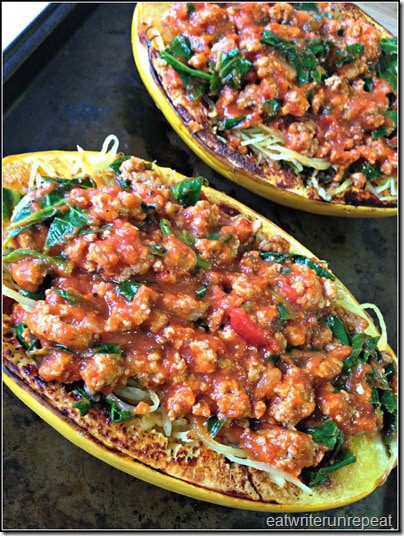 This meal will actually require you to dirty two dishes if you count the baking sheet – but in the grand scheme of things, I'll take it.
Now you may be thinking that this meal is basically just spaghetti and meat sauce and while technically you might be right, this is so much more fun than boring old spaghetti and meat sauce. Plus, who doesn't love eating out of a boat? (Yes, sometimes I have the food mentality of a five year old.)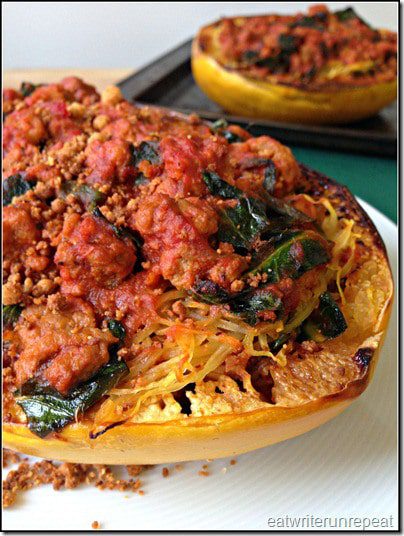 And not only is it more fun, it looks pretty. Can't argue with that!
SPAGHETTI SQUASH BOATS
serves: 4
prep time: 15 min
cook time: 60 min
Ingredients
2 small spaghetti squash, halved
1 lb ground beef
1 small onion, diced
2 cloves garlic, minced
1 jar clean marinara sauce (or better yet, make your own!)
several large handfuls of collard greens (they'll cook down)
salt and pepper
olive oil
Instructions
Preheat oven to 375. Rub olive oil on your spaghetti squash and roast, cut side down, for about 30 minutes. You want the strands to start to come loose from the sides, but not completely cooked as you will be baking your boats later.
While the squash is baking, heat olive oil in a large skillet and add garlic onion. Sautee about 5-7 minutes and add your ground beef. Once the beef is browned, pour in the marinara sauce and stir to combine. Now, add your collard greens and stir those to combine with your meat sauce mixture – they will cook down quite a bit.
Once your squash is done, carefully start to pull apart some of the spaghetti squash strands. Set aside, then fill the boats with equal amounts of the ground beef mixture before returning to reserved spaghetti squash strands on top. (This is optional I suppose, but it gives you a nice mix of spaghetti squash and meat sauce when you sit down to eat.) Return the squash to the oven and bake an additional 30 minutes or until squash is cooked through.
And if you want to be really naughty…add cheese.