Of all the chocolate cake recipes I have tried, I still like the steamed version best (see recipe at the end of the post). It's so good even eaten plain.

Today, however, I wanted to give it a twist by pairing it with a different flavoured frosting. Lately, I seem to be seeing a lot of peanut butter in food blogs, so I took my cue from there and made a Peanut Butter Chocolate Ganache.

This was my first time making a ganache frosting and I was very happy with the results – an even, glossy glaze of the entire cake 🙂 I made it within an hour of mixing, steaming and frosting. It's that fast and easy … or could it be because I have used the cake recipe so many times, I can do it with my eyes closed? Tells you how much my family adores this moist chocolate cake!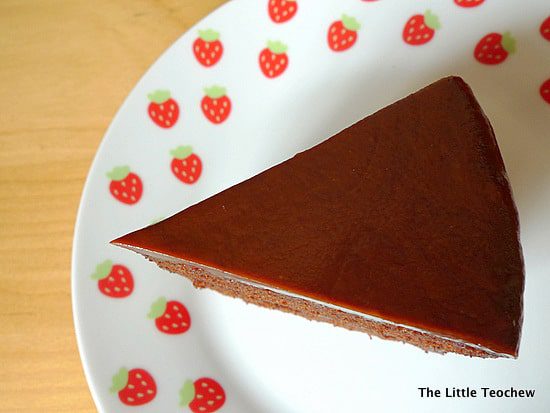 My daughter hated the ganache though, and she put it very succinctly, "I like peanut butter, but not in my chocolate." And as if to prove her point, she immediately reached for a bar of dark, bitter chocolate and nibbled away on that.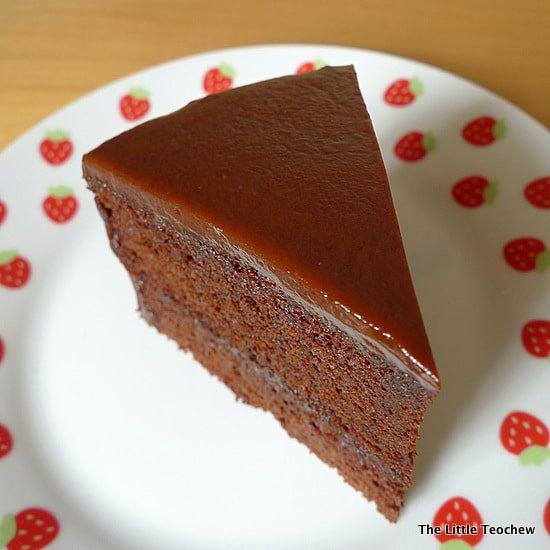 My husband and sons, on the other hand, attacked the cake mercilessly like a pride of hungry lions. There were chocolate crumbs everywhere! As for me, I thought it tasted pretty good, BUT, I still prefer pure chocolate cake, just my girl 😉
"Nom nom nom … I love this cake!"
Now, I have 2 recipes for Steamed Moist Chocolate Cake. If you like using oil (healthier and stays soft even after refrigeration), clickhere. If you prefer butter (better aroma and richer taste, I suppose), click here.
Notes from The Little Teochew:
– I used the "oil" version and omitted the coffee because I didn't want the peanut butter to compete with the coffee for attention.
– I made a 2-layer cake. You can make 3 layers if you want. Or leave the cake whole. It's entirely your call.
The recipe for the Peanut Butter Chocolate Ganache ishere, but reprinted below for easy reference.
– 1 cup heavy cream
– 1 ½ cups chocolate chip morsels
– 4 tablespoons unsalted butter
– ¾ cup powdered sugar
– ½ cup smooth peanut butter
Notes from The Little Teochew:
– I used a bain marie to eliminate the risk of burning the chocolate.
– I halved the recipe and there was enough ganache to cover the whole cake, at least for me.
– Allow the ganache to cool till it is barely warm and still runny.
– Place the cooled cake onto a cooling rack with a tray below to catch the excess ganache.
– Pour onto the centre of the cake and allow the ganache to completely cover the cake.
– Leave the cake be until the ganache stops dripping completely. Refrigerate.