Fish-ay, Fish-ay…
Can we all collectively agree that McDonald's latest jingle for its McFish Bites needs to be banned immediately and relegated to the placed where awful, catchy, brain-highjacking jingles go to die?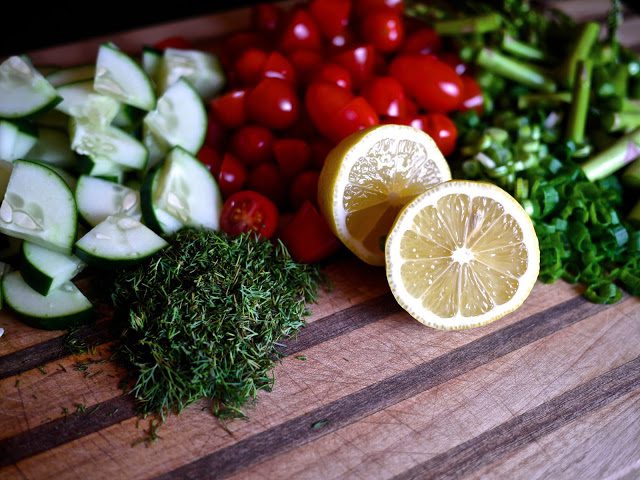 Moving on.
We love fish.   In fact, fish or seafood of some variety, makes its way on to the menu in this house at least twice a week.  We are truly blessed to live in a coastal town with an abundance of wild caught fresh fish.  If the price per pound was not approaching that of of gold, I'd be fine with eating fish every day.  It's just about the healthiest protein you can find.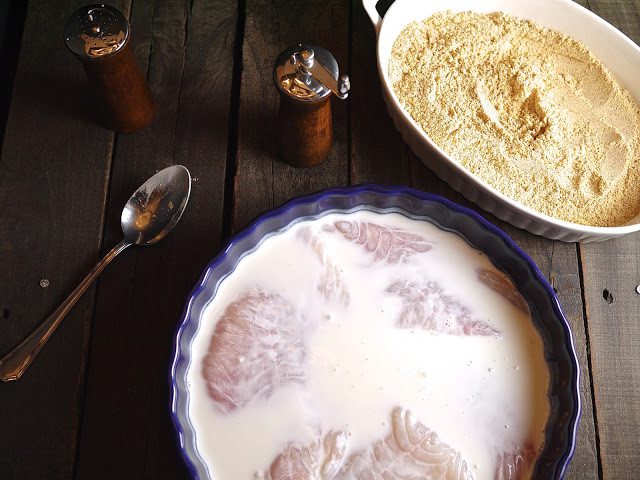 The night I prepared this Crusted Cornmeal Trigger Fish I was craving a crunchy fried fish, but I really wasn't looking forward to the self imposed guilt that usually follows gorging on fried food.
Which led me to create this lightened up version.  The buttermilk bath helps seal the moisture in the fish, and the cornmeal develops into a crispy, crunchy, perfectly seasoned crust mimicking that of fried fish.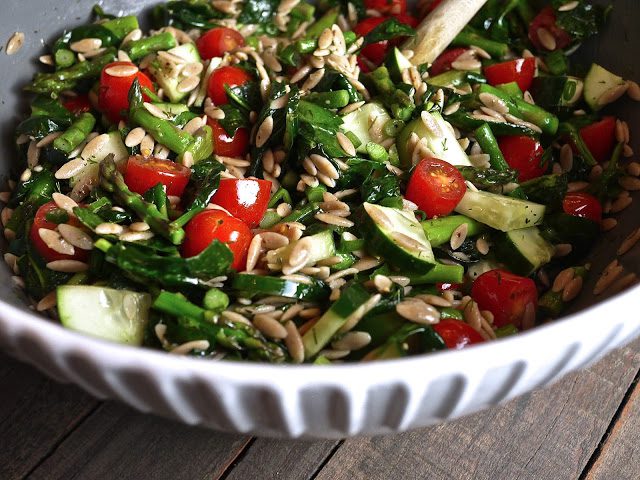 The Dilly Farro Salad is hands down one of my favorite side dishes to serve with fish.  The combination of lemon and fresh dill pair perfectly with fish.  However, it is equally as good by itself for a light lunch or dinner.  I have also added broiled shrimp and grilled chicken to the salad for any easy one dish meal.
Trust me, do yourself a favor and make enough to have leftovers for lunch.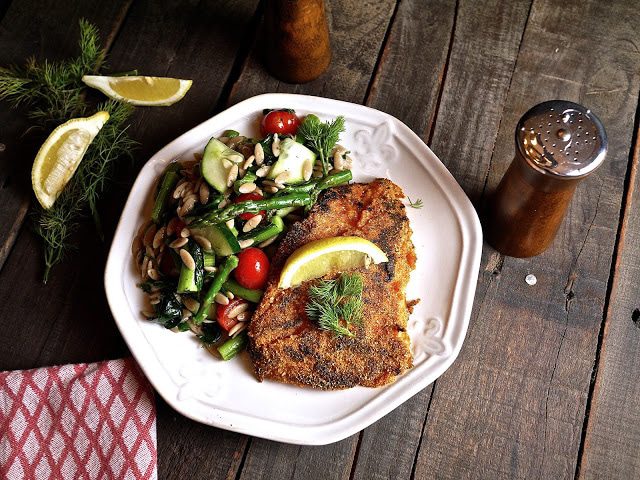 Cornmeal Crusted Trigger Fish with Dilly Farro Salad
Yield:  Serves 4
Prep Time: 45 minutes
Cook Time:  10 minutes
Total Time: 55 minutes
Ingredients:
For Fish
4 fish fillets (approximately 2 – 2 1/2 lbs.)
1 c. buttermilk
1 c. cornmeal
1 tsp. garlic powder
1 tsp. salt
2 tsp. paprika
1 tsp. black pepper
1 tbsp. grape seed oil
For Farro Salad
1 8 oz. box Farro Orzo (can substitute whole wheat orzo)
1 5 oz. bag fresh spinach, washed
1 cucumber, diced
1 bunch of asparagus, cut into 1 inch pieces
1 pint of tomatoes, halved
Juice of 1 lemon
1 bunch of dill, chopped
4 tbsp. olive oil
Salt and pepper to taste
Directions:
Pour buttermilk in a non-reactive dish.  Add fish and allow to marinate for 30 minutes (while you prep the Dilly Farro Salad).
Dilly Farro Salad:
Cook farro per instructions on box and drain.  Add fresh spinach to  a large bowl.  Pour drained hot farro over top and mix (the hot farro will help wilt the spinach).  Heat large skillet over medium high heat.  Add 1 tablespoon of olive oil.  Cook asparagus for 4-5 minutes, until tender crisp.  Pour contents of pan over farro and spinach and stir.  Allow to cool for 5 minutes.  Add tomatoes, cucumber, and dill.  Whisk remaining 3 tablespoons of olive oil and lemon juice together and add to farro salad.  Mix well and add salt and pepper to taste.  This salad can be served warm or cold.  To save time, make Dilly Farro Salad ahead and store in fridge.
Cornmeal Crusted Trigger Fish:
Pour cornmeal, paprika, garlic powder, salt and pepper into a baking dish large enough to accommodate dredging the fish and mix well.  Remove fish from buttermilk and dredge in cornmeal, turning to coat both sides.  In a large nonstick skillet, heat 1 tablespoon grape seed oil (or other high burn point oil) over medium heat. Place two trigger fish fillets in the skillet. Cook until crust is
browned and fish is firm, 4 to 5 minutes on each side. If crust is
starting to turn too brown, reduce heat.  Transfer fish to plate and keep warm.  Cook remaining two fillets.  Serve immediately with Dilly Farro Salad.