After the long weekend, it's time to cleanse and refresh from our Labor Day festivities. Getting back on track shouldn't mean having to spend hours preparing meals though. For anytime you want to detoxify, whip up a super easy recipe, or just want some refreshing and yummy soup, this one is for you!
Detoxifying parsley as well as mint and lemon combine with hydrating zucchini to create this light and tasty gazpacho. Per serving you'll get 4 grams of fiber, less than 12 grams of carbs and almost grams 7 of protein for a mere 90 calories.
Eat the whole thing and it's still a snack! Enjoy alongside some cooked quinoa for a balanced vegan meal.
Serves 2
Ingredients:
2 medium zucchinis
¼ large onion
1 clove of garlic
½ cup parsley
6-8 mint leaves
1 ¼ cup coconut water/plain water/vegetable broth (not raw)
1 tablespoon nutritional yeast
1 tablespoon hemp seeds
Juice from half a lemon
Salt & pepper to taste
Directions:
Peel zucchinis and roughly chop. Peel garlic clove.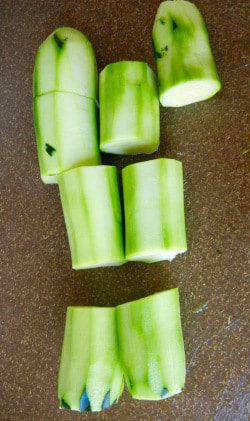 Place all items into the blender. Blend until smooth.
Season to taste.
Place into fridge to chill for at least 1 hour.
Serve sprinkled with additional hemp seeds if desired.