I try to eat a salad everyday.  Because of it, salad and I have this love/hate relationship.  Sometimes, I pack up a gorgeous, artisan treasure to eat on my lunch break.  Other times, it's spinach leaves, carrots, and a bottle of expired dressing.
If you try to eat salad everyday, you want good dressing to go on it.  Dressing can make even spinach leaves and carrots appealing. But, most pre-made dressings (even if they are not expired) have a lot of junk in them… soybean oil, sugar, canola oil, and dairy.  All foods that transform my healthy lunch into a not so great meal. Wah wah.
So, I turned to homemade dressings but most of the ones I know are vinaigrettes, not creamy dressings.  I needed a good, staple creamy dressing to face five days of greens. I researched recipes (aka looked on pinterest) and found that avocados can make this amazing salad dressing.  And, it is so easy and so good. I put my own spin on this one and it is killer with raspberry chicken salad.  Killer.
Trust me, if you like avocados, you will love this dressing. The spices give it a little kick that flatters the buttery, creamy avocados.  Sweet raspberries, cool cucumbers, and zesty chicken compliment it perfectly. Make it. You won't regret it.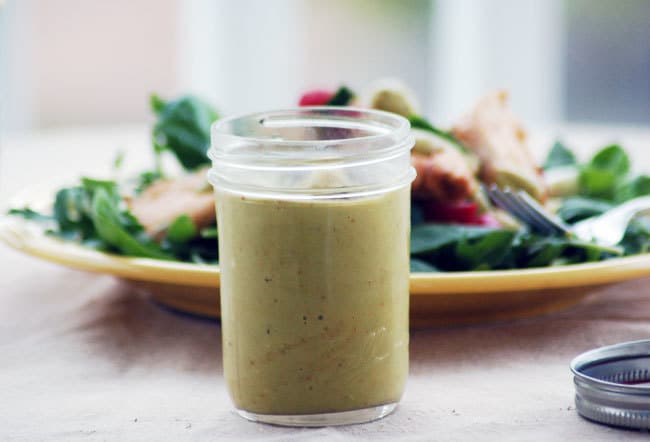 Raspberry Chicken Salad with Avocado-Lime Dressing
Ingredients:
Avocado-Lime Dressing
1 avacodo, peeled (save the pit)
1/4 cup olive oil
1/4 cup water
1/2 teaspoon sea salt
1 teaspoon Mrs. Dash Fiesta-Lime Seasoning
1 lime
Raspberry Chicken Salad
1 teaspoon olive oil
1 chicken breast, cut into bite sized pieces
1/2 teaspoon Old Bay Seasoning
2 handfuls baby spinach
1 handful argula
10 fresh raspberries
1/4 cucumber, sliced and quartered
2 radishes, sliced and quartered
Method:
1. To make dressing, place all ingredients in blender except lime.  Cut lime in half, squeeze juice into blender. Puree. Set aside.
2. Heat oil in a small pan.  Sprinkle chicken with Old Bay.  Toss in pan and cook thoroughly. Set aside.
3. Mix spinach and argula together.  Top with berries, radishes, and cucumbers. Add chicken and smother in dressing.  Enjoy every bite. To store, place in an airtight container with the pit.  The pit will keep it fresh for a few days.