Every Tuesday there's a farmer's market about three blocks from where my office.  It's small, only about a block, but it's lined with fruit and vegetable vendors, a hummus stand, fresh flowers, farm chicken eggs and most days I'll stop by before or after lunch (and occasionally I'll just grab my lunch there).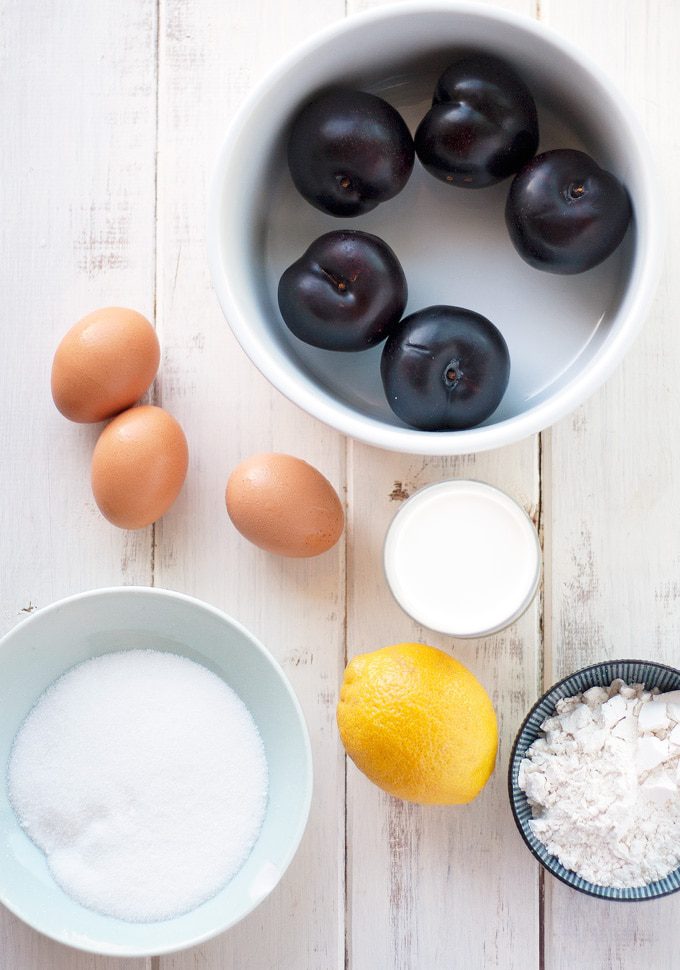 It does get a little crazy – all the mini Manhattan Beach citizens ride a little trackless train and play in the fountains in the adjacent plaza.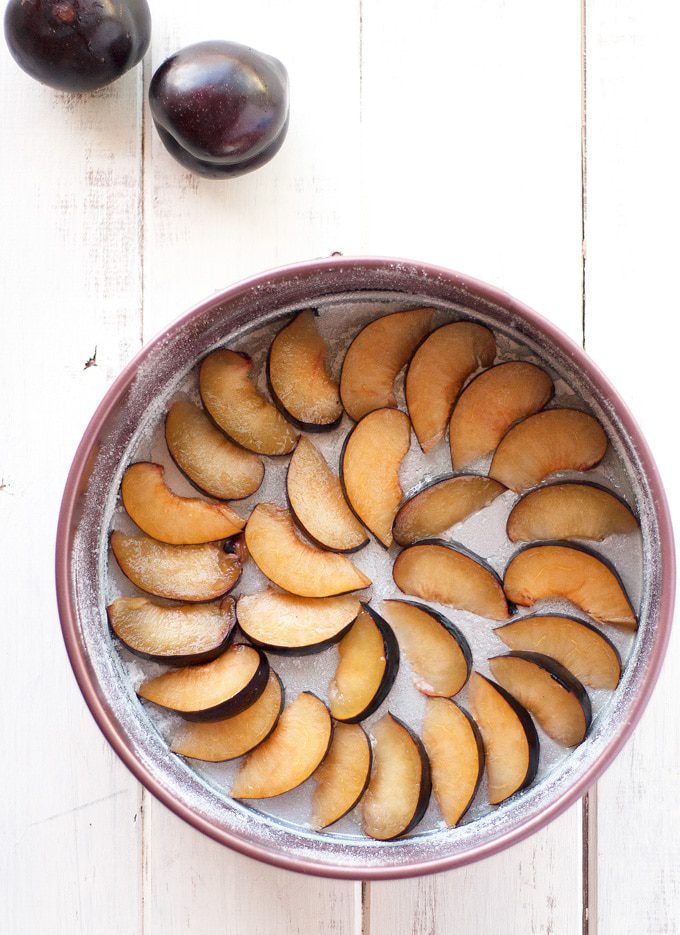 Lately, the plums have been out of this world delicious.  So juicy and sweet – and in every freaking color you can imagine!  I love grabbing the little toothpicks and stabbing my way through all the little cut up sample pieces.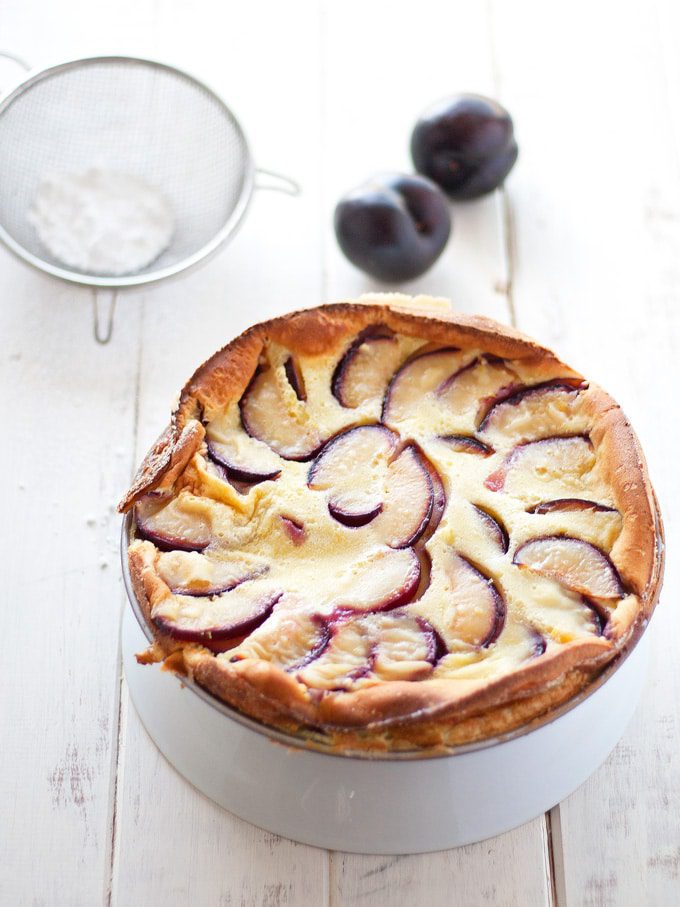 Now how to unload all the plums I picked up at the market…
I've always wanted to make a clafoutis (and honestly be able to pronounce it).  Traditionally a clafoutis is made with cherries, but I think things have gotten a little lax in the clafoutis criteria, and you can find them made with almost any fruit.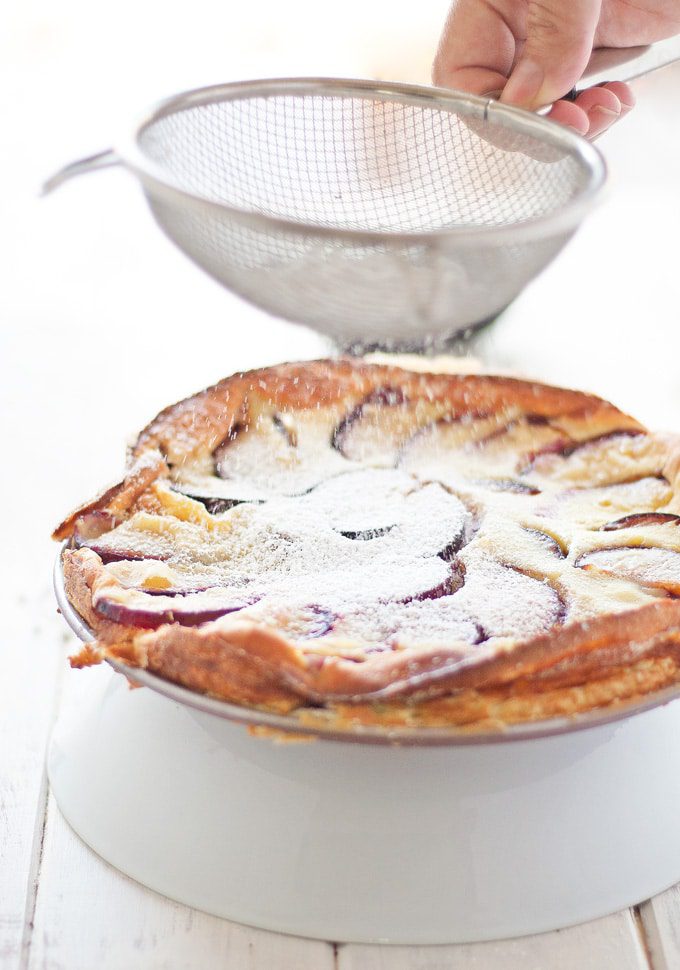 They are simple to make up, bake right in your oven, and come out smelling like the most delicious, jammy pastry.  Seriously, those plums were so freaking fragrant, it had my whole apartment rocking.  And you know when these would be perfect to make… on a long, lazy weekend like Labor Day (wink, wink!).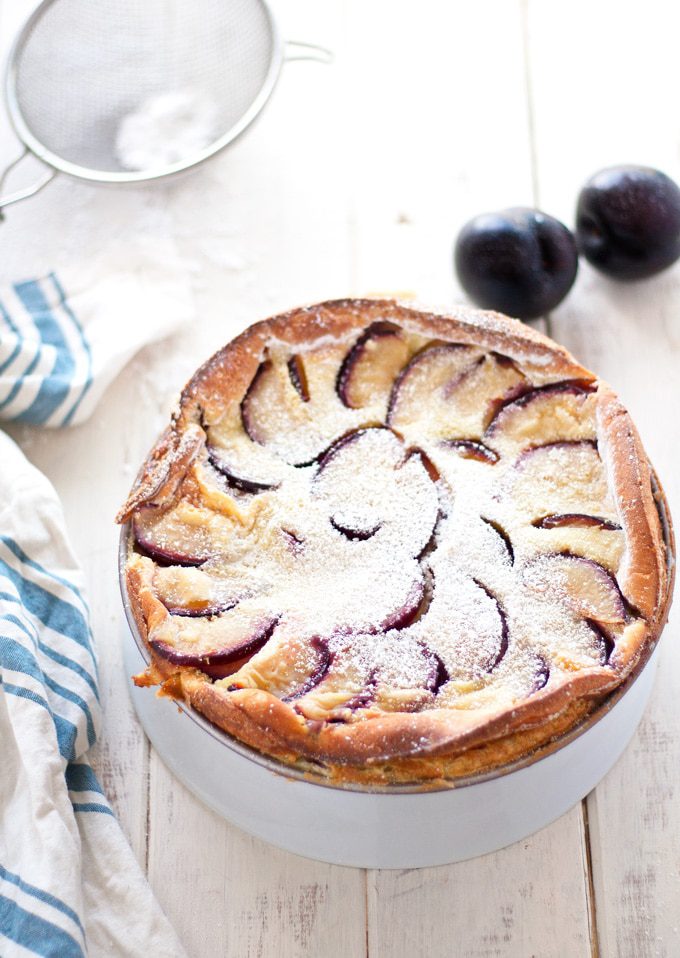 gredients
3 large eggs
½ cup granulated sugar, plus additional for dusting pan
2 tablespoons butter, melted, plus additional for buttering pan
1 cup half and half
3 tablespoons all-purpose flour
1½ tablespoons finely grated lemon zest
¾ teaspoon kosher salt
4 plums halved, pitted and cut into wedges
confectioners' sugar, for dusting
instructions
In a large bowl, whisk together the eggs, sugar, butter, half and half, and lemon zest.
Add flour and whisk until smooth.
Let mixture sit in the refrigerator for 30 minutes.
Preheat oven to 325 degrees F.
Butter and sugar a 9″ pie plate, deep cake pan or skillet.
Fan the plums on the bottom of the dish. Pour batter mixture over fruit slowly.
Bake until the clafoutis is beautifully puffed and golden, about 35-40 minutes.
Serve immediately