I really love spicy food.  It's a sweet torture. Spicy food is exciting. When you add the word "Spicy" to anything, I will totally want it. Oh wait! There's something better than spicy food. Yes! When the food is both hot and spicy, it's out of this world amazing!
It's another healthy eating day for me. I'm trying to balance between indulging and eating well. Sometimes, a dish can do both. Spicy noodle can be wonderfully comforting and nutritious at the same time.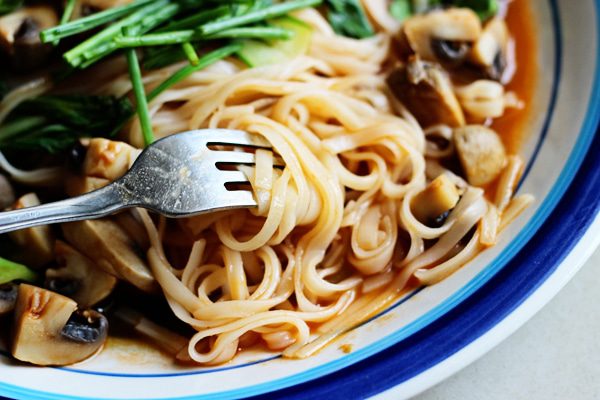 This Hot and Spicy Noodle is one pot meal. It's easy and quick to make. In a dish like this, I usually throw a dozen of meatballs in it as well, but I also love the simplicity of a clean vegan meal that feels light and cleansing. It's very hearty and filling. I definitely don't mind eating this every day.
Hot and Spicy Noodle with Mushroom and Bok Choy
Ingredients:
100 gm rice noodle- soaked in water for 10-15 minutes
4-6 dried red chili- deseeded and soaked in hot water until soft
3 cloves garlic
3 shallots
2 tbsp tamarind paste
2 tbsp light soy sauce to taste
2 tbsp sugar
1/2 tbsp oil
1 1/2 cup vegetable stock
2 bok choy- sliced
200 gm mushroom- cleaned and sliced
Spring onion for garnish
Direction:
In a blender, add soaked red chilies, garlic and shallots. Blend until smooth.
In a medium sauce pan, add oil and fry the paste on a medium heat until aromatic.
Add vegetable stock and bring to boil.
Add mushroom, light soy sauce, tamarind paste and sugar. Cook for 2 minutes or until the mushroom is cooked and soft.
Add noodle and stir for 30 seconds, then add bok choy and cook further for 20 seconds or so. At this point the stock should be reduced and get absorbed in the noodle, but there should be some gravy left. You can add more stock if you want it to be soupier.
Check the seasoning and serve hot with spring onion on top.