It rained at 9.30 am here, yesterday. It wasn't much and not at all satisfying but it cooled the air down enough to have a thought for a soup. The smell of wet mud rose from the ground to our 4th floor apartment. I opened the window and invited the cold spray in. Anything hot in a bowl would do.
Speaking of rain, which natural ingredients come first in your mind? If I was an adventurous eaters , I would have said "Frog!" But no, not frog. I think of mushroom. Raining season in Thailand means mushroom hunting, groping on the moist earth in the wild for the delicate sprouts. Mushroom gave the best comforting taste during the rain. And so today, in my pot, there was minced fresh mushroom simmering in miso fragrance. Miso has a pungent, salty taste. In this soup, it brightened up a rather subtle mushroom flavor. This recipe is so simple. It's very light, fresh, and also vegetarian.
Noodle with Miso and Mushroom Broth

Ingredients (2 servings)

100 gm dried wheat noodle

1 cup white button mushroom- minced

4 shiitake mushroom

4 tsp miso paste

4 cup vegetable stock

1 tbsp mirin ( sweet rice wine)

1 tsp shoyu (Japanese soy sauce) or to taste

The greens of your choice (Chinese Kale, Bok Choy, Water spinach, etc)- sliced

Preparation

Bring a pot of vegetable stock to boil.
Add mushroom, shiitake mushroom, miso paste and mirin. Cover and simmer for 20 minutes.
Strain the broth through a strainer to discard the mushroom and other impurities. Bring the broth to boil again and season with shoyu.
Blanch noodle in boiling water until soft and cooked, remove from the boiling water and transfer to the serving bowl immediately.
Blanch green vegetable in the same boiling water used for noodle. This should be only 10-15 seconds, just slightly soften it. Transfer the greens to top of the noodle in the serving bowl.
Pour in some hot miso and mushroom broth. Serve right away.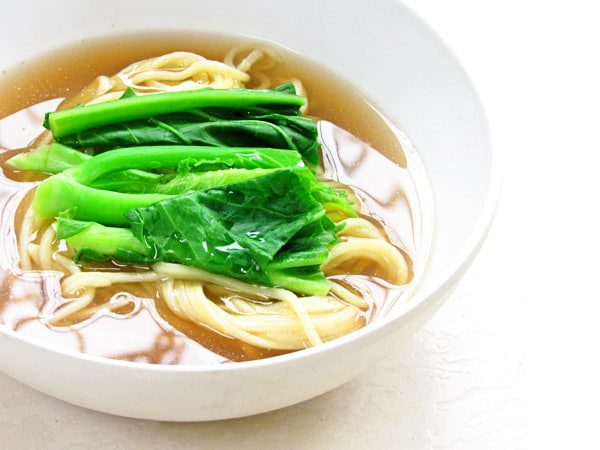 This broth, though very thin, it packed with flavor. Every sip was a savory satisfaction. The noodle was soft and soaked in that clear liquid of joy. It was an ultimate comfort food, nothing less, nothing more.
Love