Aren't sweet indulgences one of life's nicer moments? Like savouring a warm Sticky Date Pudding with freshly-made Butterscotch Sauce, accompanied by a generous scoop of homemade Vanilla Bean Ice-cream?Sticky Date Pudding. Never really fancied it because all the (bad) renditions I have ever tried tasted nothing of "sticky", "date" or "pudding". Instead, they have always been "dry", "bland" and "cake".Then, some 5 months ago, I finally sampled a good Sticky Date Pudding. That was atBoomarang, with Brad. I remember it was the one thing we were most eager to try out after reading Catherine's rave review. And we were not let down – the pudding was sticky and moist, with a slight gelatinous texture. I think that last trait is the hallmark of a good Sticky Date Pudding – it shouldn't crumble like a cake.
Anyway, after that lunch, I promised myself I would try to make it at home. I even bought my dates way before the recent explosion of dates on our supermarket scene (due to Ramadan). But I kept putting it off time and again, thanks to the many other tantalising dishes I saw online. Distractions, they are. Thank goodness dates keep very well in the fridge!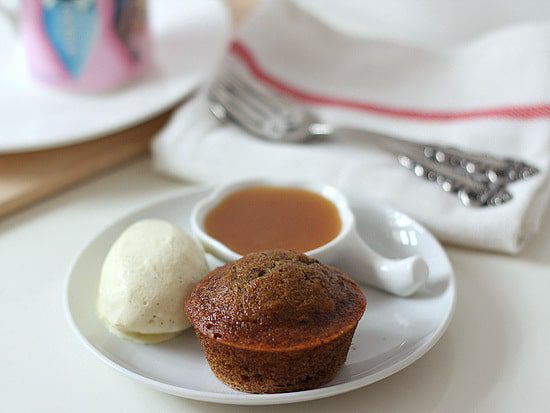 And then, lately, I saw two versions – atFel's and at Evan's. They both looked incredibly, impossibly good! Needless to say, I had pudding envy (sorry Freud!). And you know how food blogs are, they are contagious. One look and I got all fired up and inspired, and I dragged my sorry butt and got down to work.
Recipe
(from Exclusively Food – please visit their blog for excellent step-by-step pics)
For the Sticky Date Pudding
– 270g (1 1/2 cups) deseeded dried dates (I used Mazafati dates)
– 312ml (1 1/4 cups) water
– 1 teaspoon bicarbonate of soda
– 60g (1/4 cup) butter, roughly chopped
– 2 large eggs
– 1 teaspoon (5ml) vanilla extract
– 188g (1 1/4 cups) self-raising flour
– 150g (2/3 cup, firmly packed) brown sugar (I reduced to 100g)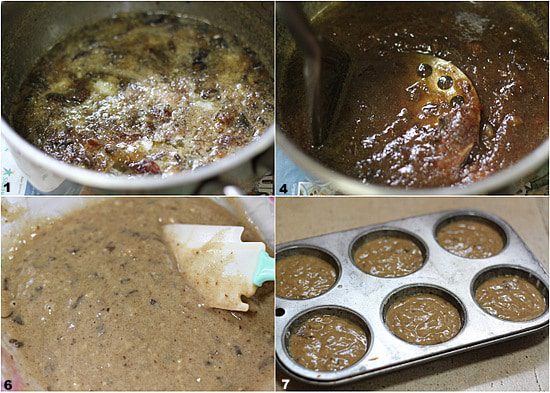 1. Place dates and water in a small saucepan over high heat. When the mixture starts to boil, add bicarbonate of soda and 60g butter, and remove from the heat. Stir and then set aside for 25 minutes (the butter will melt during this time).
2. Preheat oven to 180 degrees Celsius (160 degrees Celsius fan-forced). If you are not using a fan-forced oven, adjust the oven rack to the lower half of the oven so the top of the pudding will be in the centre of the oven.
3. Grease a 20cm diameter (top inside measurement) round springform pan and line the base and side with baking paper.
Note: I decided to use muffin tins instead. Too lazy to line a cake tin.
4. Place cooled date mixture in a food processor. Pulse mixture a few times to form a chunky paste.
Note: I used my potato masher instead. Too lazy to take out my food processor! Just mash directly in the saucepan.
5. Add eggs and vanilla to date mixture and pulse a couple of times until just combined.
Note: Just whisk directly in the saucepan. Oh boy, I am pure genius!
6. Stir flour and 150g (2/3 cup, firmly packed) brown sugar together in a medium bowl. Use the back of the spoon to break up any lumps of brown sugar. Add date mixture to the flour mixture and gently fold the ingredients together until just combined.
7. Pour batter into prepared pan. If, when baking, the pudding starts to overbrown, loosely cover it with greaseproof paper.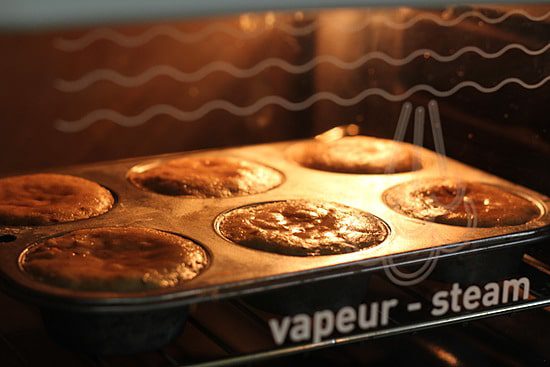 8. Bake the pudding for about 50-60 minutes (about 20-30 minutes if baking in muffin tins), or until it springs back when lightly pressed in the centre. A thin-bladed knife or wooden skewer inserted into the centre of the pudding should come out without any batter attached.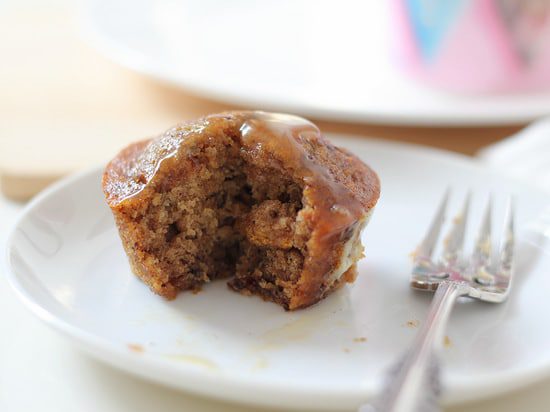 I interrupt my son's eating to show you a peek of how moist and sticky the inside looks.
For the Butterscotch Sauce
(adapted from Australian GoodFood Magazine, July 2010, and seen at muffinsareuglycupcakes and Evan's Kitchen Ramblings)
Make the sauce when the pudding is baking.
– 185ml whipping cream
– 165g firmly packed brown sugar
– 150g butter, chopped
– 1/4 teaspoon vanilla extract
– Pinch of salt
1. Melt all the ingredients in a saucepan over medium heat. Stir constantly until mixture thickens. Make sure the sugar does not burn.
2. Leave to cool slightly.
* I believe this step makes the pudding sticky:
When the pudding has finished baking, leave it in the pan and allow it to cool for 10 minutes on a wire rack. Using a skewer, pierce several deep holes in the pudding. Pour about 125ml (1/2 cup) of the hot butterscotch sauce over the pudding. Allow to stand for 5 minutes before removing from the pan.
* Note: As I used muffin tins, I removed each individual pudding after they had cooled down a little, but still warm to touch (about 15 minutes after baking). I then pricked them with a toothpick before spooning warm butterscotch sauce over. This helped the sauce penetrate into the pudding, making them extra moist and sticky. Make sure you place your pudding on a cooling rack over a tray, to catch the excess butterscotch sauce that will drip and make a mess.
Serve pudding with hot butterscotch sauce and vanilla ice-cream. I made my own vanilla bean ice-cream … which I might blog about another day, if I have the time.
Store leftover pudding and sauce in the refrigerator or freezer (freeze the sauce separately). Suitable to reheat.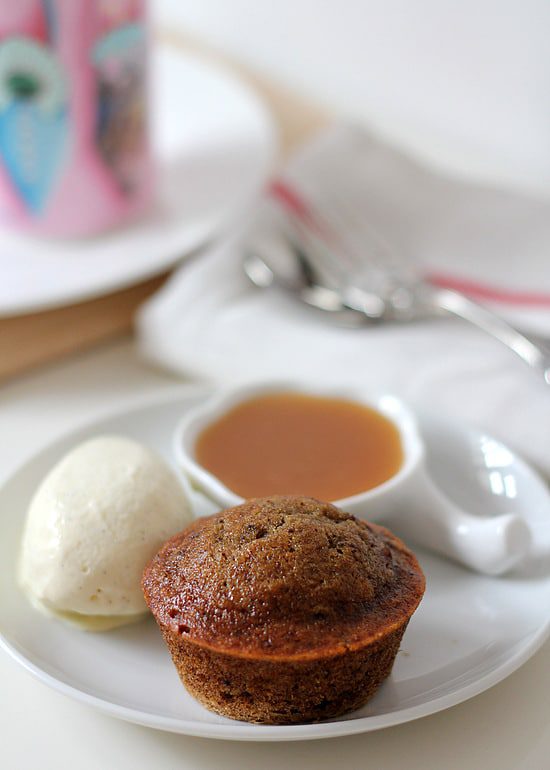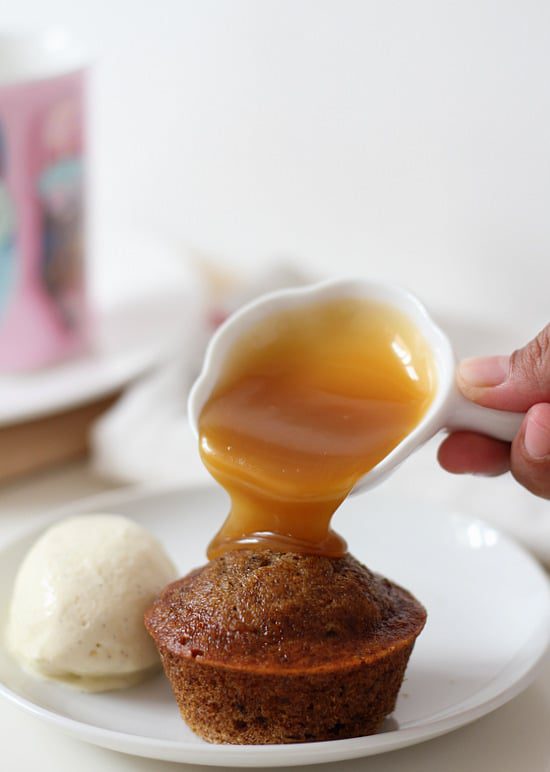 As they say, the proof of the pudding is in the eating, and my pudding ain't shabby at all! 😉 It was sticky, moist and dotted with delicious bits of dates. I wish it was slightly "chewier" though, but what the heck, I can actually make decent Sticky Date Pudding from scratch, so it's a small compromise!