Even though summer is winding down I am still in full berry mode.  Earlier in the season I made this blackberry and buttermilk biscuit cobbler.  It was the perfect summer treat.  Big juicy blackberries topped with homemade buttermilk biscuits, what's not to love?!?
Well I have another blackberry recipe, but this time it is in the form of a mini pie – mini blackberry pies to be exact.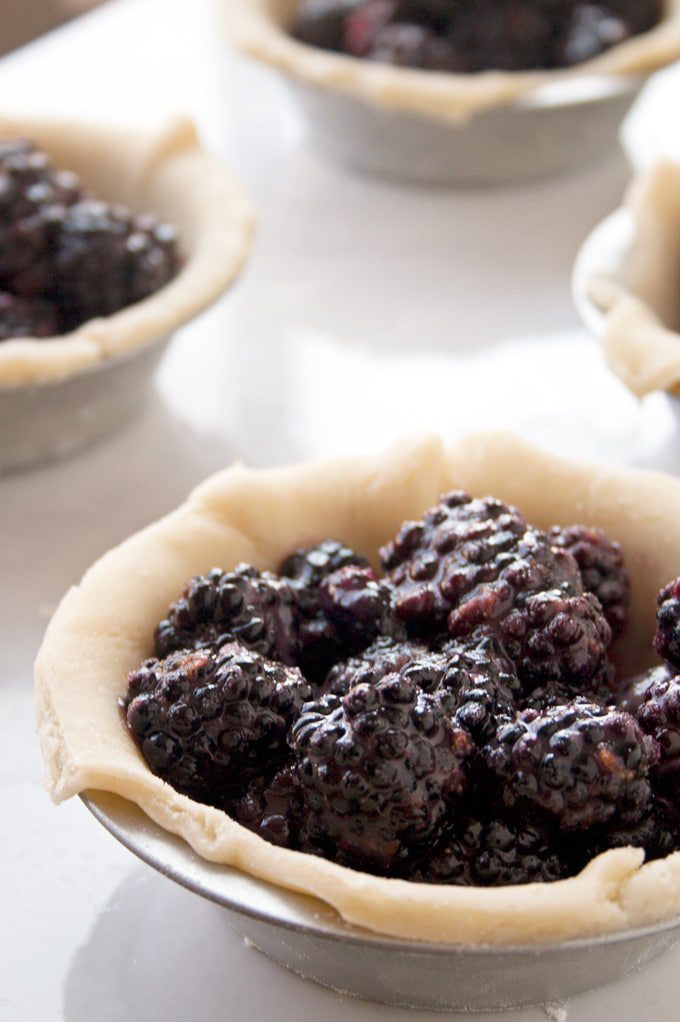 I love anything hand held or individual.  It feels so personal – your own little treat to eat how you wish.
I found these cute mini pie pans at Home Goods a couple weeks back and wasn't quite sure how I'd use them, until a recent trip to our local farmers market.  I picked up the most delicious assortment of berries, including these juicy, gigantic blackberries.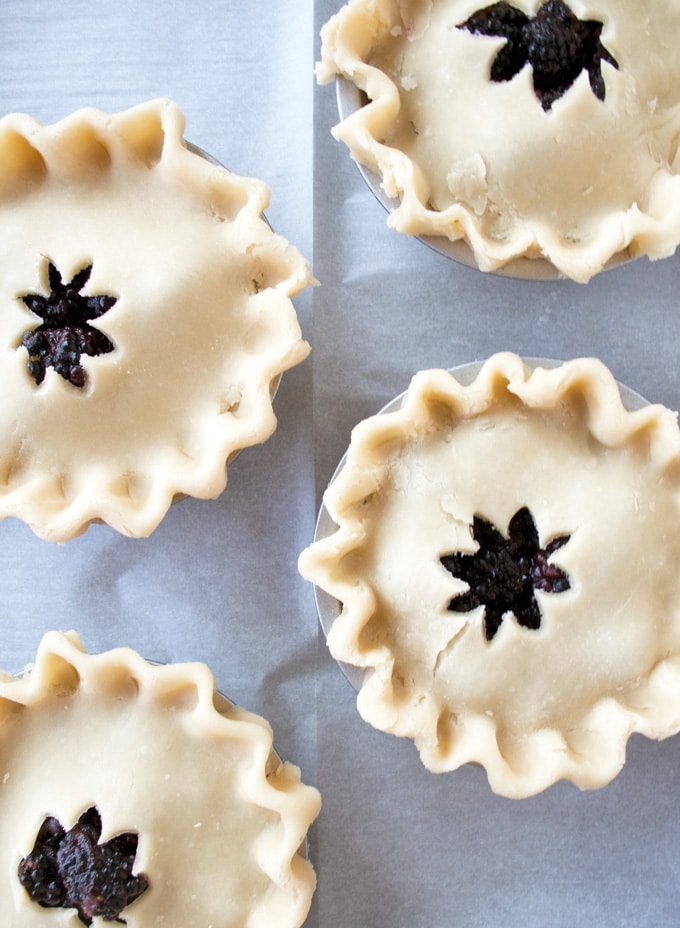 The filling is so easy – it's actually the same filling as I did for the blackberry cobbler – plus a little lemon zest for an extra kick of flavor.
For the crust, I use my favorite, no-fail recipe.  It's flaky and crisp without being dry, plus it has a delicious buttery taste.  The secret to any pie crust is keeping your ingredients cold and once you have your dough together, keeping it cold too.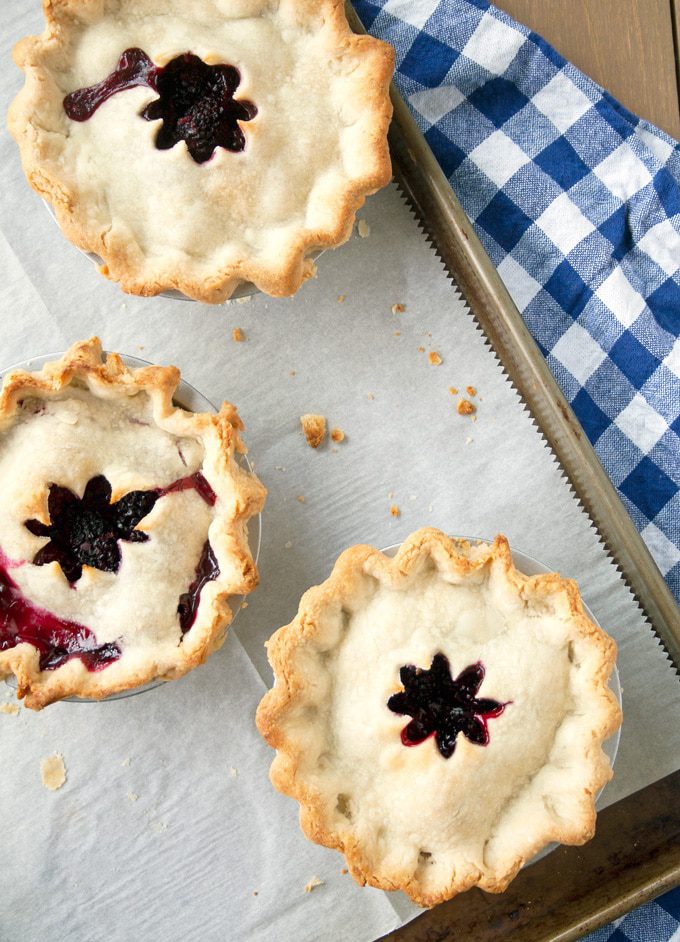 Then simply press the dough in your pie plate, add your filling, and cover with your dough topping.  Then just pop it in the oven until the crust is brown and the filling is bubbly.
For my pie, I made four individual mini pies (you only see three because I ate one immediately!), but this recipe would also work for a 9″ pie pan as well.  No changes necessary.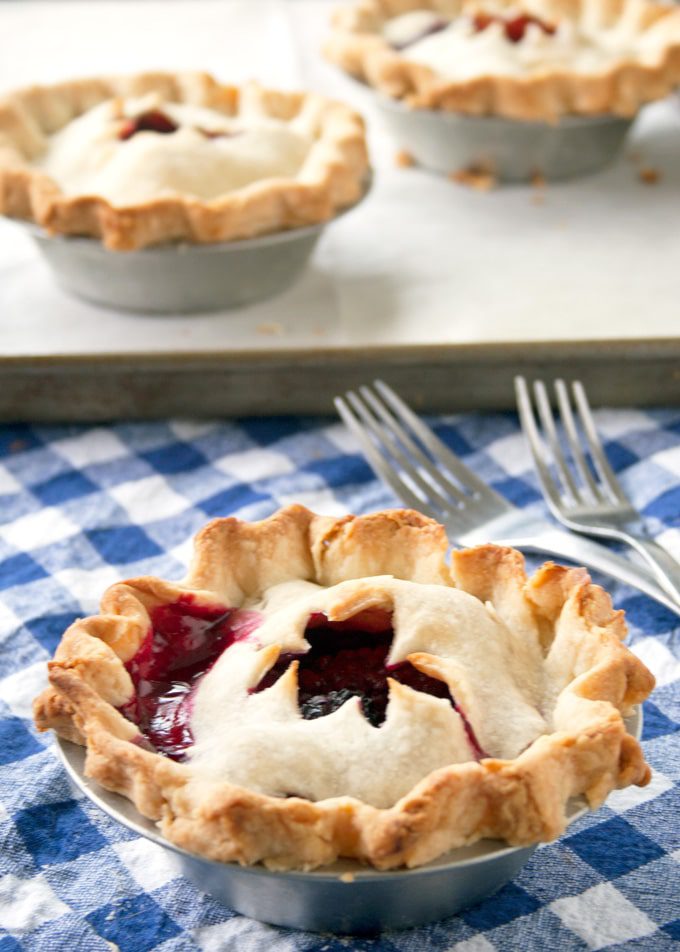 I served this with a big scoop of vanilla ice cream on top – it made for the perfect dessert!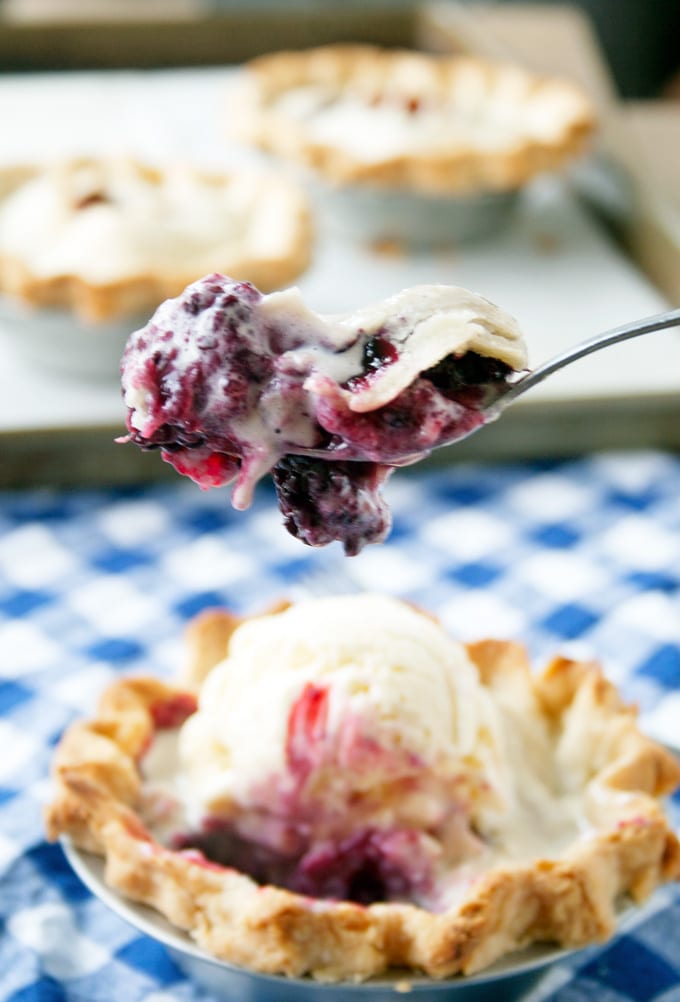 Mini Blackberry Pie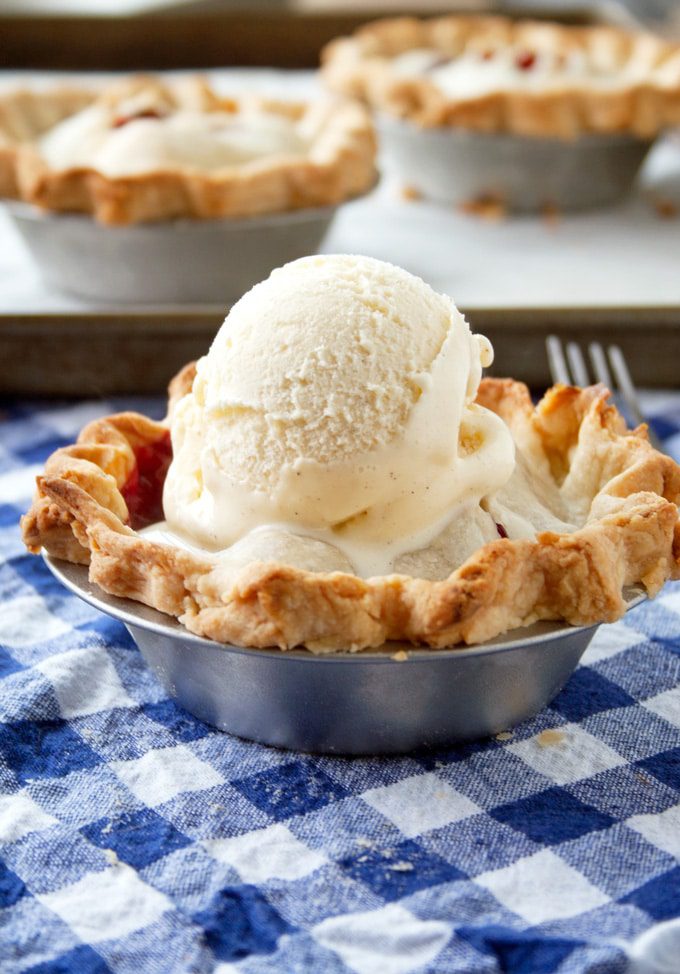 ingredients
2½ cups all purpose flour
1 teaspoon salt
16 tablespoons (2 sticks) cold unsalted butter, cut into pieces
¼ to ½ cup ice water
½ cup sugar plus 1 teaspoon, divided
3 tablespoons cornstarch, plus more if needed
6 cups blackberries, or your berry of choice
1 tablespoon lemon zest
vanilla ice cream, optional
Instructions
In a food processor, combined flour, salt and 1 teaspoon sugar. Pulse to combined.
Add cold butter and pulse until butter is in pea-sized pieces.
Sprinkle with ¼ cup ice water and pulse dough until it is crumbly but holds together. If necessary you can add more water.
Transfer half of the crumbly dough to a piece of plastic wrap and form into a disk about ¾" thick. Wrap tightly and refrigerate until firm for at least 1 hour. Repeat with remaining dough.
Once dough has been refrigerated for an hour, remove and let sit at room temperature for about 10 minutes.
On a lightly floured surface, roll each disk of dough out until it is about ¼" thick and lay one disk into the bottom of the pie pan.
For the topping, combined ½ cup sugar, cornstarch, berries and lemon zest. Stir to combined.
Add the berries to the pie pan and cover with the remaining disk of dough. Crimp the edges and pierce the top layer of dough a few times.
Cook in 375 degree oven for 50 minutes (less time for miniature pies) or until dough is golden brown and filling is bubbling.
Let pie cool completely before serving.