No one eats kale right out of the bag.
Carrots maybe, kale no.
If you do, kudos to you.  I generally have trouble eating the stuff unless it's drowning in Honey-Mustard Vinaigrette.  But, lately it's become part of my morning routine.  Somewhere between exercise and getting dolled up for the day, I typically down a Superfood Smoothie. And, what's more, I actually look forward to this smoothie. Packed with kale, spinach, carrots, berries, and bananas, this little number has more fruits and vegetables than most people eat in a day and it's not really too hard to make.  If fact, you probably have all the ingredients on hand.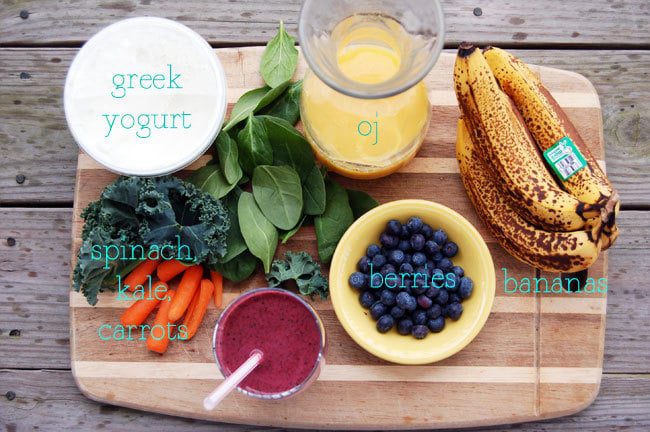 Not hard at all, right? I add greek yogurt for a bit of protein, but you could always use coconut milk, nut butter, or protein powder if you are avoiding dairy. I like a bit of a thick consistency, but if it's too thick for your taste, thin it by adding extra oj.
This smoothie will certainly get you're morning off to a good start and it is great if you take your vitamins in powder form like me.  I usually just dump a scoop in right before the final puree. 🙂 As for taste, even Jason approves and that's kind of a big deal. He rarely approves health food.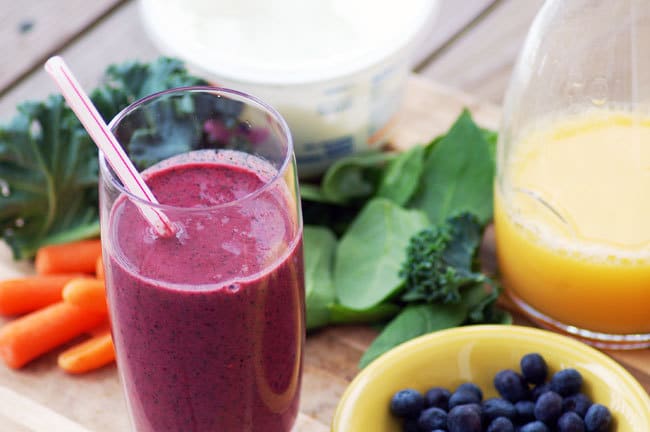 Superfood Smoothie
Click here for a printable recipe!
Ingredients:
2 handfuls spinach
1 handful kale
1/2-3/4 cup orange juice
10-12 baby carrots
1 ripe banana
1/2 cup plain non-fat greek yogurt
1 cup frozen mixed berries
Prep Time: 5 minutes
Yields: 2 Smoothies
Method:
1. In a reliable blender, puree spinach, kale, and oj in a blender until only flecks of green remain.
2. Add all other ingredients.  Blend until smooth, about 2 minutes.