There is no need to ever buy canned or frozen biscuits. It's just too darn easy to make them from scratch, and they taste a million times better! These biscuits are actually easier then others I've made before, because you don't have to cut in any butter. Winning!
So when you wake up tomorrow morning, celebrate the weekend by making a batch. Smear with butter and top with your favorite jam (I used strawberry jam that my mom made), or put a sausage patty in the middle for a savory breakfast sandwich. Either way you go you'll be very happy with the outcome! Yay for the weekend!!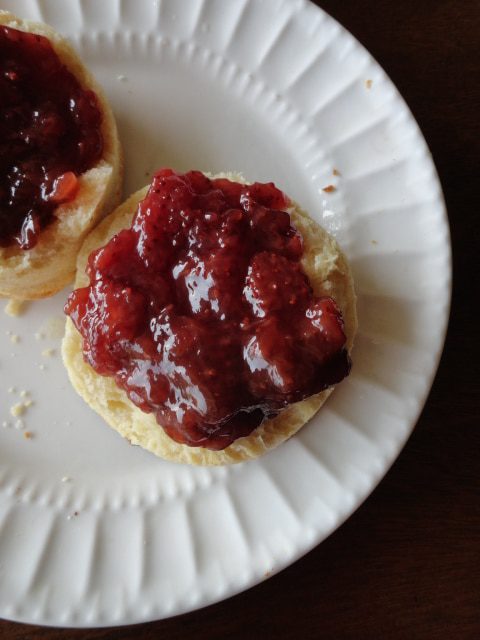 Cream Biscuits
Ingredients
3 tablespoons melted butter
2 cups all-purpose flour, plus more for dusting the surface
1 tablespoon baking powder
1/2 teaspoon salt
1 tablespoon sugar
1 1/2 cups heavy cream
Directions
Preheat the oven to 425°F. Line a baking sheet with parchment paper, or grease a cast iron griddle.
Melt butter in a small pot or microwave dish, and set aside.
Sift two
cups flour, the baking powder, salt and sugar into a large
bowl. Fold in 1 1/4 cups cream. If the dough is not soft or easily
handled, fold in the remaining 1/4 cup cream, little by little. (My dough seemed just fine with only 1 1/4 cups cream, so I didn't add the remaining 1/4 cup. Use your best judgment!)
Turn dough onto a floured surface, mound it into a ball and, using
your hands, press it to a thickness of about 3/4 inch. Cut into rounds, 2
1/2 inches in diameter. Gather dough scraps and continue to make
rounds. Try to work the dough as little as possible, or else your biscuits may be tough.
Brush the biscuits with melted butter and arrange on the
baking sheet. Bake until golden, 12 to 15 minutes. Serve immediately, or flash freeze for future use.*
*I only baked two of them for myself, as Chris is still gluten free for the time being, and froze the rest for later. This is how I did it: arrange the biscuits on a small baking sheet lined with parchment or wax paper. Brush the biscuits with butter and freeze. Once frozen, remove from sheet, and place in a freezer bag. When you're ready to bake, use the same oven temperature, only add a few extra minutes to baking time.