October has been a really busy month for me as a teacher. I
had some time to cook up some great recipes but not enough time to blog and
share with y'all! But hopefully this recipe will redeem our lack of posts for
you 🙂
It's officially the fall season and I'm sure some of you
went pumpkin crazy in October and maybe you're wondering what to do with some
of that leftover pumpkin…I have a solution.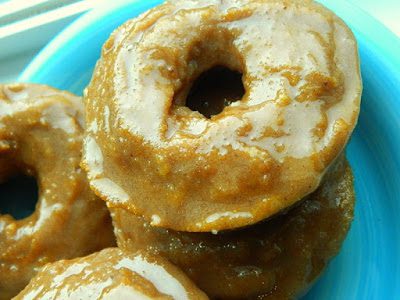 Turn that pumpkin puree into pumpkin donuts my friends.
The best part about this recipe is it's so easy to make –
you can even turn these into muffins if you don't have a donut mold pan. And
these donuts are vegan!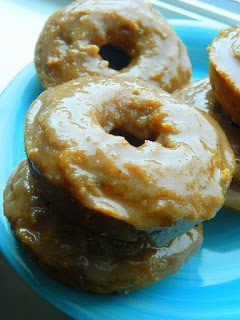 Ingredients: Recipe adapted from My Darling Vegan
Makes 6 donuts
¼ cup
vegetable oil
½ cup maple
syrup
¾ cup
pumpkin puree
½ tsp
cinnamon
¼ tsp
ginger and nutmeg
¼ tsp
pumpkin pie spice (optional)
½ tsp salt
1 ½ tsp
baking powder
¾ cup + 2
tbsp all purpose flour
Cinnamon Pumpkin
Glaze:
2/3 cup
powdered sugar*
2 tbsp
almond milk
½ tsp
cinnamon
¼ tsp nutmeg
¼ tsp pumpkin pie spice (optional)
*Note: I actually did not have powdered sugar when making this recipe
so I used 2/3 cup of granulated sugar combined with ½ tsp of cornstarch. Pulsed
this in the blender for about a minute – works like a charm!
Instructions:
Preheat your oven to 350 degrees.
Mix together vegetable oil, maple syrup, pumpkin puree, spices, salt and baking
powder in a medium size bowl. Whisk together until smooth.
Add the flour and mix with a spoon to combine. Be careful not to over
mix.
Carefully spoon the mixture into donut mold pan. The batter should
fill it almost to the top of the pan. Use a spoon (or your fingers 🙂 ) to smooth out the tops of the donuts. Bake for 15-18 minutes, until
toothpick inserted in the middle comes out clean. If you are making
muffins, bake for 25-30 minutes.
Allow the donuts to cool for about 2 minutes. Transfer them to a plate
or cooling rack. Let them cool completely.
While donuts are cooling,
mix together the ingredients for the glaze. Once the donuts are cool, dip tops
into the glaze and set them back onto cooling rack or plate, glaze side up.