Challah. Cholent. Potato kugel. Aaaaaand…apple crisp. I'm not sure how or why this became such a Shabbos staple, but everywhere I go, I see it.
Sometimes it's served as a side dish, sometimes it comes out for dessert. There's a top crumble, or a crumble on top and bottom, or a crust on top and bottom (that one's more like a pie). There are apples, and often cranberries. Maybe some other stuff. But whatever form it takes, it's just always there.
And this is my version.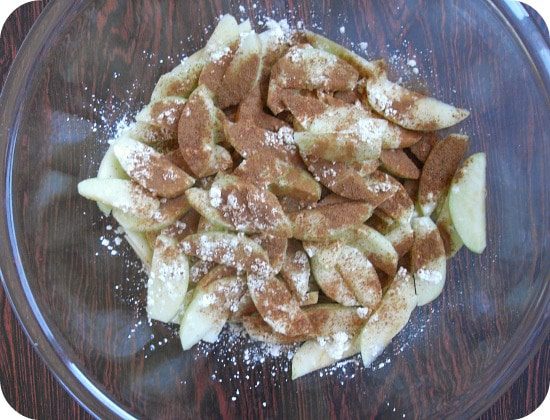 You start by tossing your apple slices with lemon juice, cornstarch, and cinnamon. I find that it's easiest to use my hands. You're done when the cornstarch has fully dissolved and the cinnamon is all spread out.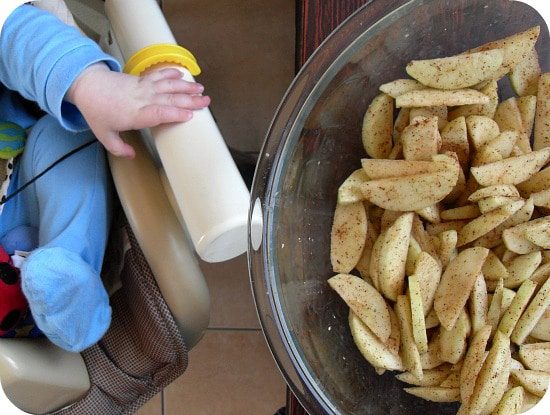 (Yes, he helped. By watching me, of course. He was making sure I really distributed the cinnamon.)
The apples go into a baking dish (no need to grease it) and get topped with the crumble. This is a purist's apple crisp, so no cranberry sauce or anything else. Just apples and crisp. It's the way I like it.
The crumble is also kept simple (oats, crushed nuts, vanilla sugar, spices), and though it's held together by canola oil, the binding is pretty loose. It's the kind of crumble that falls all over the place, coating the apples on your plate as you eat them. If you want a crumble that clumps, you can use butter. But to keep things light (and more like a side dish), stick with oil.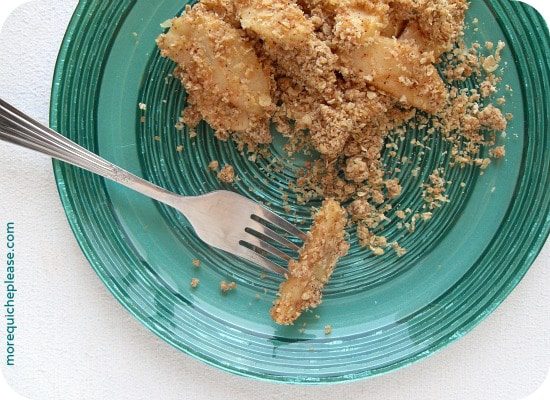 Did you want a dessert? Just plop down a scoop of vanilla ice cream. And then please invite me.
Apple crisp
Yield: 6 servings
Ingredients
Apple layer
6 small Granny Smith apples
1 Tbsp lemon juice (bottled is ok)
1 Tbsp cornstarch
1 tsp cinnamon
Crumble layer
1 cup oats
½ cup ground almonds
¼ cup vanilla sugar
1 tsp cinnnamon
1 tsp nutmeg
¼ cup canola oil
Directions
1. Preheat the oven to 350 F/180 C. Peel, core, quarter, and slice the apples. Transfer to a large bowl and toss with lemon juice, cornstarch, and cinnamon until the cornstarch dissolves and the cinnamon is evenly distributed. Dump into an ungreased 8×8 baking dish and smooth out.
2. Rinse and dry the bowl. Pour in the oats, ground almonds, vanilla sugar, cinnamon, and nutmeg. Stir to combine. Add oil and mix until no dry spots remain. It will be a fairly loose crumble, but if you crush it in your hands, it will clump together. Pour crumble over the apples and spread out for an even top layer.
3. Bake the apple crisp for 30 minutes, until the top is lightly browned. The apples will be soft, but still have some bite. If you prefer them to be very soft, increase the cooking time. Serve hot or room temp (makes a great breakfast straight from the fridge, too).