Soup is the best thing in the cold months. Even out here in California, temperatures are dropping and I love warming up a nice cup of soup when I come home.
To really get full though, I like thick or chunky soups and this recipe certainly does not disappoint.
This soup is super tasty, ultra thick and under 60 calories per cup. Oh it's vegan, gluten free (duh) and 3.5 grams of fiber!
Makes 5 1 cup Servings
Ingredients:
1 large white onion
3 cloves garlic
4 cups cauliflower
1 small hot chili pepper
3 cups organic vegetable broth (add more for thinner soup)
¾ -1 cup diced no salt added tomatoes
½ teaspoon each oregano, thyme and black pepper
¼ teaspoon cumin
Salt to taste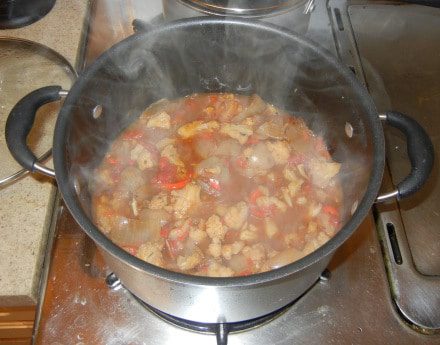 Directions:
Cut onion into smaller pieces and mince garlic cloves.
Spray the bottom of a large pot with olive oil over medium heat. Place onions and garlic in the pot. Stir occasionally until onions soften.
Cut chili pepper and place it into pot along with cauliflower. I used frozen cauliflower but fresh works well too.
Stir around until cauliflower softens (around 5 minutes).
Add in vegetable broth and tomatoes, stir, and turn up heat and wait until soup comes to a boil.
Once at a boil, turn flame down to a simmer, cover pot, and let cook for 25-30 minutes.
After the 25-30 minutes are up, add in spices. Taste mixture to see if you would like to adjust your spices.
Using an immersion blender or a regular blender, blend the entire soup and then you're done!
Note- this freezes well so feel free to keep out what you will eat within a few days and freeze the rest in an airtight container!