Today is sister K's birthday!  I can't believe she is a quarter-century old.  She's fit a lot into her 25 years.  She's worked hard, graduated from MIT (yes, that famous school for super smart people, like her), and found her husband.  After college, they moved home to NY and both started jobs.Last year, they got married in a gorgeous ceremony and they are literally made for each other.  It's actually scary sometimes (seriously).
She never slows down though – once they got back from their honeymoon, they started enthusiastically house-hunting.  For the last 6 months, we've followed along with their house hunt – through ups and downs until finally the last few weeks.  They found the best little house – so perfect for them, it's hard to imagine that they could have actually closed on any other house.  So just in the last few weeks alone, she will be starting a fancy new job and her husband E and her just had their offer accepted on that house!  I feel like their life is really coming together and I couldn't be happier for them.  Happy Birthday K!
It's fitting, too, that today is a "Dorm Room Dinner".  I started these when she was just in college, as a way to keep a record of tasty yet easy meals I made for her to follow along with.  She cooks as well as I do now, so there's really no reason for her to indulge in my dorm room dinners.  But I love this one – it looks fantastic and seems so fancy! You could easily serve this easy dish at a dinner party and no one would be any wiser.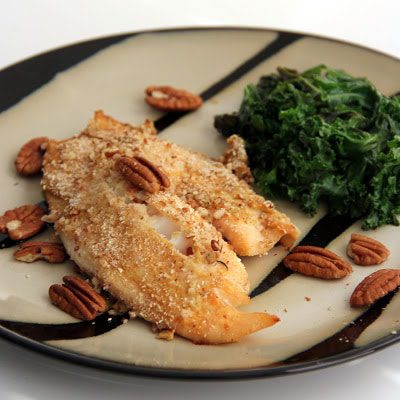 Pecan-Crusted Tilapia (adapted from here)
Serves:  2 (2 filets)
1/4 cup dijon mustard
2 tablespoons honey
2/3 pounds tilapia filets
1/4 cup pecans, finely chopped
1/4 cup panko bread crumbs
1 teaspoon parsley
1/4 teaspoon salt
1 teaspoon black pepper
Preheat the oven to 375 degrees F.  In a small bowl, combine dijon mustard and honey.  Brush the dijon mustard mixture onto the filets.   In another small bowl, combine pecans, panko, parsley, salt, and pepper.  Dredge the filets in the pecan mixture.  Place on a greased baking sheet.  Bake for 8-12 minutes, until fully cooked.  Serve immediately.
Until the next time my oven is on…