Living with Mom and Dad has been an adjustment period, to say the least.  As I like to joke, Mom's dinner recipes consist of health and nutrition, taste doesn't really play as big of a factor in their house as it does (did?) in mine!  But, knowing that Johnny and I can use healthy, flavorful dishes that are really low-calorie.When Saucy Mama challenged bloggers to a "Skinny Mama" contest with their delicious, and tasty mustards, it was like the stars had aligned.  John was coming to visit from Maine, and I was plotting to overthrow Mom in the kitchen to make him something special.  Special spoke to me loud and clear the other night grocery shopping with Mom and Dad.  Lobsters floating in a large tank begging me to eat them.  Okay, maybe not begging, but it was certainly the inspiration that I needed.
Having a boyfriend from Maine and spending most of my "adult" life in Boston has really endeared me to lobster.  Warm afternoons visiting John's family on the Maine coast or hanging out in Boston, well, they are usually accompanied by Lobster Rolls.  Once I tasted Saucy Mama's Tarragon Lemon Mustard, I knew it was the perfect accompaniment.  Substituing that for the mayo and lettuce leaves for the roll makes this dinner refreshing and light.  The "skinny" lobster roll is here…normal lobster rolls are 650+ calories.  Mine are only 325.  Enjoy-and don't forget to enter the giveaway!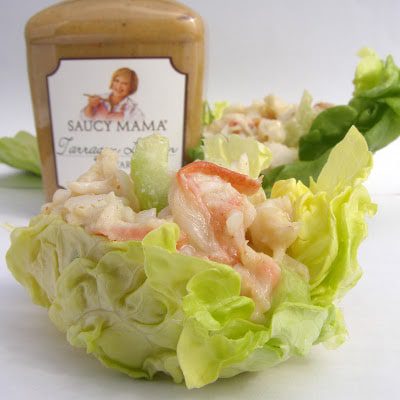 Lightened-Up Lobster Rolls
Serves:  2
12 ounces lobster meat, steamed or boiled
1/2 teaspoon salt
1 teaspoon pepper
2 stalks celery
2 tablespoons Saucy Mama Tarragon Lemon Mustard
6 Boston lettuce leaves
If you have never made lobster before and you are unable to purchase pre-cooked lobster, usethis guide.  In Maine, a lot of good lobstermen will boil them for you (I love that).  Either way, make sure you go to a good fish monger.  Season the lobster meat with salt and pepper.  Dice the lobster meat.  Dice the celery.  Toss.  Add Saucy Mama Tarragon Lemon Mustard slowly until the mixture is fully moistened.  Place into lettuce leaves, and serve immediately.