Traditions are a long treasured custom cherished by generation after generation, something survived along side the kinfolks. They were usually passed down with such love and passion. They are meant to share, exhibit, and even spread. When we were in Kerala, we got to soak up and learn new traditions, new for Yaseen, in the process of accustoming for me, and reliving for Sadik.
While family recipes are such a big part of tradition, we discovered that an old kitchen was always haunted by beautiful memories, ancient flavor, and sacred scent. My husband always talks about Katti Pathiri, his grandmother's crispy rice flatbread specialty. It's one of those humble traditional recipes you could never put a price on.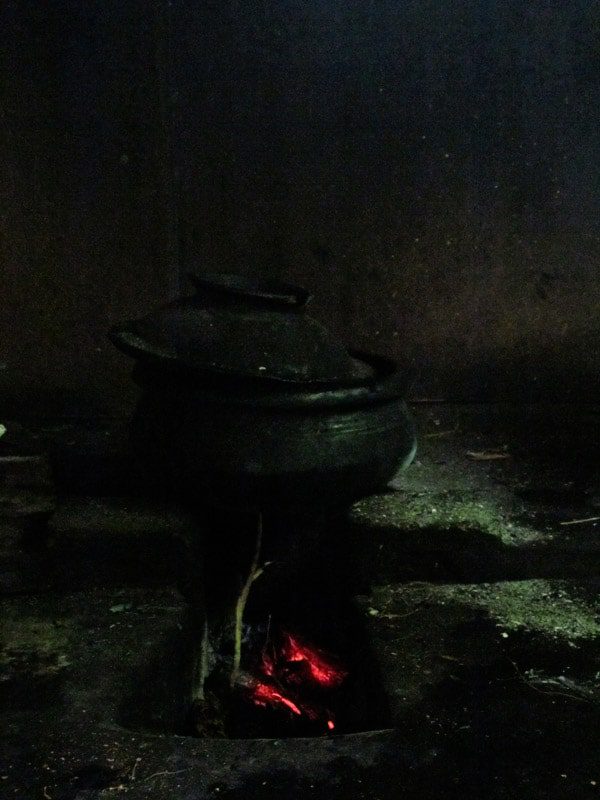 Pathiri is a decadent rice flour flatbread that is very thin and melt-in-the-mouth soft. Katti means thick. So Katti Pathiri is another type of Pathiri with thick and denser texture. It is simply made with rice flour, fresh grated coconut, a pinch of salt and hot water. Sadik always talked about how his grandmother flipping fresh dough with one hand against banana leaf and cooking every piece of Katti Pathiri so delicately in a warm clay pan over smoky firewood. While he sat and waited eagerly by her side, the smell of the dough and coconut toasted against the heat swirled up the pan making him drool and his stomach growl hysterically. We believed him, because that was what happen to us, too while Katti Pathiri was served with black tea for breakfast in Kerala.
Katti Pathiri

Ingredients: (Make 4)

2 1/2 cups rice flour

1 cup fresh grated coconut

1/2 tsp salt

1 cup boiling water (or enough to make stiff dough)

Coconut oil for greasing your hand

You will also need 2 pieces of banana leaves big enough to cover your flatbread

Preparation

Mix rice flour with coconut in a large mixing bowl and stir well.
Gradually add hot water and mix well with wooden spoon to form dough. Then cover the dough for 10 minutes.
When the dough is cool enough to handle, grease your hands with little coconut oil and knead the dough until smooth.
Divide the dough into 4 equal parts, making smooth rice flour balls.
Work with one ball at the time. Flatten the dough ball against banana leaf with your hand. Slowly and carefully spread it evenly into a circle disk, and then enclose it with another piece of banana leaf.
Heat the pan over a medium-low heat and place the whole rice flour disk including banana leaves that are wrapped around them into the pan. Let it cook for 3-5 minutes each side or the Katti pathiri become crispy and golden brown.
Repeat the process with another portion of the dough. Katti Pathiri can be eaten as snack or serve with spicy stew, chutney, or curry.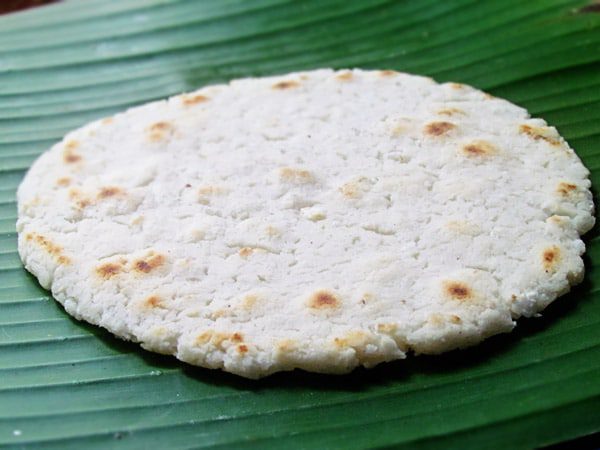 As you can see Katti Pathiri is very simple to make. It is gluten free and a good substitute to regular Indian flatbreads. It is very fragrant with a toasty coconut flavor, light, and fresh. It is crunchy on the outside and oozy soft on the inside. Katti Pathiri can be served as a tea time snack, make a wonderful breakfast, and can be serve with spicy meat stew, coconut chutney, or even fish curry.
Have a beautiful day,