This is a guest post by my amazing Persian-American friend, Chantel, who is graciously sharing one of her family's favorite Persian dishes, Kalam Polo, a wonderful family style dish that you rarely will find in a Persian restaurant except on special occasions.  Kalam Polo translates to "cabbage rice".  The aromatic cabbage is infused with turmeric, fenugreek, and dill weed, then mixed with a sea of long-grain basmati rice, and accompanied by mouth-watering, koobideh meatballs.  What makes it special is how this dish forms a crispy rice crust while it is left cooking on the stove.
Chantel, made Kalam Polo for a group of friends about a year ago, and we were all just blown away by the complexity of flavors that accompanied this seemingly simple meatballs, cabbage and rice dish.  I had to learn how to make it, but it has taken me many months to master this dish.  We are lucky, because Chantel has offered all of her tips and tricks on how to master making Kalam Polo.
A Persian American's Family Style Kalam Polo by Chantel
Growing up the way I did often involved routine and normalcy found in a typical home in the USA…wake up for school in the morning, have a bowl of cereal, get to school, learn, play with friends, but then I would come home…
Yes, coming home involved doing my homework and playing outside with my siblings and friends but it also involved a certain extra something that I didn't realize was so different at the time.  What we had for dinner!
I grew up in a Persian/American household. Or was that American/Persian household?  Whichever way you say it, my American mother provided her culturally filled house and family with quite a menu over the years.  We always had a taste of her Midwestern roots but we were always provided with the taste of our father's Middle Eastern roots as well.  She learned to cook Persian food from my grandmother during her year and a half, politically charged stay in Iran…to where she followed her heart and my father to see if it really was a life and culture she wanted to marry into.  She came back to the USA in 1979, very happily married, very pregnant with me and with a very wonderful, hand-written cookbook full of all the different dishes she had watched being made, tasted and ultimately cooked during her stay.
Kalam Polo is one of those dishes. The sweetness of the cabbage and onions matched with the aromatically rich herbs and spices made it one of our family's favorites over the years.  And don't get me started on the fights us kids had over the meatballs and tadig (crispy rice from the bottom of the pot)!  It being such a comfort food for us, I'm so happy we're able to share it here on Local Farm Foodie!
What we cooked with: Grass fed ground beef from Circle Key Farms.  Cabbage and onions from On The Vine Farms.  Basmati rice and spices from Saffron Market in Scottsdale.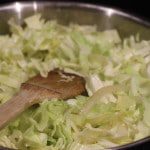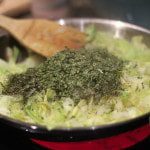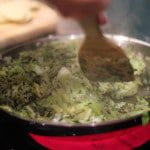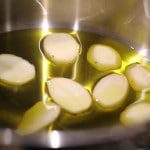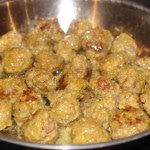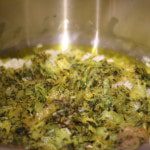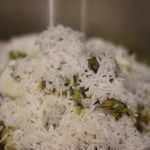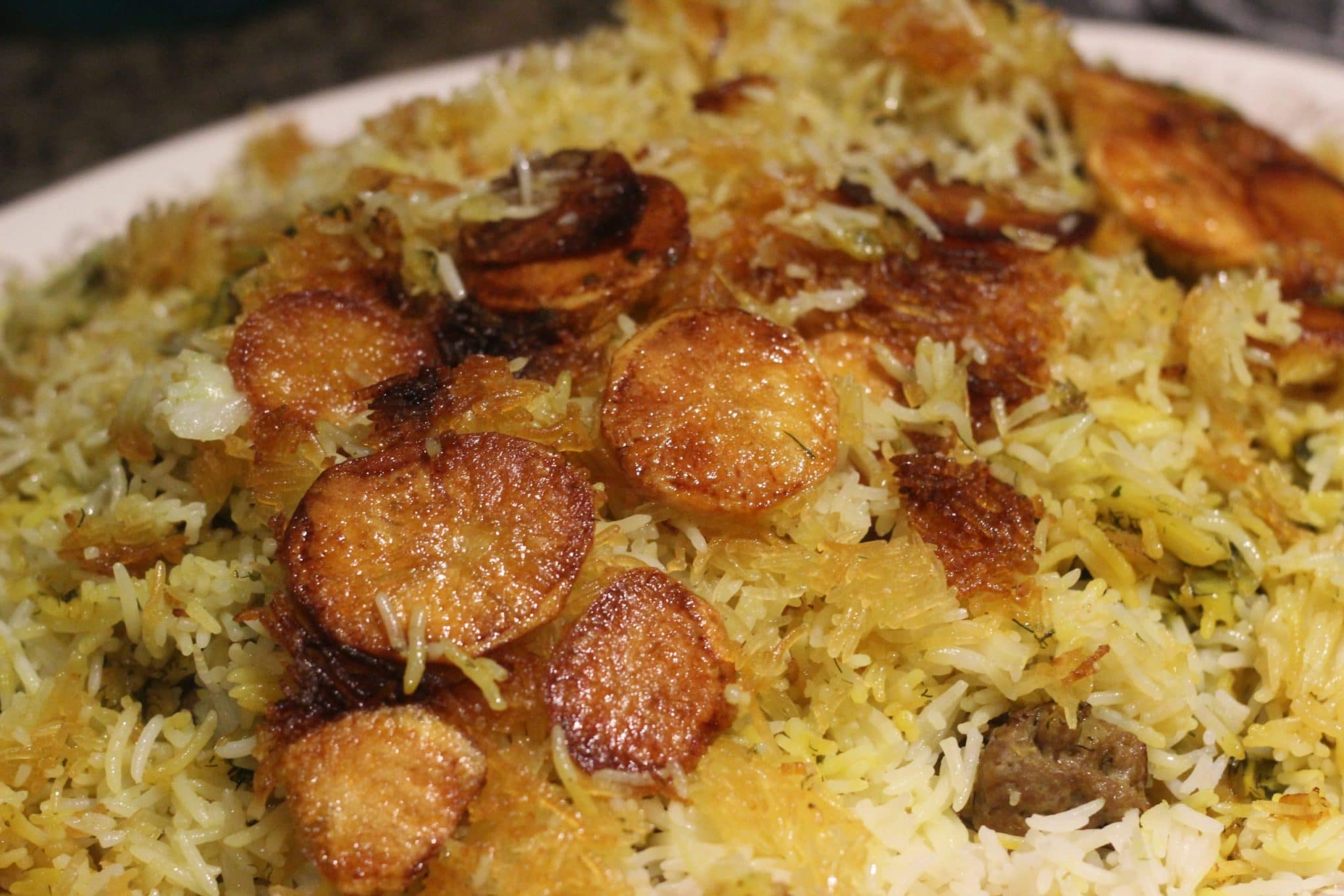 Kalam Polo – Persian Cabbage, Rice, and Meatballs Recipe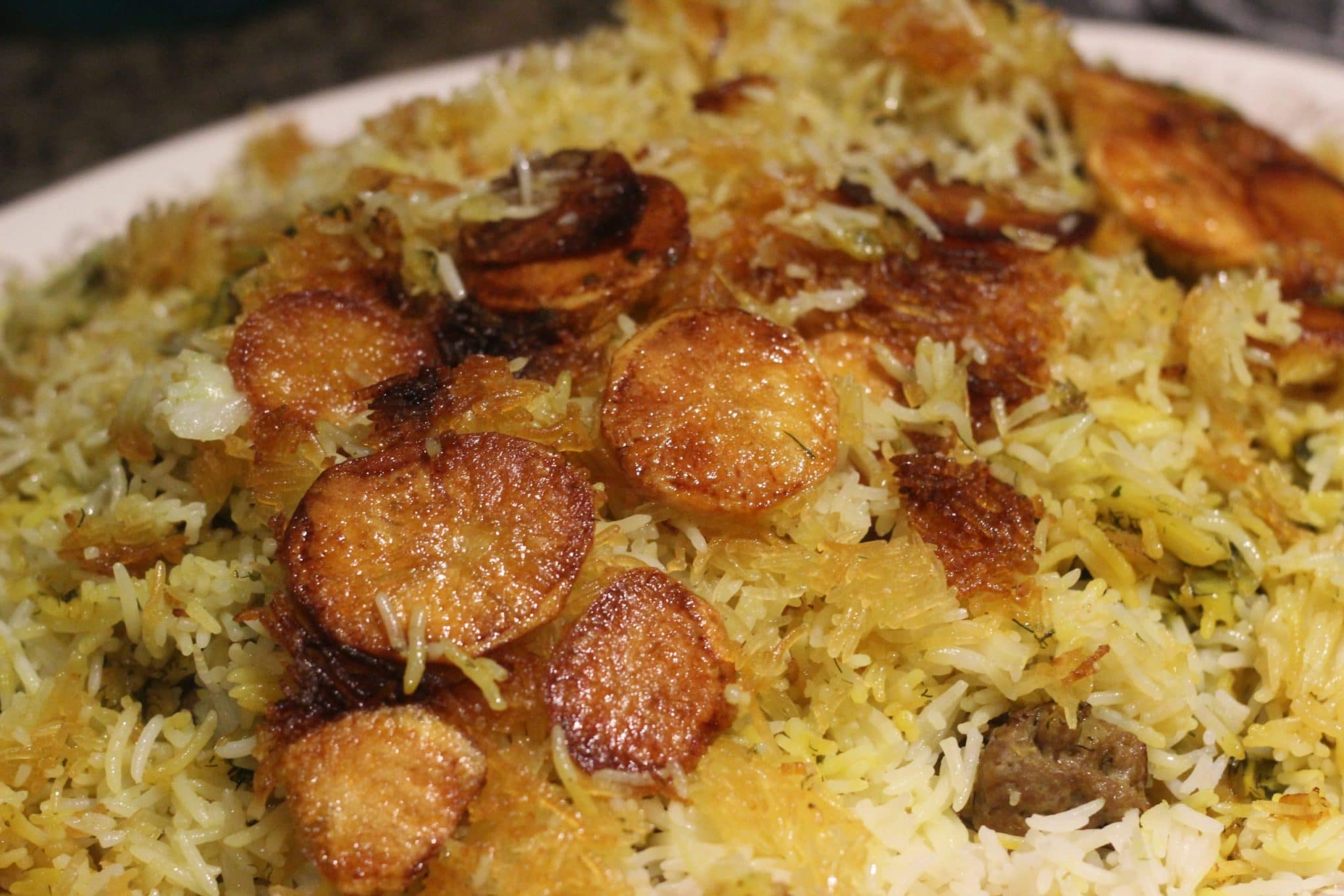 Allow for ample time to make this recipe.  It is time consuming but well worth the effort.  The cabbage mixture also freezes well for later use.
This dish can be made vegetarian by omitting the meatballs.
Ingredients
Cabbage Mix
green cabbage – 1/2 head, shredded
yellow onion – medium, chopped
tumeric – 1 tsp
fenugreek, dried – 2-3 Tablespoons
dill weed, dried – 2-3 Tablespoons
salt – 1 tsp
Basmati Rice
Basmati rice – 4 cups
water – 7 cups
olive oil – 1 Tablespoon
salt – 2 teaspoons
potato – small, peeled and sliced thinly
Koobideh meatballs
grass fed ground beef – 1 pound
yellow onion – 1/4 cup, grated
tumeric – 1 teaspoon
salt – 1 1/2 teaspoons
Instructions
Cabbage Mix:
Chop the lettuce and onion.  Generously cover a large skillet on medium heat with olive oil, and saute onion until lightly browned.  Add in the cabbage, and let the mixture cook down.  Add turmeric, dill weed, and fenugreek, and mix evenly into the mixture.  Set aside.
Rice:
Allow rice to soak in water for at least two hours.  Drain, and add 7 cups water to a large pot.  Add oil and salt.  Cover the pot with a towel, and top with the lid.  On high heat, bring the water to a boil, immediately turn down to low heat.  Cook until al dente, approximately 15 minutes.  You don't want it to cook all the way, since you will finish cooking with with the cabbage and meatballs.  You should be able to break a grain between your fingers, and should not be mushy. Pour the rice into a colander to drain the remaining water.  Fluff rice with a spoon to separate grains.  Set aside.
Meatballs:
While the rice is cooking, mix onion, tumeric, and salt with the ground beef, and form small balls with your hands.  Brown meatballs in a skillet with a small amount of water until cooked through.  Add to cabbage mix.
Kalam Polo:
Cover the bottom of a large pot with oil (should be about 1/4 inch thick) over high heat.  Add sliced potatoes to the bottom of the pot.  Start to layer everything by starting with a layer of rice, then the cabbage mix with meatballs. Repeat and end with rice.  Once you have a mountain of rice in the pot, make a few holes in the rice with the end of your spoon.  This allows it to steam through better.  Cover the lid of the pot with a towel and steam reducing heat to medium low for approximately 20 minutes.  How will you know if it's ready?  Lick your finger and swipe it quickly along the side of the pot.  If it makes a small "sizzle" sound, it's done!
If you have a non-stick pot, you can invert it to show off the beautiful dome of crusted rice.  Otherwise, just spoonful the beautiful rice onto the plate, topping with the tadig (crispy rice).  Serve with cugurt.