I can't believe it's August already.  Where has the summer gone?!  We only have one more month of summer bliss, people!  Then it's back to school.  I still get that feeling of dread that school is starting soon… then I remember I don't go to school anymore and feel relieved.
I feel like I'm phoning it in with this recipe a bit.  It's really too easy… a little too simple.  Not overly exciting.
But if you're sitting around the house one afternoon, and you're like, man – I really want some cake right now, but I don't actually want to bake an entire cake – this is the recipe for you.  I whipped up this tasty little snack in no time at all.  I didn't use cake mix, either.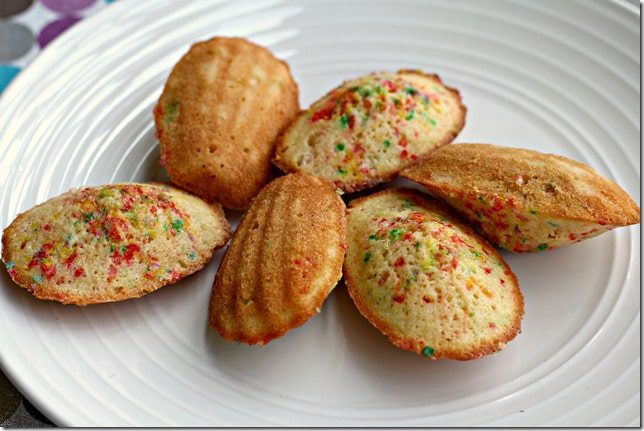 I hadn't used my madeleine pan in forever.  I mean, forever.  It's been years.
I actually used my ice cream maker today, too (not for this recipe).  I used to use it all the time!  I think it is because I have an ice cream addiction and can't control myself, and that's why I don't make it much anymore.
So I made a simple little white cake batter flavored with a little bit of almond extract, beautiful butter, and sprinkles.  The sprinkles look like Fruity Pebbles, don't they?  Don't get me started on how much I love Fruity Pebbles.  They are thebest topping on frozen yogurt.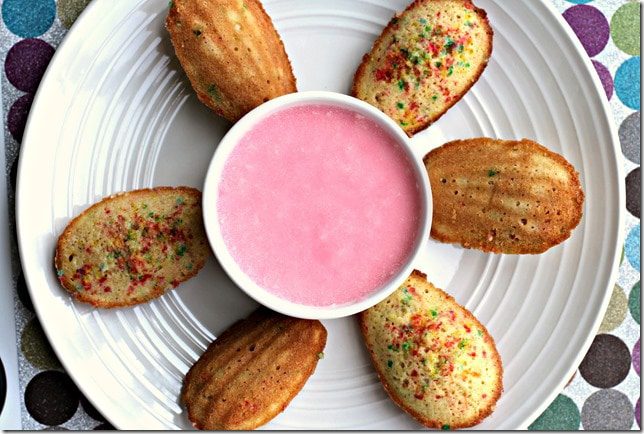 The pink cake batter dip is made by whisking together Greek yogurt, soft butter, confectioners' sugar, and vanilla and almond extract.  Perfect for dunking!  And it's made with Greek yogurt, so it's totally healthy, right?  Yup.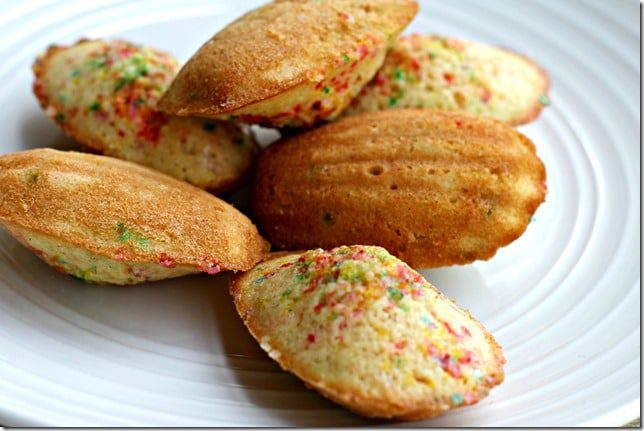 Funfetti Madeleines with Cake Batter Dip
Ingredients:
3/4 cup cake flour
1/2 teaspoon baking powder
1/4 teaspoon salt
1/4 cup unsalted butter, melted, cooled to room temperature
1/3 cup granulated sugar
2 large eggs, room temperature
1/2 teaspoon vanilla extract
1/4 teaspoon almond extract
Sprinkles
2 tablespoons unsalted butter, softened
1/2 cup confectioners' sugar
1/4 cup thick Greek yogurt
1/2 teaspoon vanilla extract
1/8 teaspoon almond extract
Red food coloring, optional
Instructions:
Heat oven to 375 degrees F.  Butter madeleine pan well and dust with flour.  Place in freezer to chill.
In a medium mixing bowl, sift together flour, baking powder and salt.  In a large mixing bowl, using a mixer on medium speed, beat together butter and sugar until creamy – about 1 minute.  Beat in eggs, vanilla and almond extract until well combined and frothy – about 2-3 minutes.  Reduce mixer speed to low and beat in dry ingredients until just combined.  Stir in the desired amount of sprinkles until just combined.
Refrigerate batter for 30 minutes.  Spoon the batter into prepared madeleine pan.  Bake 10-12 minutes or until puffed and golden brown.  Remove madeleines immediately from pan and cool on a wire rack.
To make the Cake Batter Dip, in a medium mixing bowl, using a mixer on medium speed, beat together butter, confectioners' sugar, yogurt, vanilla, almond extract and a drop of red food coloring until well combined and creamy.  Place dip in a small bowl.  Serve with madeleines.
Makes 12 madeleines