Is there anything better than pie in a jar?  Well, I guess if it is CHOCOLATE pie in a jar.  Especially if it is chocolate pudding pie, with layers of Kozy Shack Chocolate Pudding, homemade whipped cream and a crust of chocolate sandwich cookies.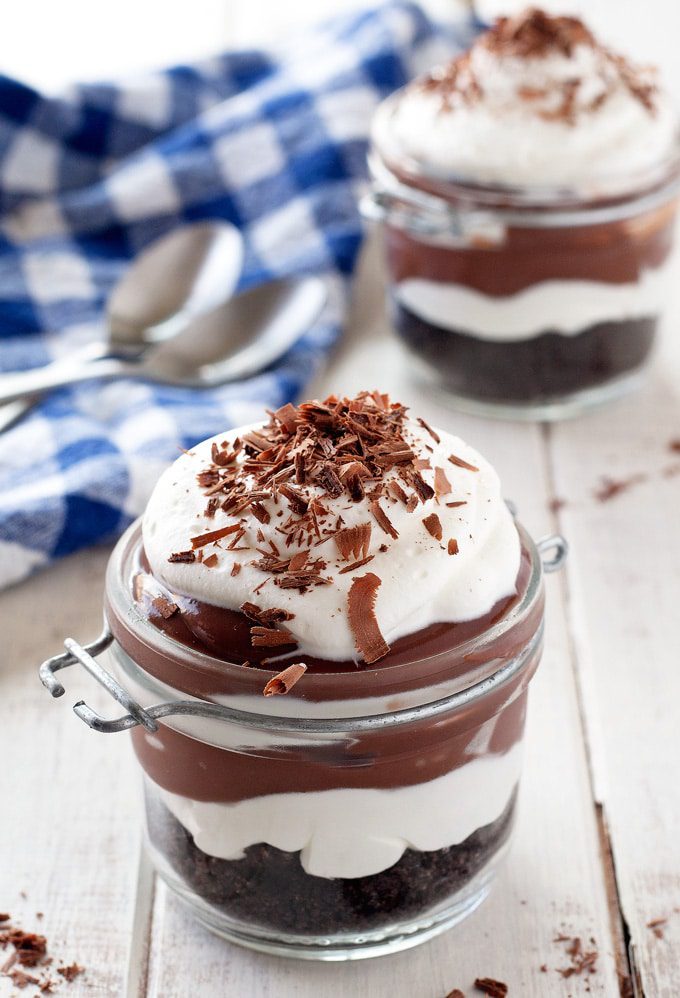 The best thing about this chocolate pudding pie in a jar – it seriously takes zero time to put together.  Let's say you're having friends over for a BBQ and you've spent hours making salads, sides, marinating meat to put on the grill plus decorating for your shindig.  And then you think… I need a dessert!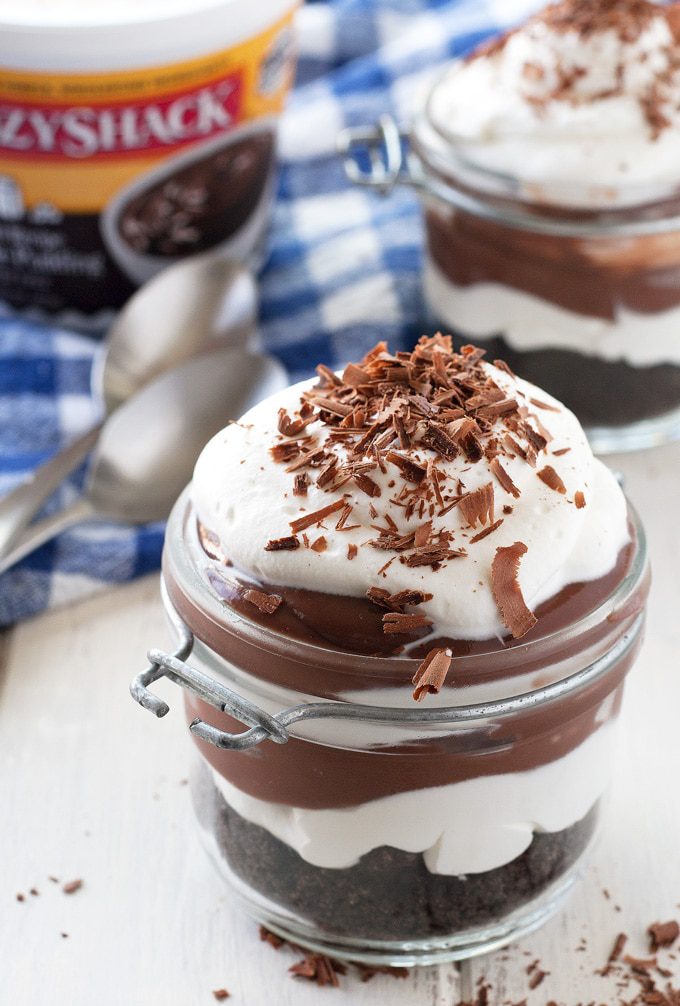 These can be made in 10 minutes!  10 MINUTES!  And that's including homemade whipped cream.
While your heavy cream is whipping in your stand mixer, quickly grab you jars and crush up your chocolate sandwich cookies.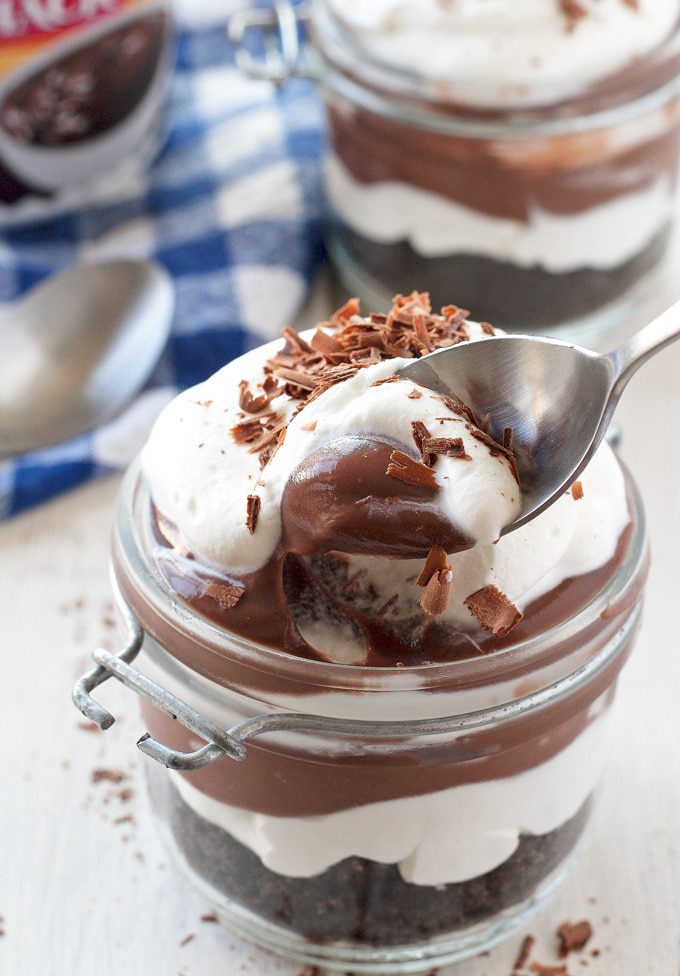 Then just layer cookies, with whipped cream and chocolate pudding!  Voila! – you are done!  I added some chocolate shavings on top to go extra fancy, but that's about the fanciest I get.  You can also easily make these ahead of time, just leave the top layer of whipped cream off until your ready to serve.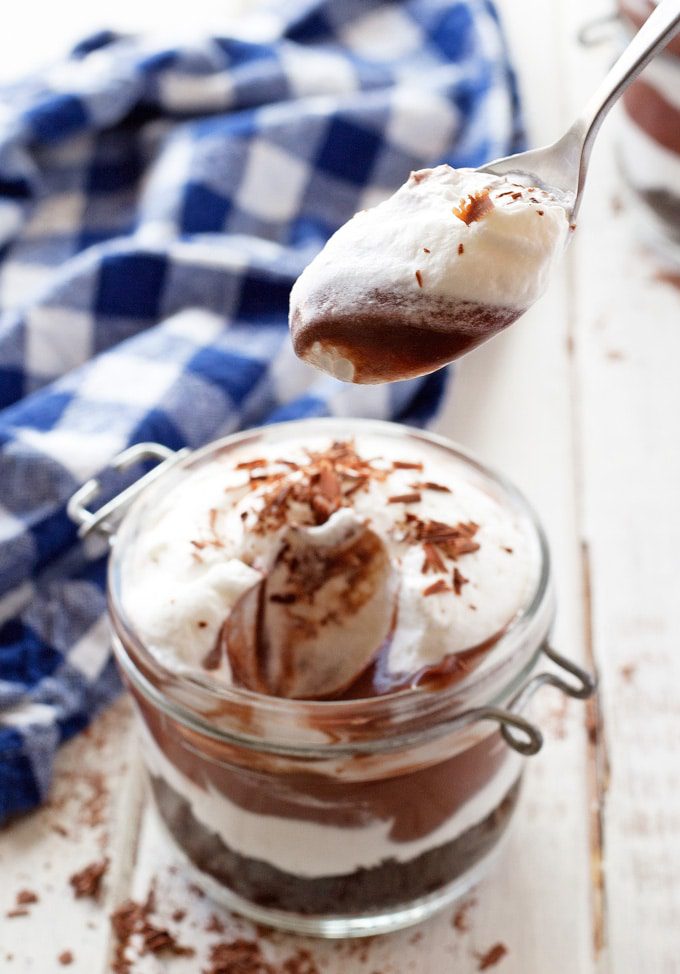 Seriously, Kozy Shack is making summer super easy this year!  And for more easy and delicious pudding recipes you can check out their Facebook and Instagram pages.  Plus, they'll be giving away prizes all summer long – PRIZES people!

ingredients
12 chocolate sandwich cookies
1 pint (2 cups) heavy whipping cream
2 tablespoons sugar
1-22 ounce container of Kozy Shack Chocolate Pudding
chocolate shavings for garnish, optional
instructions
Place the chocolate sandwich cookies in a food processor and grind until about the size of peas. Set aside.
In the bowl of a stand mixer, add heavy whipping cream and beat with the whisk attachment. Slowly add sugar and continue to beat until soft peaks form.
To assemble, add in cookie crumbs and then layer chocolate pudding with whipped cream ending with chocolate pudding at the top of the jar.
If serving immediately, finish with whipped cream and chocolate shavings if desired. If serving later, cover and top with whipped cream when ready to serve.