Be forewarned. The recipe below may cause mass peanut butter and chocolate cravings and if you are used to visiting me for lightened up versions of things, this recipe is definitely not lightened up. You know why? Sometimes you just need a junked up flourless triple chocolate peanut butter brownie. You just do. And I do right now. The amount of trashing up done to these brownies… there are no words. In fact there are no words for a lot of things in my life right now. That's why I need these brownies.
See, my house is in shambles right now.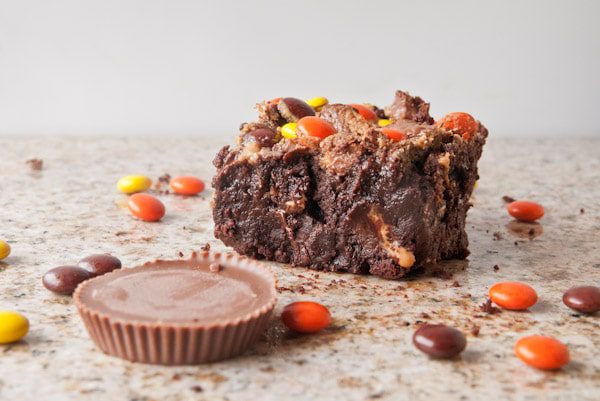 For the past few months, my hubs and I have been talking about cleaning out our office, painting it, and turning half of it into a craft nook for me (yay!) and reorganizing it to include a good writing spot as well (double yay!).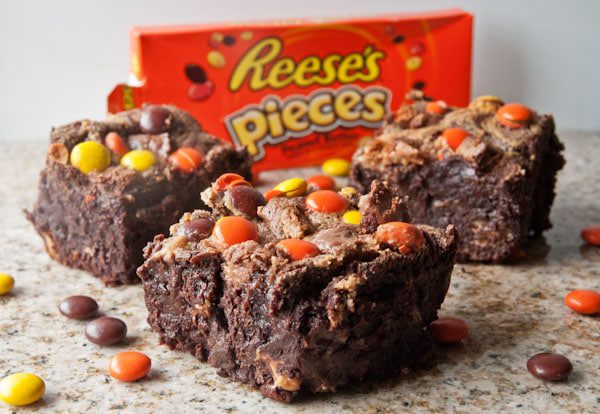 For some reason, we decided that Labor Day weekend, was the perfect time to do this.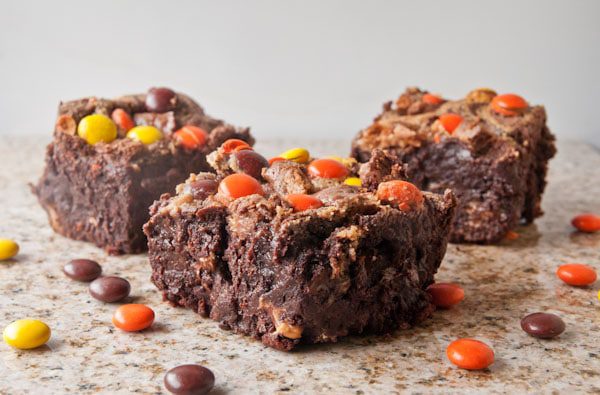 Makes some sense I guess, but then I think about the fact that we started this because we were pulling our fall decorations out of our attic and wonder how the fall decorating binge I intended to go on turned into an office redo.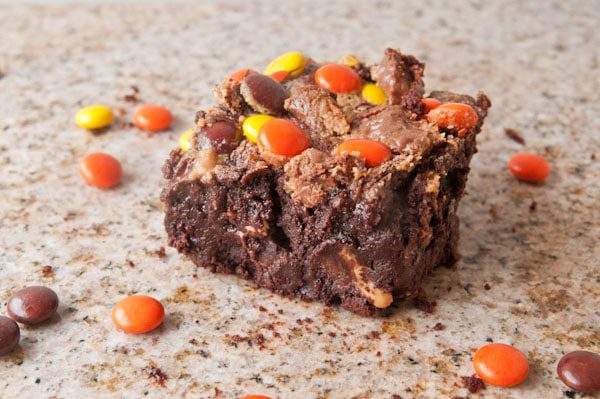 It looks like my house has exploded. But I get a craft NOOK and a writing NOOK out of the deal. I love the word nook. I have always wanted my very own nook and now I kind of get two. Happy sigh.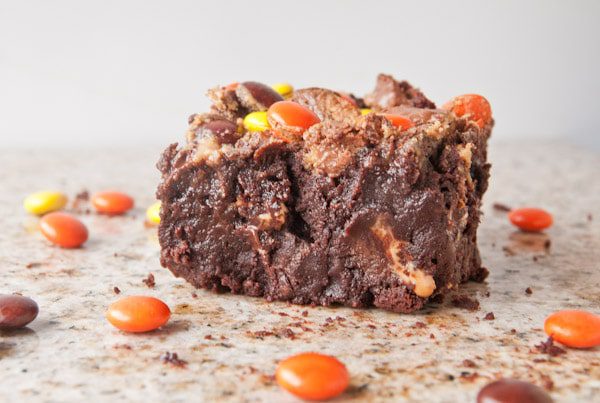 Until I walk away from the corner of calm that has been created in my writing nook and see the discarded office stuff, painting supplies,  and fall decorations allllllllllllllllllllll over the rest of my house with no rhyme or reason right now. I can't wait for this weekend until we can finish hanging my shelves and move my crafting supplies into my craft nook (let's just keep saying it- nook, nook, nook…), clean up and finish decorating for fall. Which needs to happen like ten minutes ago, because I LOVE my fall decorations and have some awesome projects to show you all. So just bear with me.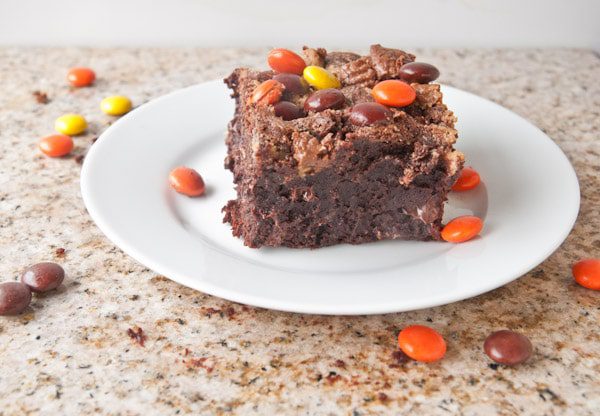 In the meantime, eat some peanut butter brownies. They will make you feel better. They made me feel better. They are based on my flourless triple chocolate brownies but I junked them up a lot with triple peanut butter. That's right: three kinds of peanut butter. Reeses Pieces, Reeses Cups, and straight peanut butter. By the way, these guys are still gluten free…but don't let that fool you. These are seriously good and junky and chocolatey and peanut buttery and worth every last calorie.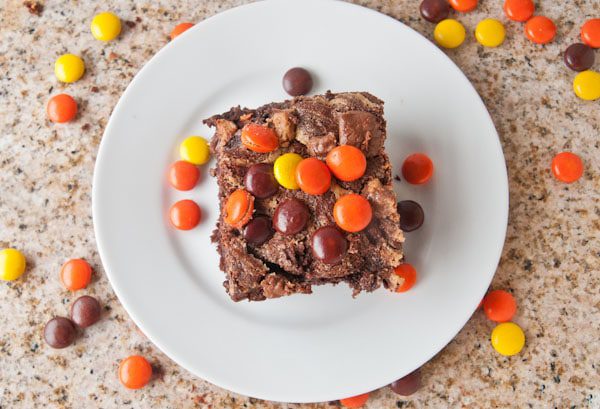 Because sometimes you just need peanut butter. And chocolate. Stat.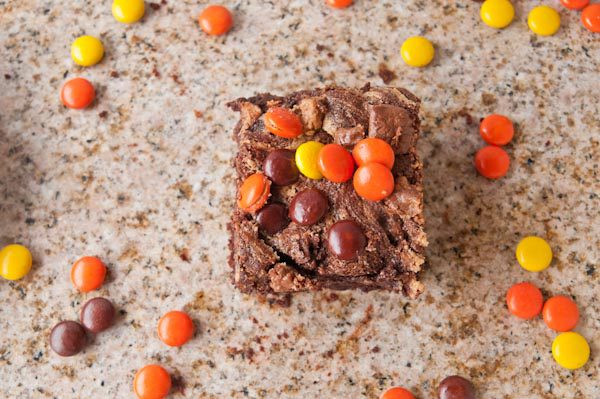 Flourless Triple Chocolate Peanut Butter Brownies
Ingredients
8 eggs
1 3/4 cup of dark chocolate cocoa powder
1 cup of sugar, divided
2 tbs vanilla extract
2/3 cup of coconut oil
1 1/2 cup of milk chocolate chips, divided
1 1/2 cup of semi sweet chocolate chips, divided
8 Reeses Peanut Butter Cups, chopped
1/2 cup of peanut butter
3 tablespoons of unsalted room temperature butter
1 1/2 cups of Reese's Pieces
How to Make:
Preheat the oven to 350 degrees. Grease the bottom of an 11×7 baking dish with a bit of coconut oil.
Combine the eggs, 1 3/4 cup of dark chocolate cocoa powder, 3/4 cup of sugar, vanilla extract and coconut oil.  Mix with a hand mixer until all the ingredients are incorporated.
Combine 3/4 cup of milk chocolate chips with 3/4 cup of semi sweet chocolate chips in a microwave safe bowl.  Melt the chips by microwaving on low and stirring every 20 seconds until the chocolate is melted. Do not overcook the chips!
Pour the melted chocolate into the existing brownie batter stirring the batter as your pour. Once the melted chocolate has been added to the brownie batter, fold in the remaining chocolate chips and half of the chopped peanut butter cups and Reese's Pieces.
In a second bowl, whip together the peanut butter, butter, and 1/4 cup of sugar. Spoon this mixture into rows on top of the brownie batter and swirl it with the brownie batter by dragging a fork through it.
Top the brownies with the additional Reeses cups and Pieces.
Bake at 350 for 35-40 minutes or until the brownies spring back.  I like my brownies slightly underdone so they will be extra gooey and fudgy but cook to your preferred level of doneness.