One of the most fun and rewarding things about food blogging is the mail. Both varieties, email (i.e comments) and snail mail. It's a bit like Christmas morning, every morning when I get up and check my inbox for comments. It may seem a bit on the ridiculous side but blogging can be a bit of a lonely endeavor sometimes so when someone takes the trouble to stop by and read my blog and leave a comment I get a little giddy.
When the mail arrives, usually without fail, each week there is often some product or cookbook that comes to my door. You've probably noticed, companies both big and small, and cookbook editors love to have bloggers use their products or work from their latest books then have them share their experiences with their readers. I'm sure my FedEx man thinks I have an online shopping addiction. I really must make the effort to greet him when he comes by next so I can explain. At the very least I should bake him a plate of cookies to thank him for braving the drive up our steep winding hill so often.
I feel a little bit guilty when he comes, there really is almost no room for him to easily turn around, for some reason there are a bajillion small rabbits always lurking on the road for him to maneuver around and our massive dog always greets him with snarls and wolf like growls. Throw in our neighbors free range chickens and ducks and well, you get the idea. He deserves 5 dozen cookies at least.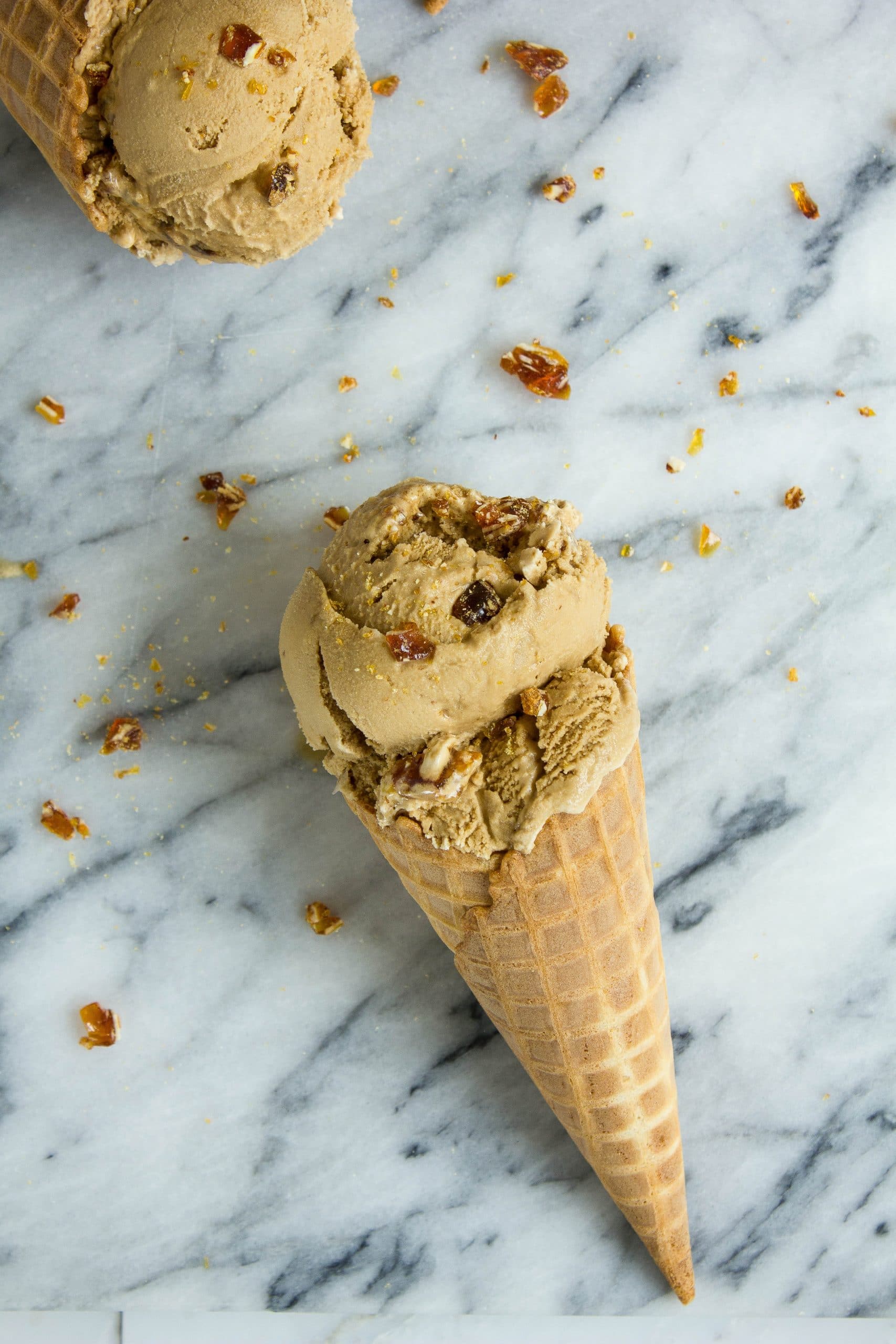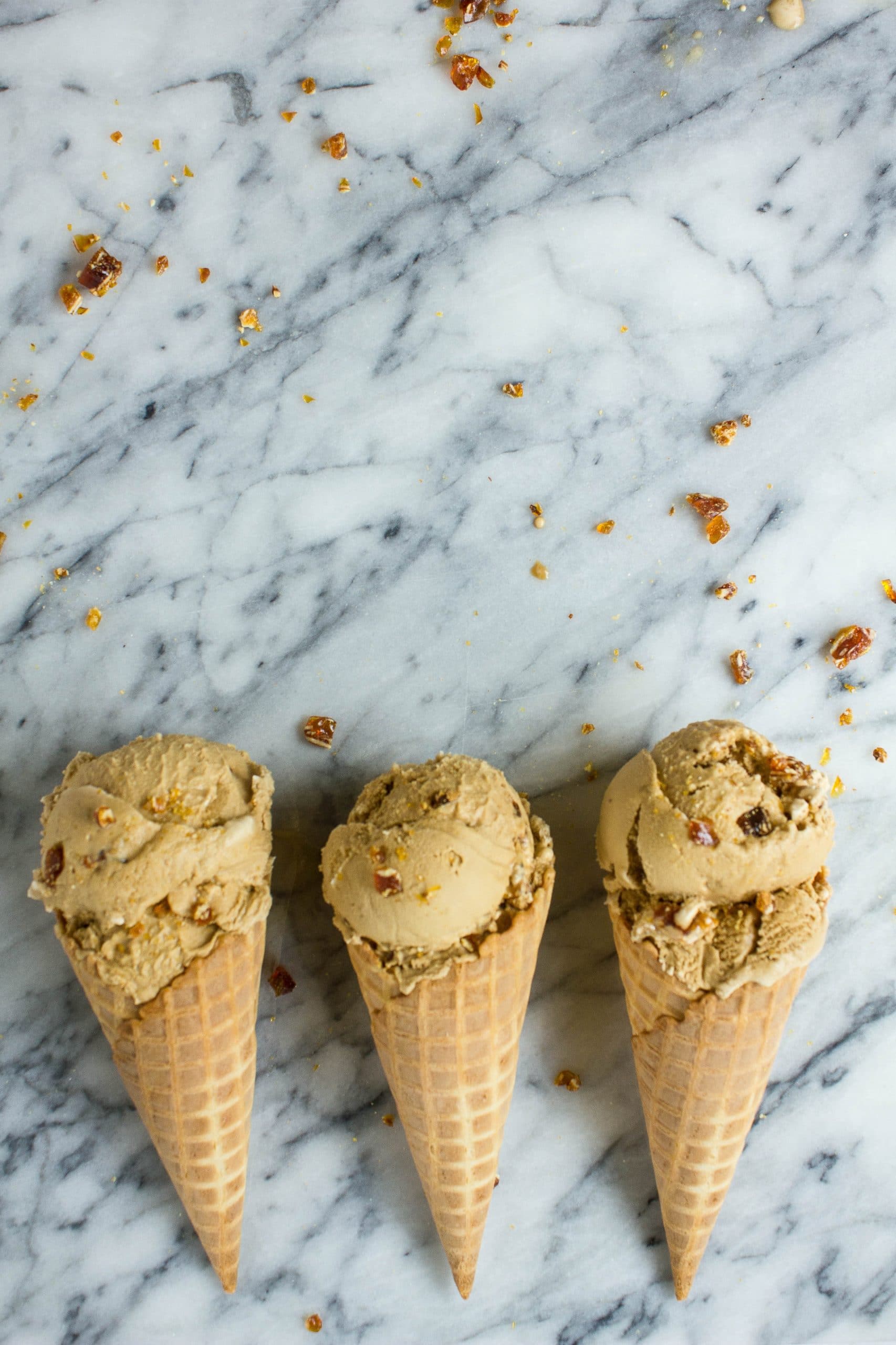 Recently I was fortunate to receive Patricia McCausland-Gallo's Passion for Coffee Cookbook in the mail. Written by food writer, nutritionist, pastry chef and participant in Michelle Obama's Chefs Move! To Schools program, Patricia hails from Colombia and knows a thing or two about coffee.
The book is chock full of recipes both sweet and savory that highlight coffee in all it's delicious incarnations. Balsamic coffee reductions, check. Coffee Creme Charlotte, Rum and Coffee Cheescake, Tamarind Spiced Chicken Breasts and Cornish Game Hens with Blackberry Coffee Sauce? Check, check, check and check.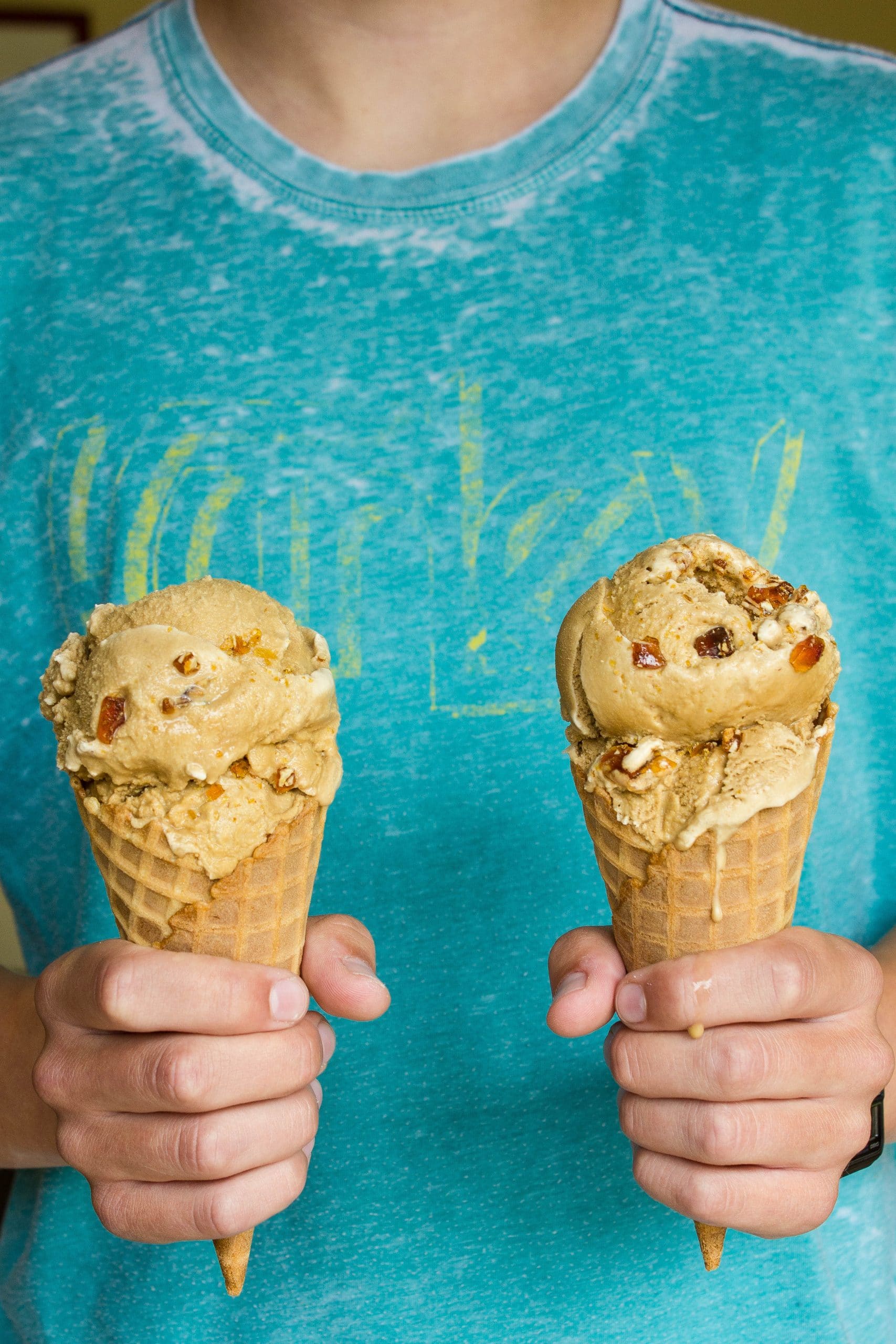 Seeing how it's summer and all my brain can seem to think about is ice cream, I chose to make this delicious, no cook Espresso + Almond Praline recipe. No cook, means faster time to the ice cream maker and freezer so ultimately faster time to my mouth. No eggs means that the texture is more along the lines of a gelato, firm but definitely no less delicious.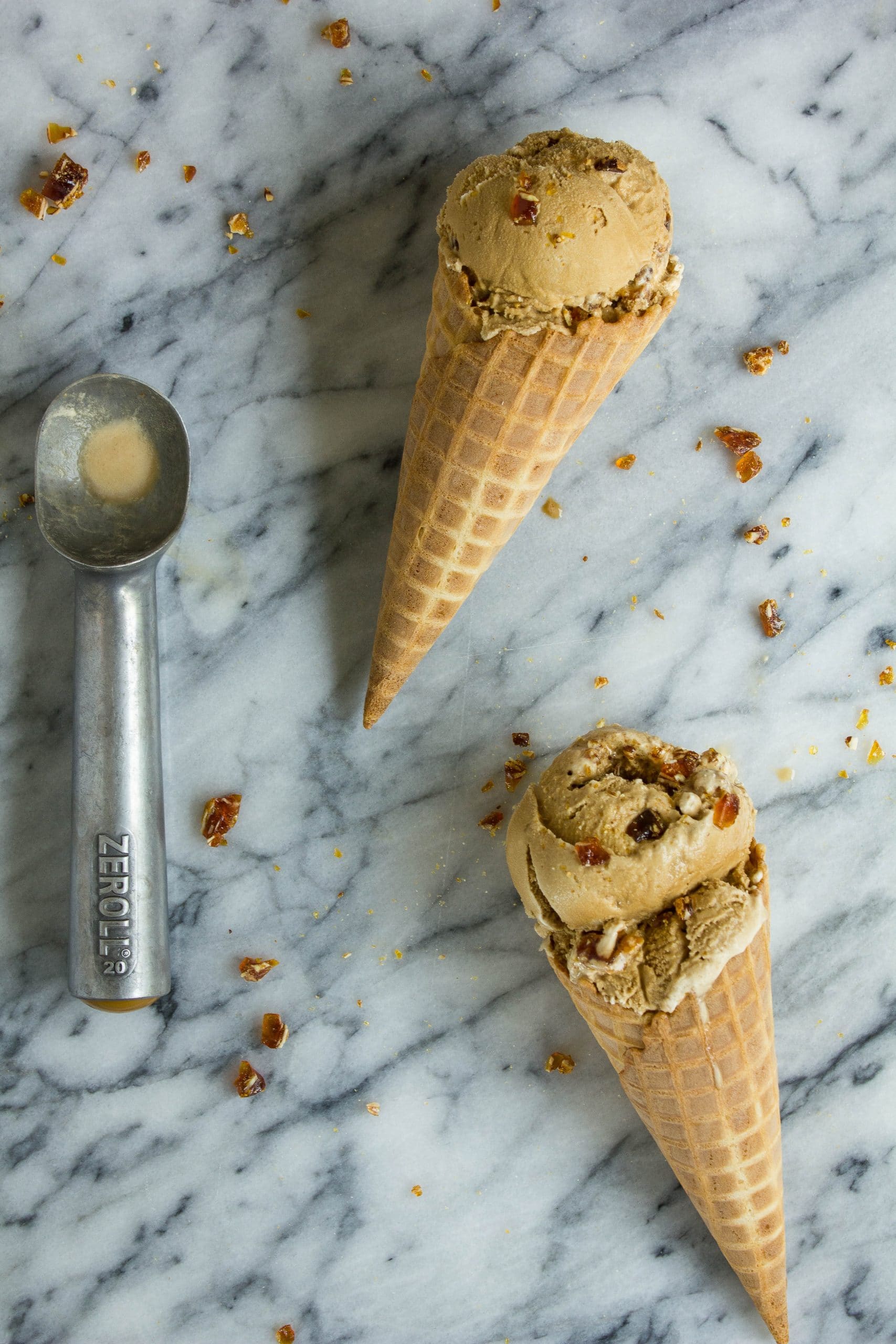 Flecked with an easy to make almond praline, this recipe has a definite creamy, almondy juxtaposition going on that's divine. I used a instant espresso powder for an extra strong, slightly bitter hit, but if you prefer a more mellow coffee flavor, just stick with the milder versions of instant coffee and you should be good.
If there was a way I could make this for my FedEx man I would, although somehow I think it would be too difficult for him to maneuver his truck with a dripping ice cream cone in hand. Not probably the best way to win the guy over. I'll definitely have to rethink that one. Until then I have an appointment with a cone.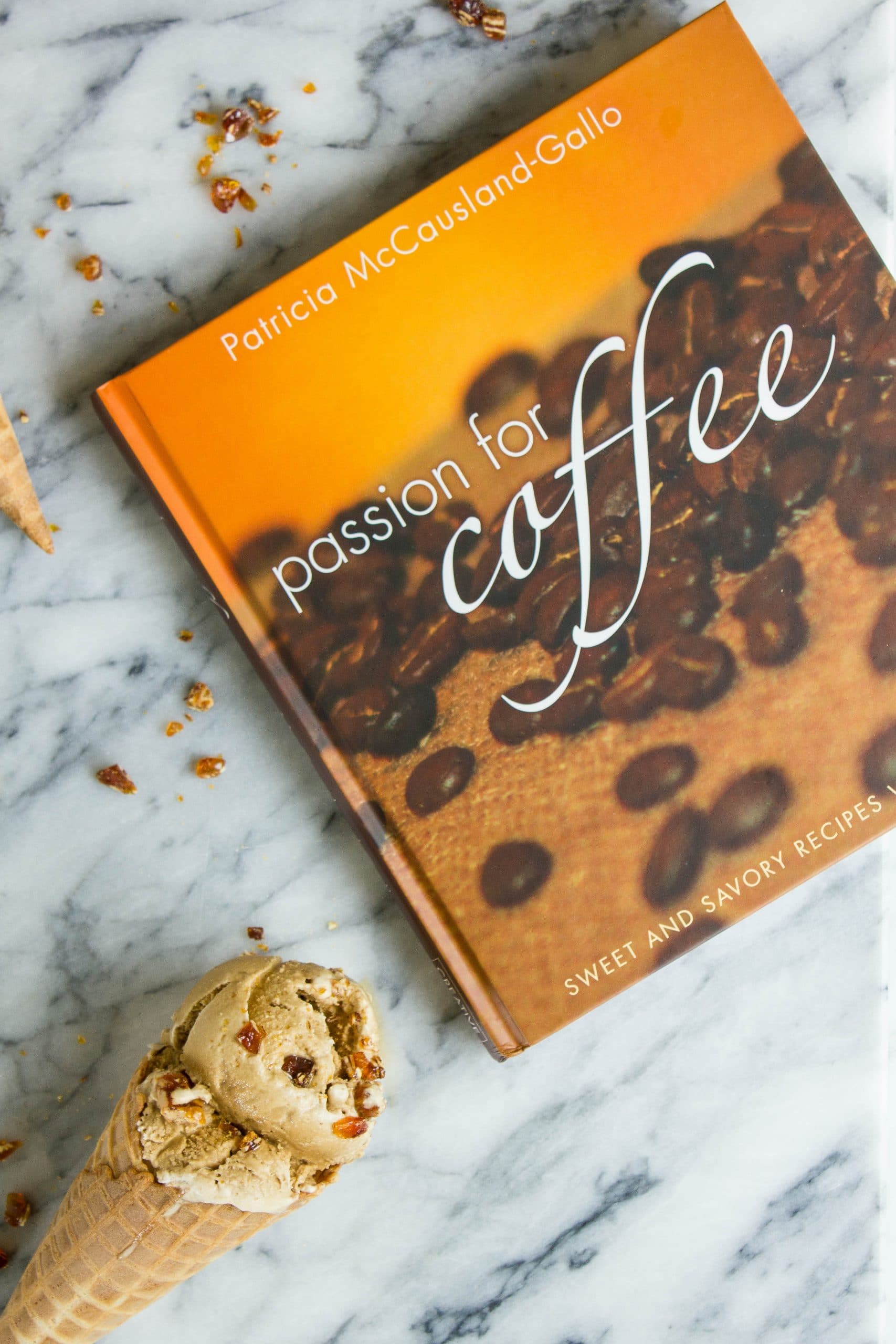 Espresso Almond Praline Ice Cream
Ingredients
1 1/2 C. heavy whipping cream
2 C. 2 % milk
2/3 C. sugar
1/4 C. brown sugar
4 T. instant espresso powder
1/8 tsp. salt
3/4 C. ground almond praline Recipe below
Almond Praline
2 C. sugar
1/4 C. water
3/4 C. sliced almonds
Servings:
Instructions
For the Praline:
Line a small rimmed baking sheet with parchment or a silicone liner. Set aside. In a heavy saucepan combine the sugar and the water. Stir until most of the sugar is wet, then set the spoon aside. Do not stir the mixture from hear on out. Swirl the pan if you need to combine ingredients. Heat over medium high until the caramel begins to turn a medium brown. Swirl continually at this stage then remove from the heat. Pour in the almonds and carefully stir to combine. Moving quickly, pour onto the baking sheet and allow to cool and harden.
Once cool, place in a large plastic bag and use a rolling pin to break the praline into small pieces. Set aside until needed.
For the Ice Cream
Combine all of the ingredients except the praline in a blender. Blend until combined and the sugar has dissolved. Place in the refrigerator until thoroughly chilled.
Pour ice cream mixture in to the ice cream maker and process according to the manufacturers instructions.
Once frozen, scoop the ice cream into a loaf pan filling it halfway. Sprinkle half of the praline over the mixture and gently swirl it into the ice cream. Place the remaining ice cream on top, then add the remainder of the praline. You can either swirl it into the top or just leave it as is.