With Valentine's Day rapidly approaching this week, I find myself in a very familiar predicament; what to make for our annual Love Day dessert.  With the big day falling more often then not on a weeknight, and busy schedules for all, we almost never dine out on Valentine's Day. Long gone are the days of leisurely, romantic dining out Valentine Day dinners. In fact, they are so long gone that I have to squint when I try to remember one of those dinners.   While I'm speaking of squinting, I have to say, squinting is becoming a problem.  Squinting is one of those things no one tells you about as you get older. Squinting, (outside of the fact that it's an awesome word to say) is not my friend.  It's wrinkle inducing,  decidedly un-cute and happens way too often my friends.
So in order to prevent further wrinkle inducing facial expressions, (of which there are many more than you thought humanly possible and many of which you become intimately acquainted with when you have teenagers) we decide to keep things simple around here.  Rather than go out and spend wads at a schmancy restaurant, every year we plan a nice steak dinner at home.  My husband busts out the grill, we buy decadent crab stuffed mushrooms from the fish monger, quaff real French Champagne,  throw some gorgeous veg in the oven to roast and we're golden.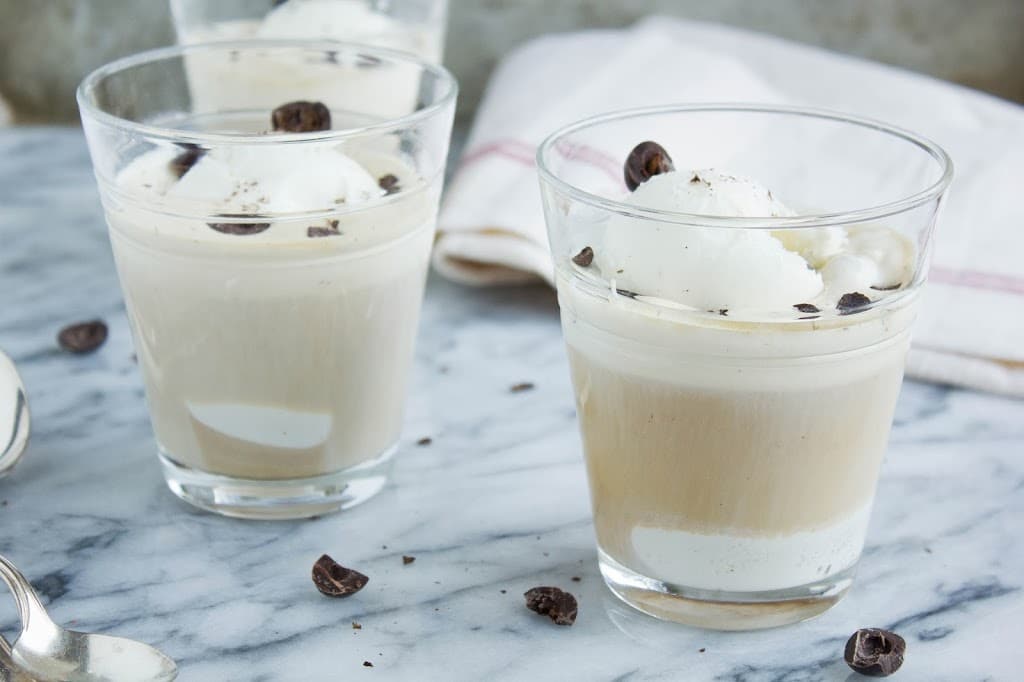 Routinely though I find myself struggling to come up with a dessert.  I don't want to spend loads of time in the kitchen and truly most years we just end up eating our dessert from heart shaped boxes, which is completely, totally more than ok. It feels more decadent, more special though to make a dessert and this year I've found the perfect solution.  Affogato.
Just saying Affogato makes you feel romantic. It's Italian, so right there it scores major points and it's easy, easy to make. In fact it's so easy and requires so few ingredients that it also can be made with out any unnecessary squinting. Score. Vanilla ice cream or my favorite hazelnut gelato, plunked into rich boozy espresso.  That's it. Dressed up with whipped cream or your favorite liqueur and it be comes even more decadent and perfectly suited to a special occasion. Here's my version, but feel free to mix it up how ever you see fit.
Easy Affogato
Serves 4
1 pint of your favorite ice cream or gelato
1 C. freshly brewed espresso or very strong coffee
4 oz. hazelnut liqueur or bourbon
1 C. heavy whipping cream, whipped into soft peaks (opt.)
crushed chocolate covered coffee beans or cookies of your choice
Pour the coffee equally into 4 glasses (1/4 C. for each glass). Add the liqueur if using, and a small dollop of whipped cream. Add the ice cream to the mixture and garnish with the coffee beans or cookies.