One of my favorite Indian dishes ever is Chicken Malai Kebab, which is fresh cream marinated chicken. It is milder than other type of kebab and loads with fresh flavor.
Chicken Malai Kebab is not at all spicy, making it a kid friendly recipe. To make it even more kid friendly, I transform this juicy kebab into meatballs. Now, how can anyone, kid or not kid, resist these super soft and fresh meatballs? They are so moist, sweet and tender, perfect for party appetizer or snack.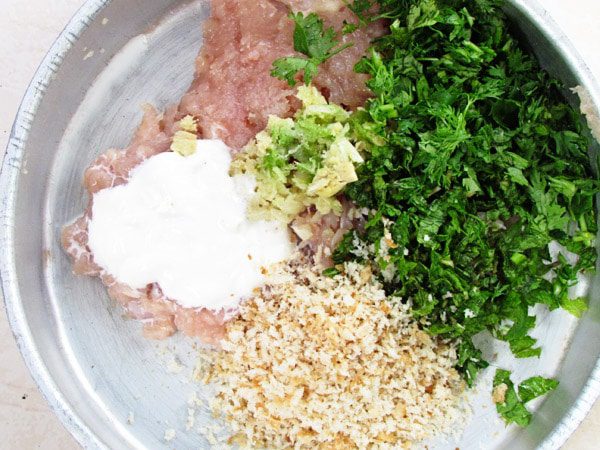 Just mix chicken with some fresh herbs like mint and coriander, season with salt and sugar, add some garlic, ginger and chili, and bind all ingredients together with fresh cream and fresh bread crumb.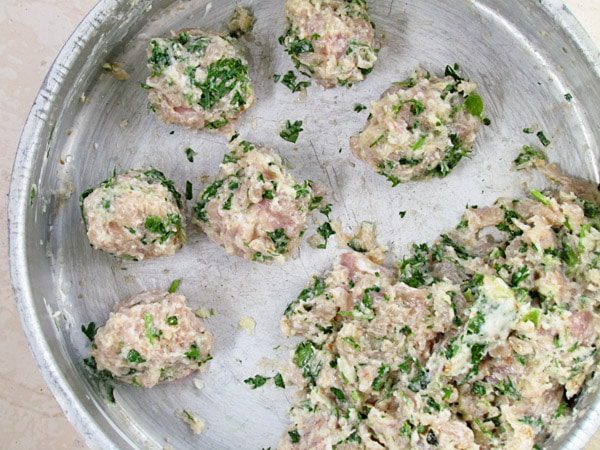 Mix well and make meatballs in your preferable size. We love a big bite-size so each time we throw the meatball in our mouth it explodes hot juice… yum!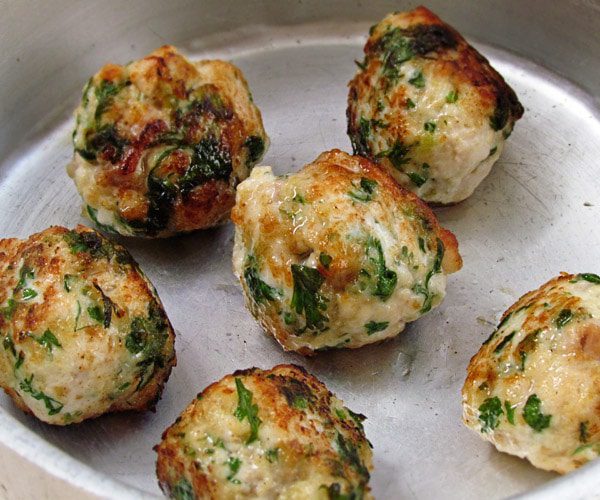 Sear the meatballs in the pan for a few minutes to get the lovely golden brown crust and then finishing them off in the oven.
Do not over cook them as they would turn dry and tough. We want super moist and juicy meatballs and that should take less than 5 minutes to cook.
Chicken Malai Meatball

Ingredients (4-6 servings)

500 gm ground chicken

1/2 cup fresh cream

1/2 cup fresh bread crumb

A handful of fresh coriander leaves- chopped

A handful of fresh mints- chopped

3/4 tsp salt

1 tsp super fine sugar

4 cloves garlic

1 tbsp chopped ginger

1 fresh green chili

Oil for greasing a pan

Preparation

Grind ginger, garlic and green chili until rough paste.
Mix ground chicken, ginger-garlic- chili paste and the rest of the ingredients except oil. Mix well with your hand and form bite-size meatballs.
Grease the pan and heat it over a medium heat. Sear all sides of each meatball until light brown on the outside.
Bake the meatballs further in a preheated oven at 200 degree C for 5 minutes or until the meatballs are cooked thoroughly from the inside.
Serve hot with some mint chutney or cream sauce.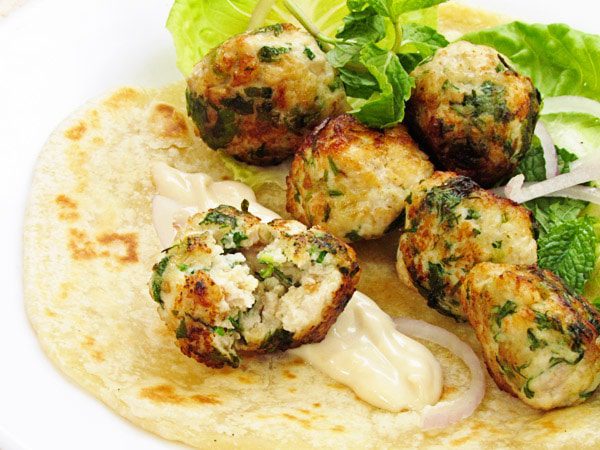 Yaseen adores these meatballs. He loved them wrapped in homemade Naan with a dollop of mayonnaise. These meatballs are great for your party, too. They are easy to make, and you can freeze them in large batch.
Love