Last week I was flipping through my Healthy Cooking magazine and landed on a ridiculously easy looking, and delicious sounding cake.

Thats right- I said CAKE.  I keep saying I need to add more desserts to my recipe file.  Desserts fit into my diet, too.. just not that often.  I just don't have a sweet tooth, really.

But that doesn't stop me from having the occasional slice of cake, or cup of ice cream.. My 'Sweet Eats' pinterest board is FULL of decadent food.. but never have I made anything out of it.  Fail.

Lately I've been swooning over the new sno cone hut that made it's place across the street from where we live. I came home yesterday demanding that we go.  I was denied.  But he promised we would go soon!  Woo!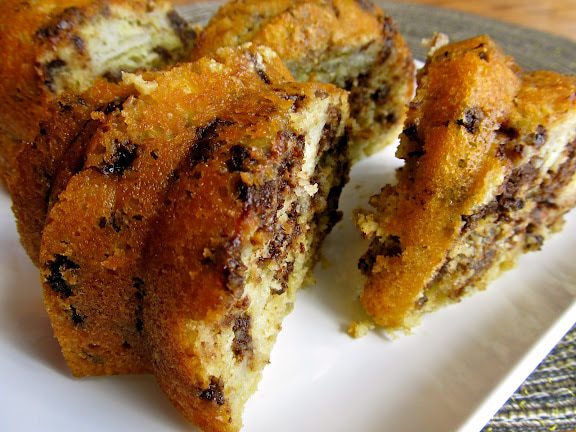 So, for Meatless Tuesday (because I was so lazy and taking advantage of the holiday on Monday) here is cake- super simple cake, actually.  It took me all of 5 minutes to whip up and stick in the oven.  It was ready by the time season finale of Grey's was over.  Have you ever eaten Ben & Jerry's Chunky Monkey ice cream before?  This cake will satisfy your craving!
This basic bundt cake can be remade however you please- be creative!  I've already started to think of other ways to remake this using ingredients besides bananas and chocolate chips.
Chunky Monkey Bundt Cake
Adapted from Healthy Cooking Magazine
Ingredients
1 package (18-1/4 ounces) yellow cake mix
1-1/4 cups water
3 eggs
1/2 cup unsweetened applesauce
2 medium bananas, mashed
3/4 cup miniature semisweet chocolate chips
1/2 cup chopped walnuts, toasted
Instructions
In a large bowl, combine the cake mix, water, eggs and applesauce; beat on low speed for 30 seconds. Beat on medium for 2 minutes. Stir in the bananas, chips and walnuts.
Transfer to a 10-in. fluted tube pan coated with cooking spray. Bake at 350° for 40-50 minutes or until a toothpick inserted near the center comes out clean.
Cool for 10 minutes before removing from pan to a wire rack to cool completely.
Nutritional Information:
Calories: 233; Fat: 8 g; Carbohydrate: 36 g; Fiber: 1 g; Protein 3 g