We have had some overload of chocolates for the past week, but that has not stopped my little girl from asking for something chocolatey in her school snack box. Honestly, snack boxes and breakfasts can be my biggest headache of the day. That was until I saw the big jar of rolled oats staring at me and the neatly packed waffle maker, whispering to be caressed. Chocolate oat waffle it is then! It is easy to just called something with cocoa in it as 'chocolate' but let's not fool ourselves. We need real chocolate, the darker the better. I was happy to indulge, and I think that decision worked like a charm in these fluffy waffles.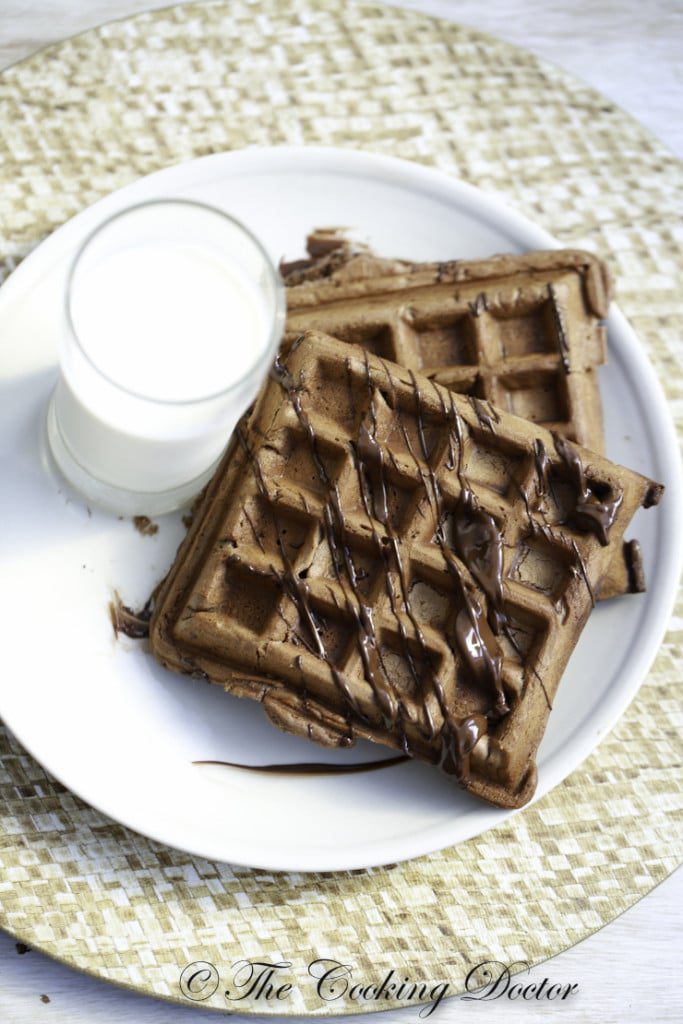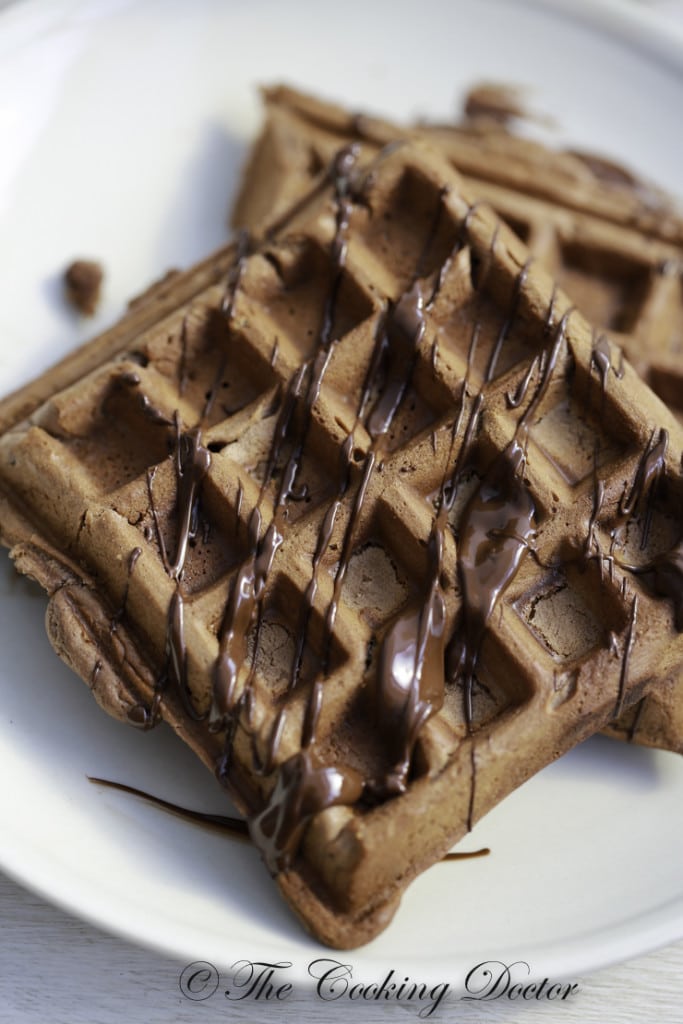 I used my much trusted waffle recipe to play with. As the chocolate is melted, it increased the ratio of liquid from the original recipe. It is always wise to whisk the egg whites separately when making waffles, as I can tell the difference in the texture; the waffles tend to be crispier on the edges yet fluffy inside. But of course if you are pressing for time, there is no harm in just adding the eggs as whole.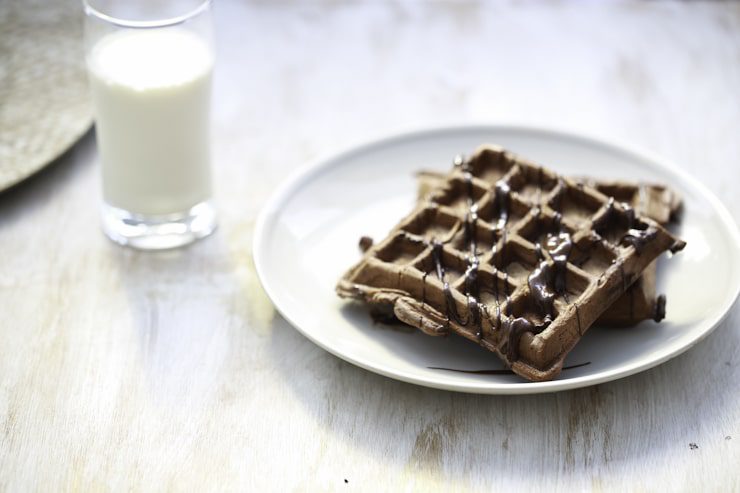 Oh yes, talking about oats I am sure we all agree on how healthy oats are, especially in cardiovascular health. But how many of us eat oatmeal porridge every morning? I am guilty as charged! I find it is nice to vary the breakfast often and adding oats in these waffles not only gives a healthier edge to these waffles, it also gives a nice flavour to it. I have used whole wheat flour in these, but feel free to sub with all purpose flour if you want.
A few drizzles of melted chocolate on top gives a crowning glory to an otherwise ordinary waffle.
Chocolatey Oat Waffle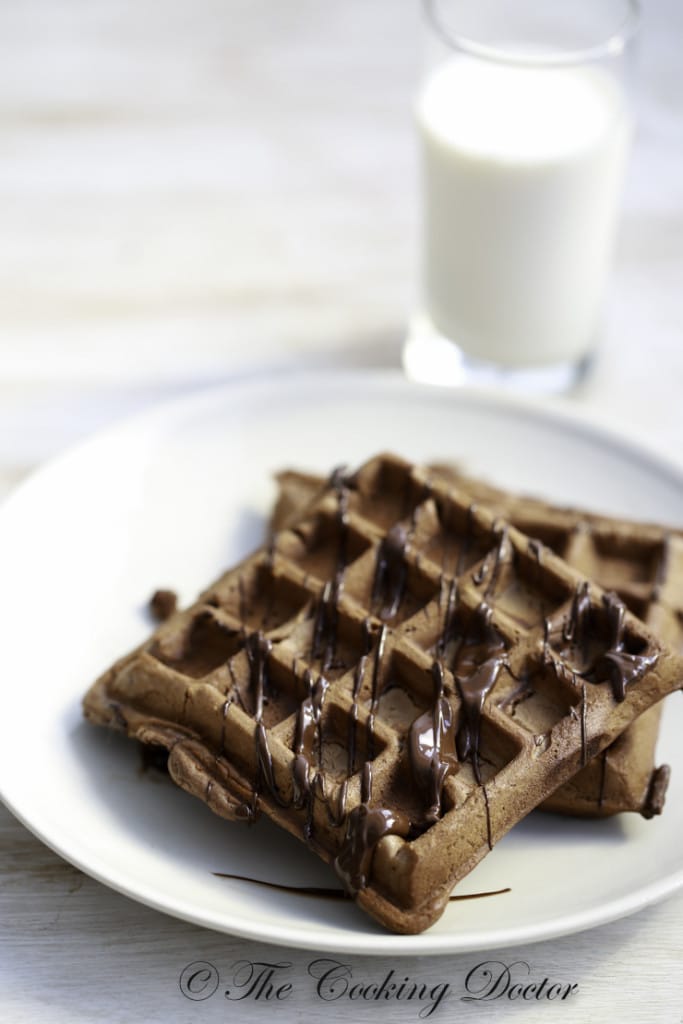 Prep time
10 mins
Cook time
10 mins
Total time
20 mins
Serves: 4-6
Ingredients
1½ cups whole wheat flour
½ cup rolled oats, finely ground
a pinch of salt
2 tsp baking powder
1 large egg, separated
1½ cups milk
a pinch of salt
⅓ cup melted chocolate ( around 80g dark chocolate couverture)
2 tbsp brown sugar
2 tbsp melted butter
Instructions
In a bowl, sift the whole wheat flour with baking powder and salt.
Add in the rolled oats.
In a separate jug, whisk the egg yolk with milk,melted chocolate and brown sugar until well combined.
Add into the flour and mix well.
Whisk the egg white until stiff peaks are formed and fold into the batter at last.
Add a tablespoon of melted butter into the batter, and the remaining butter is used to grease the waffle maker.
Pour ½ cup of batter onto the waffle maker and cook as per your waffle maker's instructions.
Serve with some melted chocolate drizzle.