Hi January. It's me, Heather, and I've missed you.  I've missed feeling new.
There is just something lovely about feeling new. I looked at Jason on New Year's morning and realized that we had a bright, shiny, new year waiting for us. Just waiting.  A pristine canvas ready for the scribbles, splotches, and scrapes of the coming months.
Resolutions?  I have about 50. I spent the entire week after christmas scribbling "resolutions" down in my journal as they hit me.  Most of them are a tad bit ridiculous…
I'll paint my nails more… glitter colors.
Whisk my way through a classic cookbook… but who's?  Martha's?  Julia's? Ree's?
Go gluten-free, sugar-free, dairy-free, egg-free…
Write a trilogy.
See?  All over the map.  I've been this way my entire life. (My first grade journal will attest to this looney character flaw.)  Every January, for the past 18 or so years, these outrageous resolutions appear…
But something new about 2012 is getting to make resolutions with Jason. Our "couple" resolutions were much more manageable.
Run a 1000 miles in a year. (Roughly 3 a day.)
Be in the Word daily… even if it's just for 5 minutes.
More books, less television.
Being wiser with our time and money. Invest in things that last.
Pretty simple, eh? Sure beats trying to write a trilogy.
So, how about a new recipe?  This fresh dish will delight your diet, budget, and tastebuds alike. It's a resolution in and of itself.  I've used this marinade for a while, but I roasted the chicken faster than I normally do which made it tender, juicy, and absolutely incredible. The pasta is from Gwyneth Paltrow's cookbook, My Father's Daughter. I only added a teaspoon of garlic powder… cause let's face it, I love garlic.
This book really is wonderful. I quickly warmed up to Gwyn's refined, honest voice and her simple approach to food.  She won me almost instantly with her recipe categories. Using trendy little icons she distinguishes between Make-Ahead, Quick, One-Pot Meals, and Dress-up Meals.  (I resolve to make more dress-up meals.)  I gleaned from The Well-Stocked Pantry, salivated over the Pomegranate Granita, and fell head-over-heels with Spaghetti LimoneParmeggiano, which compliments this chicken perfectly.
Get the book!  Make this recipe!  You won't regret it!  But, I love you all even if you don't.  Happy 2012!!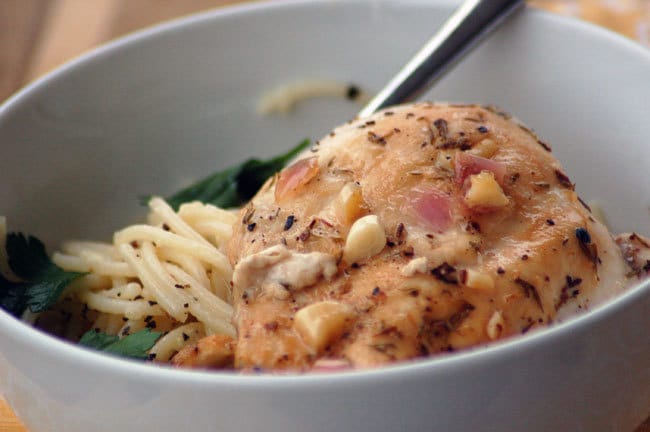 Roasted Mediterranean Chicken with Lemon Parmesan Pasta
Click here to print the recipe! 
Pasta adapted from My Father's Daughter
Chicken: 
4 chicken breasts
2 cloves garlic, chopped
1/4 red onion, chopped
2 teaspoons dried rosemary
1 teaspoon oregano
1 teaspoon thyme
1/2 cup olive oil
1/4 cup lemon juice
Pasta:
1 pound spaghetti (I use Heartland Pasta… best & most affordable GF pasta I've found.)
1 lemon
1 1/2 cups finely grated parmesan cheese
1/2 freshly ground black pepper
1 teaspoon garlic powder
2 1/2 teaspoons olive oil
1/8-1/4 cup pasta water to thin
5 or 6 leaves of fresh basil, torn into bite size pieces
Parsley for garnish (optional)
Prep Time: 15 minutes
Cook Time: 40 minutes
Yields: 4 servings
Method:
1. Place chicken in a flat dish with a lid or in a large plastic bag. Mix garlic, onions, spices, and lemon juice together is a small bowl.  Pour marinade over chicken.  Cover and let marinade for 4-12 hours.  The longer, the better.
2. Preheat oven to 450°F and place rack in the center of the oven.  Transfer chicken and marinade to a shallow roasting pan pretty-side down. Cook for 15 minutes. Then, flip chicken over and cook for about 15-25 minutes more or until meat is completely cooked. (Mine only took 30 minutes total, but I use organic chicken so the breasts are smaller.)  Remove from oven and let chicken sit in juices 5 minutes before serving.
3. Meanwhile, cook pasta according to the directions on the package.  Grate lemon and place zest in a small bowl.  Cut the lemon in half and squeeze the juice into the bowl and add cheese, spices, and olive oil.  This will create a pesto of sorts.
4. Remove pasta from heat and set aside a bit of pasta water for thinning.  Drain your noodles.  Place pasta back in pot.  Add a few tablespoons pasta water and your pesto mixture.  Stir until pasta is coated.  You can add more water if you need to. Toss in your basil.
5. To serve, create a pile of lemony pasta and set your chicken breast on top.  Garnish with parsley.