CARROT CAKE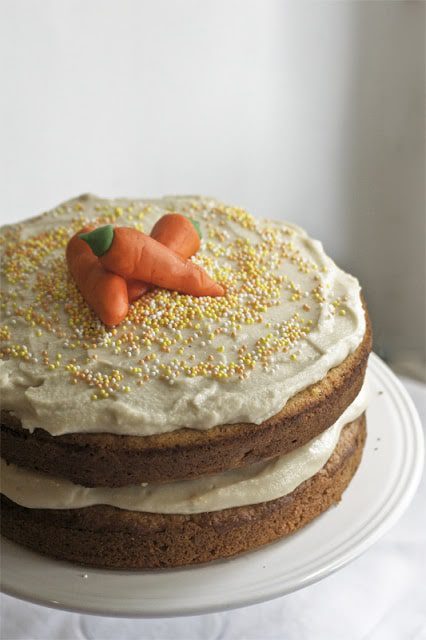 400g (3 ¼ cups) plain flour
300g (1 ½ cups) soft brown sugar
2 tablespoons baking powder
1 teaspoon cinnamon
1/4 teaspoon nutmeg
160ml (2/3 cup) sunflower oil or other
flavourless oil
160ml (2/3 cup) soya milk or other
non-dairy milk
200ml (3/4 cup + 1 tablespoon) orange &
carrot juice
2 teaspoons vanilla extract
400g (heaped 4 cups) grated carrots
Icing:
160g (heaped 1 cup) cashews, soaked
overnight
100g (1 cup) macadamia nuts, soaked
overnight
120ml (1/2 cup) maple syrup
60ml (1/4 cup) coconut oil
2 tablespoons soya milk or other non-dairy
milk
1 tablespoon + 2 teaspoons lemon juice
1 teaspoon vanilla extract
1/2 teaspoon salt
Start by making the icing. Blitz macadamia
nuts and cashews in a blender until roughly ground, then add the maple syrup,
coconut oil, milk, lemon juice and vanilla extract and keep going until you get
a smooth and fluffy mixture. Place in the fridge whilst you make the cake.
Preheat the oven to 180°C (360°F) and lightly grease two 22cm/9″ cake tins. In a
large bowl combine flour, sugar, baking powder, cinnamon and nutmeg. In a
separate bowl, mix together oil, milk, juice and vanilla extract. Pour into the
bowl with the dry ingredients and mix until just combined, then fold in the
grated carrots. Pour the mixture into the prepared tins and bake for 30 minutes
or until a skewer inserted into the centre of the cakes comes out clean. Leave
on a rack to cool completely.
Once cool, spread half the icing evenly
onto one layer, then sandwich the second layer on top. Cover the top layer with
the remaining icing and decorate with sprinkles and sugar carrots and things.