Here's one easy way to impress your guests. Make this chicken cordon bleu. Seriously. All my guests who I made this for, loved it. A few months ago I found this recipe looking for a way to use up the rest of some ham slices and needed to make something gluten free, so instead of the usual breadcrumbs, this recipe calls for almond meal. I made sure the chicken breasts come from a good source, I bought mine atStew Leonard's as I really like their meat.
We all loved it. We loved it so much that I decided to make it for some friends that were coming over the next day. And then for another friends, and another….
I even made it for a friend that does not eat meat, I stuffed the chicken with spinach and sun dried tomatoes. She really liked it too!
What I really love about this recipe is that it only requires 15-20 minutes of hands on time. The rest is done in the oven. About an hour later, the dinner is served. Hot, yummy, beautiful.
If you are having guests tonight, make this. I promise they will love it.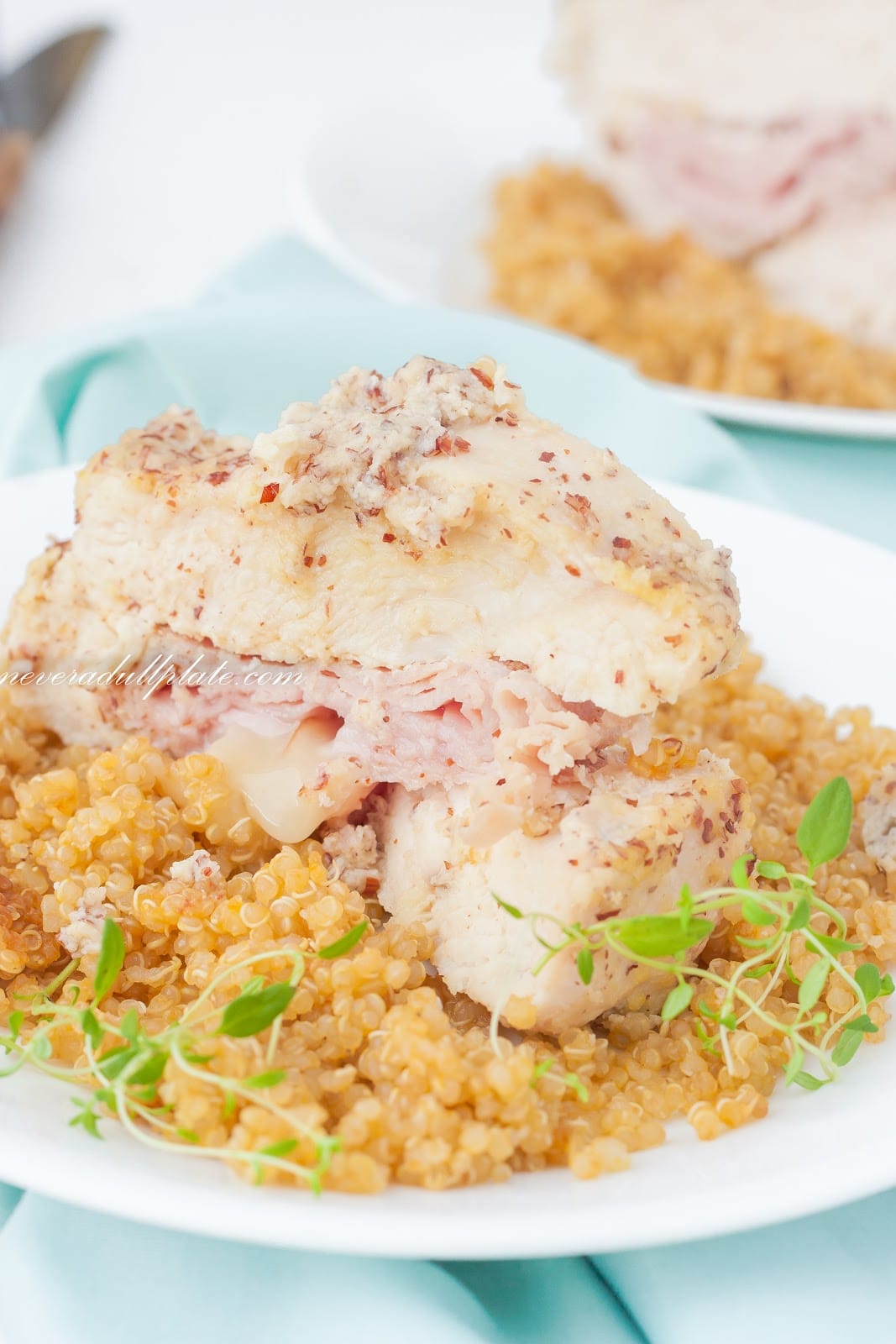 Here's what you need for about 6 people:
2 large chicken breasts
6 slices of good ham
4 slices of good cheese
2 tsp of mayonaisse
2 tsp of mustard
1/2 cup of almond meal
2 eggs
1 tsp salt
1/2 tsp pepper
1 tsp garlic powder (optional)
Preheat oven to 375 degrees C. Beat the eggs, put in a large bowl. Place the almond meal on a plate.
Cut each chicken breast lengthwise careful not to cut through to create a large pocket. Season both sides of chicken with the spices. Spread the mustard and mayonnaise inside the meat.
For each breast take two pieces of cheese, lay them on top of each other so that half is overlapping the other (to make it longer), roll it into a thin long log. Wrap three slices of ham around it. Put it inside the meat, tuck it in so that it is completely covered with meat.
Dip the meat in the egg then in the almond meal. Place in a baking dish lined with a parchment paper. I usually rise the edges of the parchment paper (I use a large piece) to make a little canopy over the chicken so it doesn't dry too much on top. Bake for 50 minutes or until fully cooked inside. Cut into about 2 inch thick slices and arrange on a serving platter.
As for quinoa, I usually cook according to the directions on a package, instead of water I use vegetable stock with a pinch of salt.