You know when a dip or spread is so good that you only eat a cracker or chip as a vehicle to get more of the stuff? And the whole time, you're thinking, I really want to eat this by the spoonful. The cracker is totally beside the point.
That's what I was thinking about when I developed this recipe.
I wanted something creamy, softer than a spinach quiche or kugel, but not as wet as your classic spinach dip. I also didn't want too many flavors competing with the main players — spinach and a very dairy topping — but was afraid that without at least one other vegetable, this would become Gobs of Spinach Delight.
Naturally, I added mushrooms. Quartered mushrooms sauteed with garlic in butter and thyme.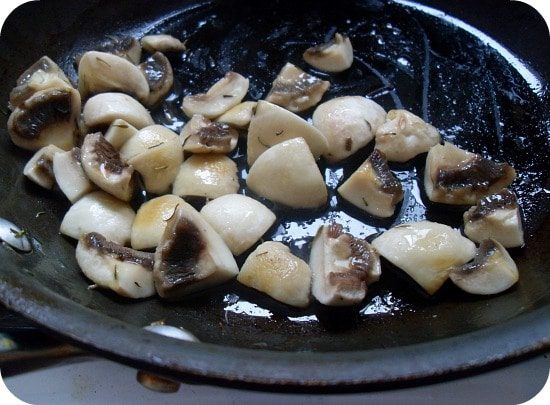 And then I took the spinach (steamed) and the buttery mushrooms, and I mixed them with some mozzarella and heavy cream. And then, to make sure the cheesy thing really happened, I topped them off with a yogurt-cream-mozzarella concoction a la the vegetable crocks in Quick & Kosher.
And then I neglected to cover the baking dish with parchment paper or foil or anything else on earth that would have done a fine job of catching the drips. Learn from me, guys. Learn from me.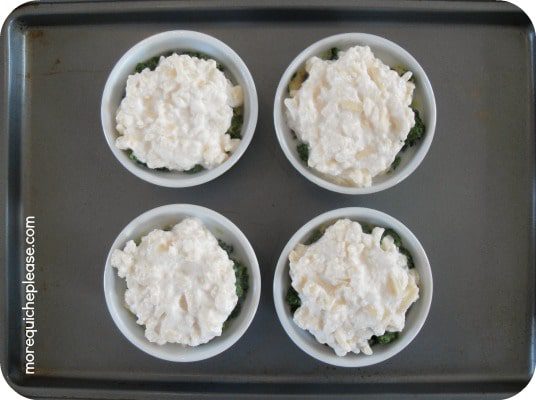 These came out just as I'd hoped on the first try. The spinach base was soft and eminently edible by the spoonful, accented beautifully with those mushrooms and kicked around by the minced garlic. The cheese topping was (as it was last time) nothing short of excellent — more complex than a regular ol' sprinkling of mozzarella, but as easy as if it were only that.
I guess you could make a large batch and bake it in a casserole dish, but served as individual portions in these 5-ounce ramekins, they make a wonderful appetizer. (Bonus: They reheat really well on the plata, so serving them on Shabbos totally works. Just pierce your foil cover to allow steam to escape instead of dripping back down and ruining those gorgeous toppings.)
A word of advice…make several more than you need. That feeling of wanting straight spoonfuls doesn't go away so quickly.
Cheesy spinach cups
Yield: 4 servings
Ingredients
For the spinach base:
oil, to grease (5-oz.) ramekins
12 oz. frozen chopped spinach*
1 Tbsp unsalted butter
1 carton fresh mushrooms, quartered (or halved, if small)
3 cloves garlic, minced
pinch dried thyme
¼ cup heavy cream**
¼ cup shredded mozzarella cheese
* The bags of Bodek frozen spinach in my local grocery contain little spinach cubes/balls. Each equals one ounce of spinach.
** Heavy cream is defined as having a fat content between 36 and 40 percent. I used 15% Rich's cooking cream.
For the cheese topping:
¾ cup shredded mozzarella cheese
¼ cup heavy cream
¼ cup plain (not vanilla!) yogurt
Directions
1. Grease four 5-oz. ramekins with oil and set aside. Preheat oven to 400 F/200 C.
2. Steam spinach for 15 minutes and squeeze to drain extra liquid. Meanwhile, melt butter in a small nonstick skillet and saute mushrooms, garlic, and thyme over low heat for 2-3 minutes, just until the mushrooms start to lightly brown.
3. Transfer mushrooms to a mixing bowl, leaving any liquid in the pan, and combine with spinach, cream, and mozzarella. Divide the mixture evenly between the prepared ramekins.
4. To make the topping, combine mozzarella, cream, and yogurt in a small bowl. Divide evenly between the filled ramekins and bake on a tray lined with foil or parchment paper for 30 minutes, or until the cheese starts to brown. Serve hot. Spinach cups reheat well.